Companies by Sector
More than 6000 listed
Communication Services
Telecommunication Services
Consumer Cyclical
Advertising & Marketing Services
Furnishings, Fixtures & Appliances
Homebuilding & Construction
Manufacturing - Apparel & Accessories
Manufacturing - Apparel & Furniture
Retail - Apparel & Specialty
Consumer Defensive
Beverages - Non-Alcoholic
Financial Services
Diversified Financial Services
Healthcare
Healthcare Providers & Services
Medical Devices & Instruments
Medical Diagnostics & Research
Medical Instruments & Equipment
Industrials
Farm & Heavy Construction Machinery
Transportation & Logistics
Utilities
Utilities - Independent Power Producers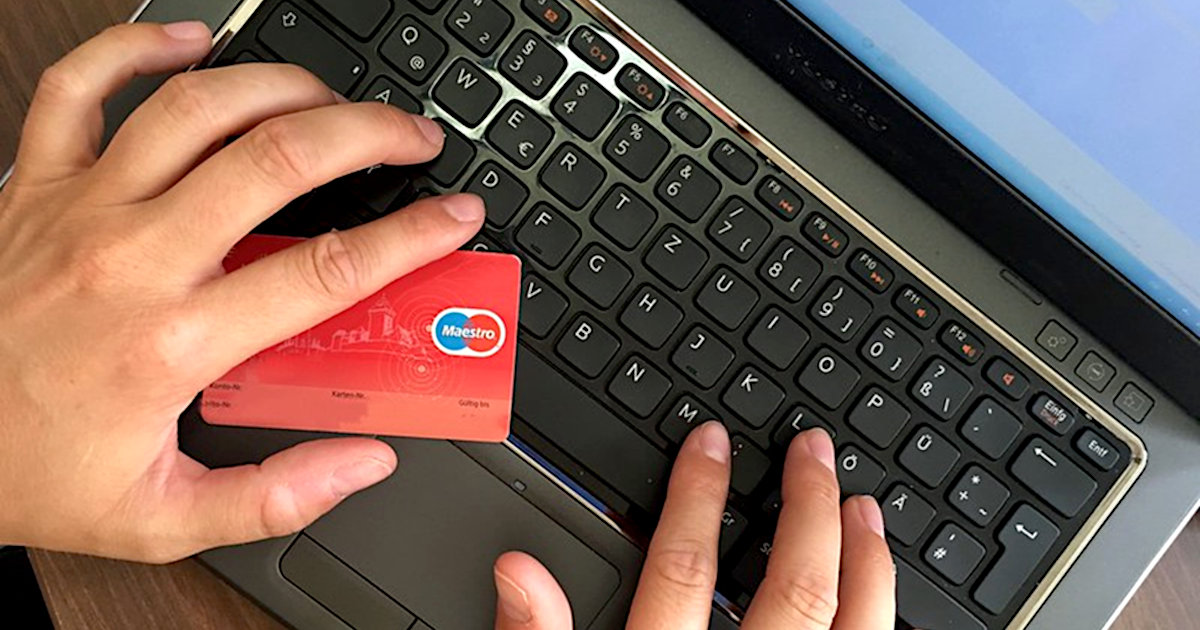 Ecommerce's Dramatic Growth in 2020 Leaves Great Potential for Online Retailers
Online sales growth has increased each year as retailers enhance their online presence and shoppers become more comfortable making purchases over the internet. A little over a decade ago, ecommerce was a scant 5.1% of total sales. Online shopping in 2020 accounted for 21%. This was a full 5% increase from 2019 when online retailers took a 16% slice of the pie.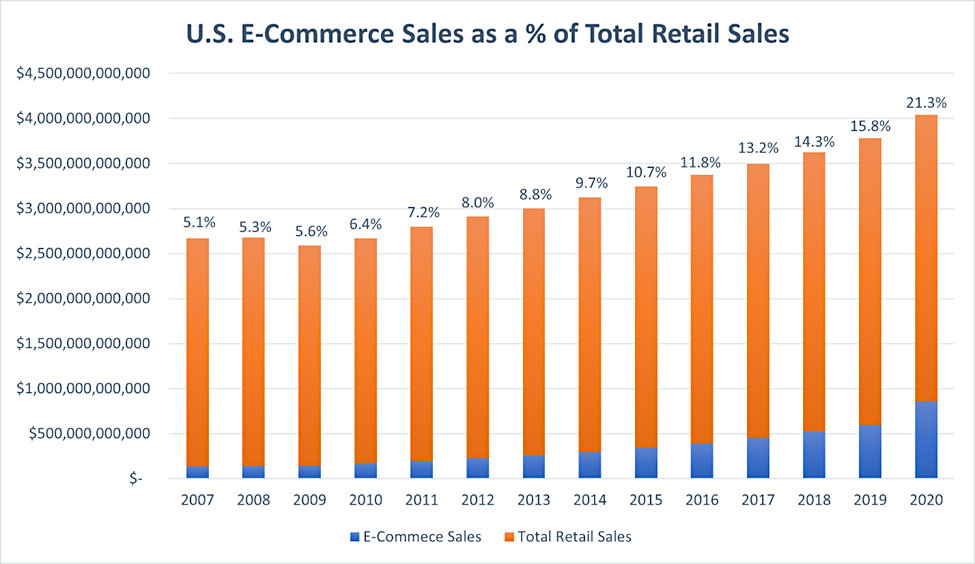 Non-Seasonably adjusted ecommerce data from the Commerce Department analyzed by Digital Commerce 360
Growth of Retail Sales and the Percentage Attributed to Ecommerce
The dramatic shift to consumers shopping from home last year certainly caused a spike in online sales and revenues. During 2020 U.S. households spent $861.02 billion online; this is a 44% spike when compared to 2019 and the highest percentage increase this millennium. Total retail sales, including merchandise purchased in stores and phone orders, increased 6.9% over the year to $4.04 trillion. These numbers come from an early analysis of the retail picture by Digital Commerce 360. Retail sales overall experienced the highest growth since 2005. This means online retail purchases now account for 21.3% of a higher dollar retail sales figure.
Of the increase in sales, more than two-thirds, 64.2%, were online. They accounted for 61.4% of the slower growth in 2019. Interestingly, though, the fact that ecommerce didn't account for all of the gains means that offline sales grew a noteworthy 3.9% during Q4.
Retailers who were firmly established online, depending on their product, were already winners with the ongoing trend toward online sales. They were even bigger winners as a result of the forced shift of many shoppers to online purchasing. And the move toward online purchases is expected to continue. In an interview earlier this year, Chris McCann, CEO from online retailer 1-800-Flowers (FLWS), said, "Coming off a record end-of-year holiday season, we see a continuation of the accelerated momentum that began for us back in 2018, but picked up even more during the pandemic." The momentum that built last year may come off a bit, but the trend is firmly in place. This has caused traditional bricks-and-mortar retailers such as Macy's and Target to bolster their online presence, but also other brands to capitalize on their name through online marketing.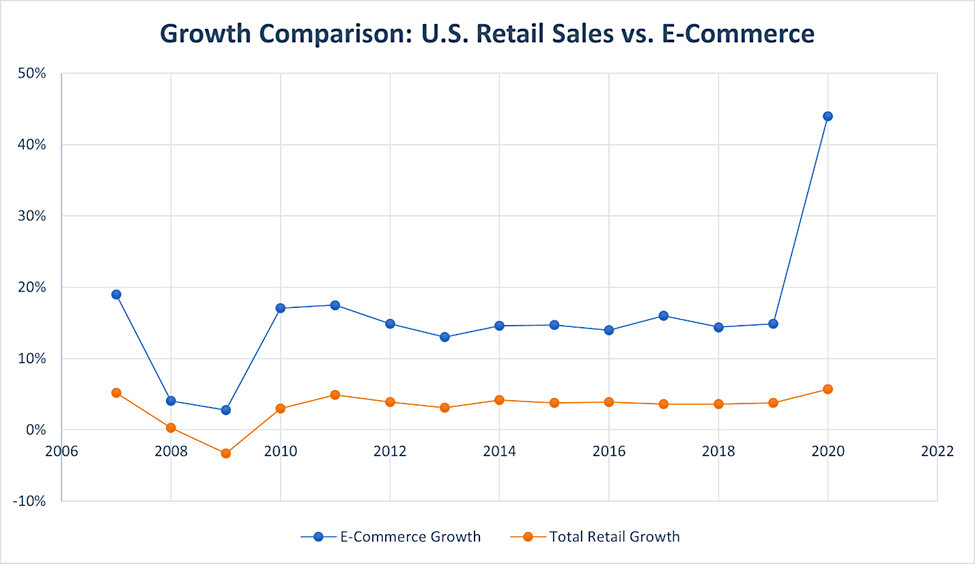 Online Retailing Highlights Year-End 2020
Ecommerce sales hit $791.70 billion in 2020, up 32.4% from $598.02 billion in the prior year.
Based on Digital Commerce 360 estimates, online penetration hit 19.6% in 2020. This is compared to 15.8% in 2019 and 14.3% in 2018. Using that trend, without the pandemic's change of shopping habits, the ecommerce portion of retail sales wouldn't have reached that level until 2022.
COVID-19 resulted in an additional $105.47 billion in ecommerce revenue in 2020, Digital Commerce 360 estimates.
Total retail sales reached $4.04 trillion last year, up from $3.78 trillion in 2019. The 6.9% lift was the highest annual growth since 1999. Sales through brick and mortar and online increased just 4.0% in 2019.
Ecommerce accounted for almost three-quarters (74.6%) of the growth in total retail in 2020. It was also about 11% higher than the second place year, which was 2008.
Offline sales grew 2.1%, which was the same rate as the pandemic-free prior year.
Take-Away
Overall retail sales grew in 2020. Within that growth, the percentage of online sales grew faster than it had since 1999. The retail sector includes Amazon, which accounted for half of last year's growth. Away from Amazon, the trend for companies that derive revenue from online sales has plenty of upsides.
Suggested Content:
Playboy Enterprises NobleCon Presentation Replay
1-800-FLOWERS, At Some Point This Will Happen
Workcations Add a New Class of Traveler
Sources:
The Business of Valentine's Day
Quarterly Online Sales, Digital Commerce 360
---
Stay up to date. Follow us: