Companies by Sector
More than 6000 listed
Communication Services
Telecommunication Services
Consumer Cyclical
Advertising & Marketing Services
Furnishings, Fixtures & Appliances
Homebuilding & Construction
Manufacturing - Apparel & Accessories
Manufacturing - Apparel & Furniture
Retail - Apparel & Specialty
Consumer Defensive
Beverages - Non-Alcoholic
Financial Services
Diversified Financial Services
Healthcare
Healthcare Providers & Services
Medical Devices & Instruments
Medical Diagnostics & Research
Medical Instruments & Equipment
Industrials
Farm & Heavy Construction Machinery
Transportation & Logistics
Utilities
Utilities - Independent Power Producers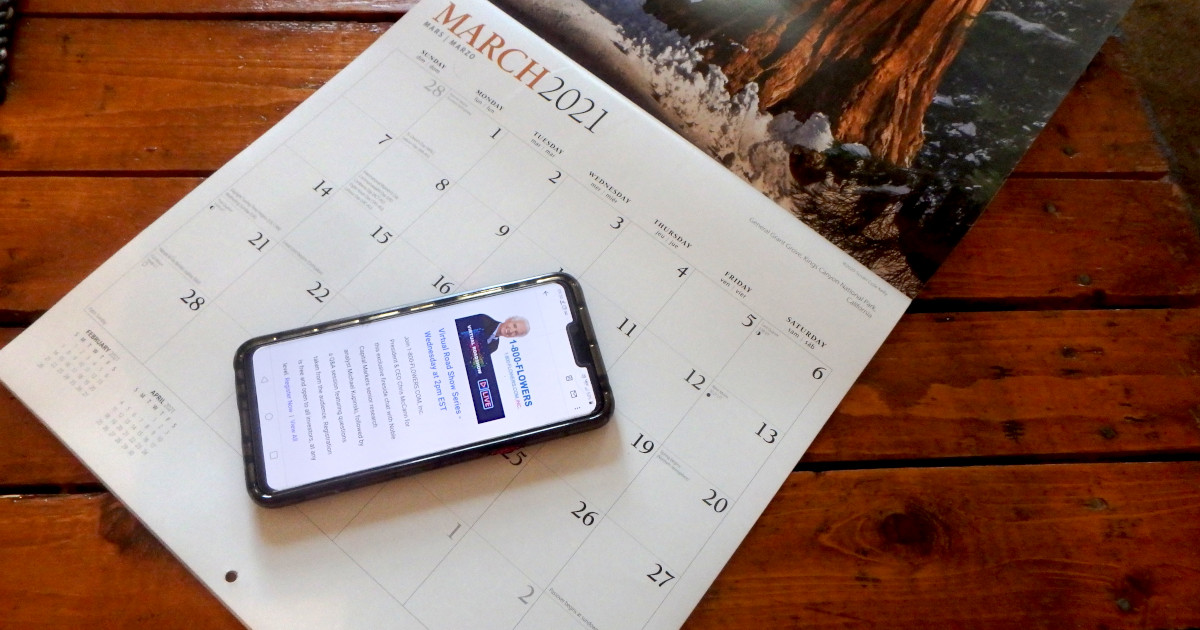 Looking Back then Forward, What May Be in Store for the U.S. Stock Markets
The stock market performance for March and April could hinge on a number of questions investors are considering right now. What they'd like to know is: Will a stimulus bill pass in the coming weeks (positive)? Will there be a continued reduction in deaths reported due to the pandemic (positive)? Will there be a continued move up in interest rates (negative)? Will inflation rise and begin to force the Fed to choose between subdued growth or higher prices (both negative)?
The stimulus bill and distribution of any approved spending have been delayed much longer than expected. Any further delays could cause market participants discomfort. Should the market continue to show signs that the forward momentum has diminished, or giving up ground, the fear-of-missing-out (FOMO) investors may leave stocks, possibly to higher interest rates.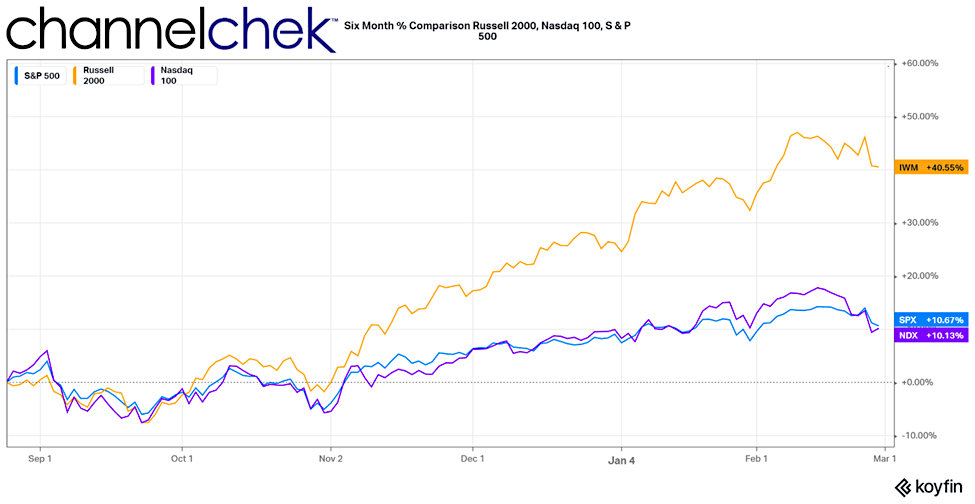 Look Back
Looking back over the past six months, the Nasdaq 100 gained 10.13%, which is admirable in any year. The S&P 500 index fared just a bit better at 10.67%. The small-cap Russell 2000 index, which had been performing below the other indices, finally got recognition and increased by 40.55%.
Within the reignited small-cap stocks, small-cap value (IWN) has returned 14.09% in three months' time, while small-cap growth trailed by a little with a 12.63% return. Overall, during the three-month period, small-caps (IWM) returned 13.25%.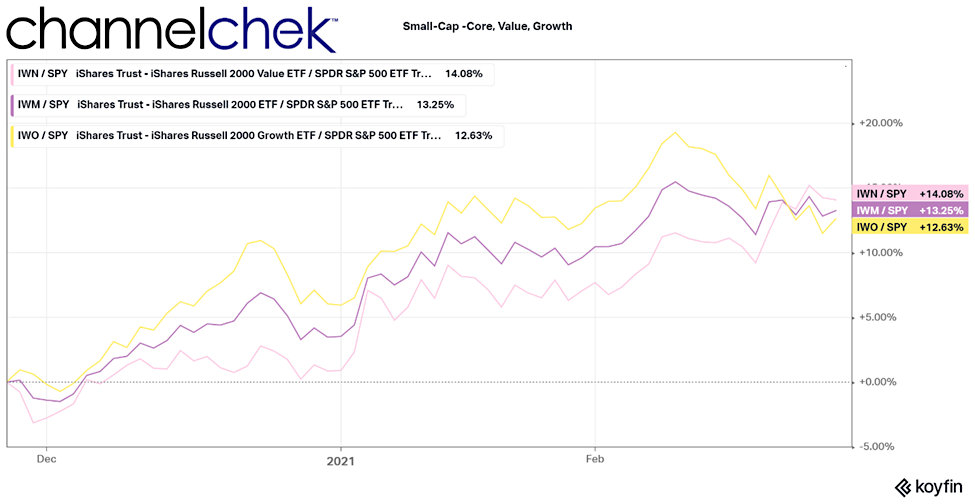 Hottest Market Sectors
Over the same three months (December – February), the industry sectors (S&P) in many cases have reversed direction from six months ago. Energy, which had been beaten up at the first hint of a pandemic, rose 23.94%. Financials are benefitting from a steepening yield curve and a large supply of cash in the system. Financials are up 13.74% in just three months' time. Communications companies turned in 9.93% for the period. Health care is up 4.27% and materials 3.61%. Utility stocks that are popular for their dividend payments are lower by 8.61%, as higher interest rates would provide alternatives for income investors.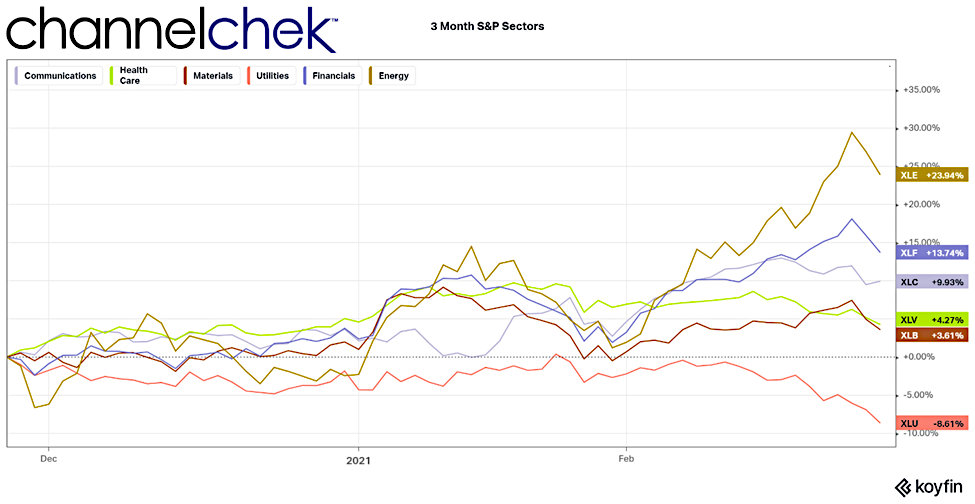 Take-Away
The market is still waiting on a lot of information. A stimulus package could dramatically change the mood of investors, and checks in the hands of those already with discretionary income have in the past caused some of that money to wind up in the stock market. Signs of a complete economic reopening would certainly improve expectations going forward as we are now in the month when the first 14-day lockdown was instituted a year ago. It still remains to be seen what the President's "Made in America" program will really look like as he is at the same time pushing to increase the cost of American-made goods. These conflicts of priority are normal in politics, all we can expect from ourselves as investors are to determine where the money will flow with each change and each step back toward normalcy, then be then early.
Suggested Reading
Why Elevated Employment Isn't Hurting Stocks
What Stocks do You Buy When the Dollar Goes Down?
Managing Investment Portfolio Risk

Sources:
Stay up to date. Follow us: