Companies by Sector
More than 6000 listed
Communication Services
Telecommunication Services
Consumer Cyclical
Advertising & Marketing Services
Furnishings, Fixtures & Appliances
Homebuilding & Construction
Manufacturing - Apparel & Accessories
Manufacturing - Apparel & Furniture
Retail - Apparel & Specialty
Consumer Defensive
Beverages - Non-Alcoholic
Financial Services
Diversified Financial Services
Healthcare
Healthcare Providers & Services
Medical Devices & Instruments
Medical Diagnostics & Research
Medical Instruments & Equipment
Industrials
Farm & Heavy Construction Machinery
Transportation & Logistics
Utilities
Utilities - Independent Power Producers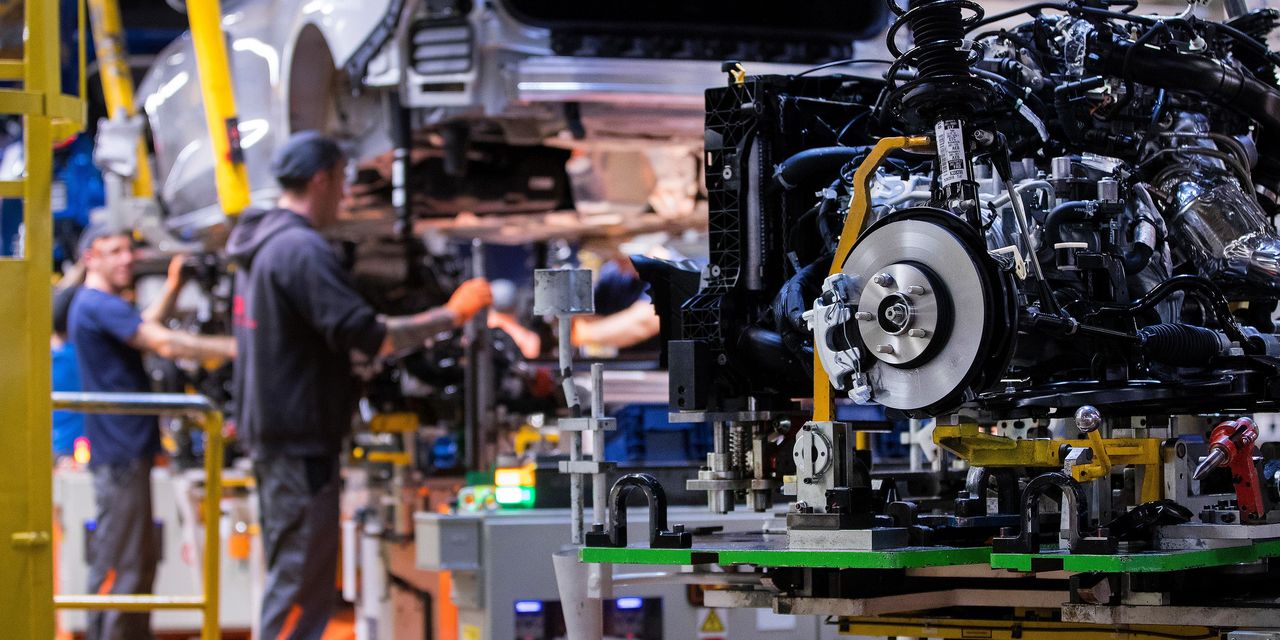 Who Is to Blame for the Weak Manufacturing Number and the Market Crash?
(Note: companies that could be impacted by the content of this article are listed at the base of the story [desktop version]. This article uses third-party references to provide a bullish, bearish, and balanced point of view; sources are listed after the Balanced section.)
The stock market declined 800 points or 3% in the first two days of the fourth quarter. The decline follows a report that the ISM US manufacturing purchasing managers' index declined to the lowest level in ten years. President Trump blamed the Fed for the disappointing numbers pointing to a strong dollar as a reason for decreased exports. Other pundits point to the trade war with China and the uncertainty that has created as the cause for trade issues. Is the market decline due to political issues that could be reversed (bull case), or is it due to more endemic causes that could drag the market down even further (bear case)?
It's the Trade War, of Course. The cause of decreased exports and faltering confidence among managers is simple. Our third-largest trading partner, China, refuses to purchase US products while there are threats of higher tariffs on Chinese imports. Peter Morici of MarketWatch believes the President's strategy of making threats and then delaying implementation of the threats is not working. A change in strategy would be beneficial for companies and their stock prices.
How Can We Make Investments When We Don't Know What the Rules Are? The market hates uncertainty and there has been plenty of uncertainty recently. It should come as no surprise that purchasing managers are being more cautious. A study by University of Chicago's Steven Davis shows a correlation between the VIX (a measure of stock market volatility) and the percent of newspaper articles about trade policy. The correlation has grown in recent years. It stands to reason then, that a lessoning of trade issues could lead to higher stock prices.
Will the Impeachment Investigation Delay Legislation Implementation? The market downturn seems to be tied to manufacturing data, but it is also coming at a time of increased talk of impeachment. Some analysts, such as Raymond James policy analysts Ed Mills and Chris Meekins, believe impeachment hearings endanger the ratification of the rehashed US-Mexico-Canada trade agreement. The market may even be seeing impeachment talks as increasing the odds that a less pro-business, democratic candidate may win the presidency. If impeachment talks die down, its stands to reason that the market would rebound.
We've Been Down this Road before and Were Fine. This is not the first time in the last two years that the market has dropped sharply only to rebound when there are positive trade negotiation developments. A positive development in the upcoming trade negotiations with China would certainly be seen positively by the market.
The Strong Dollar is Hurting Exports. The US dollar has risen relative to the Euro and most Asian currencies. The strength reflects the fact that the US economy has been stronger than other foreign economies. It also reflects the fact that the Federal Reserve has been raising interest rates while other countries have been pushing rates lower (sometimes into negative territory). Higher interest rates in the US compared to other countries means money flows into the US to capture higher rates, which then means increased demand for the dollar, causing it to rise relative to other currencies. If the strong dollar is the result of stronger domestic economic conditions (and the resulting higher interest rates), the condition is not likely to change any time soon.
The Fed is Reacting to Economic Conditions, Not Trying to Cause Them. The Fed does not intend to grow or shrink the economy for political reasons. Instead, it attempts to influence economic growth in a manner that weighs the benefits of growth against the harms of growing so fast that inflation becomes an issue. In determining policy, it monitors many economic indicators including international economic conditions. It is aware that domestic interest rates are higher than those overseas and believes that is appropriate given current economic condition. As such, it is unlikely to lower rates sharply in response to Presidential requests.
Other Factors Also Point to Economic Weakness. If market weakness was solely due to a weak manufacturing purchasing managers' index or high relative interest rates, one might think the situation could change quickly. However, manufacturing weakness is combined with falling consumer confidence numbers, declining payroll hiring, and decreasing exports. Weak purchasing numbers and high interest rates are merely the outcome of broader economic weakness. Improving economic conditions may be more difficult than expected.
Stock market weakness is most likely the result of both political and economic reasons. Political reasons could change quickly: a trade agreement could be reached with China, impeachment discussions could die down, the President may take a break from tweeting. Economic causes—weakened management and consumer confidence, high interest rates relative to other countries, weakening employment numbers—may take longer to fix. Yes, the Fed can, and has, lowered interest rates to spur the economy. However, lower rates take time to create and impact, especially in the environment of an increasingly interspersed global economy. The answer, of course, is for political and economic sides not to blame each other but to work together to solve the underlying issues causing stock market weakness.
Sources:
https://www.cnn.com/business/live-news/stock-market-news-today-100219/index.html, Anneken Tappe, CNN, October 2, 2019
https://www.cnbc.com/2019/10/02/the-dow-is-down-over-800-points-in-two-days-heres-whats-happening.html, Michael Sheetz, CNBC, October 2, 2019
https://www.cnbc.com/2019/09/25/street-says-impeachment-isnt-a-threat-to-trump-but-could-mire-trade.html, Thomas Franck, CNBC, September 25, 2019
https://www.marketwatch.com/story/how-to-win-the-trade-war-with-china-2019-09-03, Peter Morici, MarketWatch, September 14, 2019
https://www.marketwatch.com/story/theres-never-been-trade-policy-uncertainty-like-now-and-its-rattling-markets-study-finds-2019-09-09, Steve Goldstein, MarketWatch, September 9, 2019
Company
Ticker
Price
Previous
Mkt Cap
Volume
52wk Range
Virco Manufacturing Corporation
VIRC (Nasdaq)
$2.08
$33.11M
0
$1.83 - $4.50
TPI Composites Inc.
TPIC (Nasdaq)
$41.31
$1.48B
0
$9.19 - $45.50
SB Technology Corp. - Ordinary Shares
SFBTF (OTO)
$37.93
$765.49M
0
$16.70 - $37.94
Opus Bank
OPB (NGS)
$19.49
$709.91M
0
$13.07 - $28.38
Modine Manufacturing Company
MOD (NYSE)
$10.10
$516.59M
0
$2.84 - $10.98
First Bank
FRBA (Nasdaq)
$8.91
$175.66M
0
$6.00 - $11.57
Farmer Brothers Company
FARM (NGS)
$4.05
$71.04M
0
$3.41 - $17.38
Espey Mfg. & Electronics Corp.
ESP (AMERA)
$18.90
$45.41M
0
$15.98 - $23.40
Colony Bankcorp Inc.
CBAN (Nasdaq)
$13.00
$123.48M
0
$8.70 - $16.50
BankFinancial Corporation
BFIN (NGS)
$7.86
$116.18M
0
$6.74 - $14.15
Bank of South Carolina Corp.
BKSC (Nasdaq)
$16.33
$90.16M
0
$11.43 - $19.46
Bank of Marin Bancorp
BMRC (Nasdaq)
$33.02
$449.59M
0
$23.81 - $47.78
Bank of Commerce Holdings (CA)
BOCH (Nasdaq)
$8.68
$145.71M
0
$5.68 - $12.32
Advanced Market Data
()
Detailed Quote
Charts
Statistics
Financials
Historical Quotes
Insider Activity
Key Ratios