Companies by Sector
More than 6000 listed
Communication Services
Telecommunication Services
Consumer Cyclical
Advertising & Marketing Services
Furnishings, Fixtures & Appliances
Homebuilding & Construction
Manufacturing - Apparel & Accessories
Manufacturing - Apparel & Furniture
Retail - Apparel & Specialty
Consumer Defensive
Beverages - Non-Alcoholic
Financial Services
Diversified Financial Services
Healthcare
Healthcare Providers & Services
Medical Devices & Instruments
Medical Diagnostics & Research
Medical Instruments & Equipment
Industrials
Farm & Heavy Construction Machinery
Transportation & Logistics
Utilities
Utilities - Independent Power Producers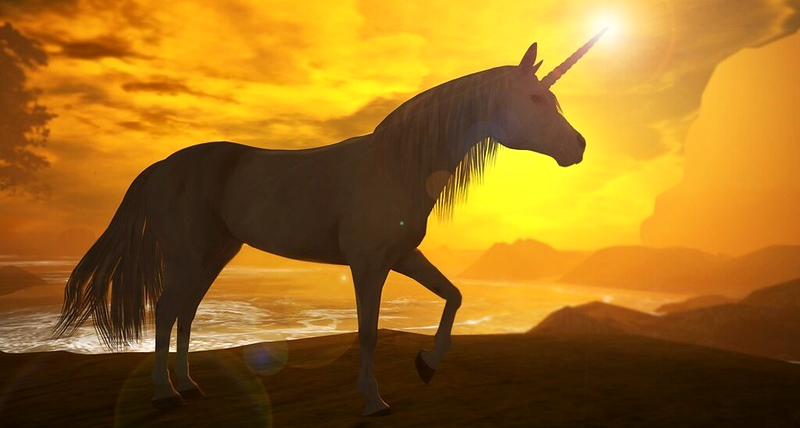 Special Purpose Acquisition Corporations (SPAC) Attracting Investors
"So, we're looking to marry a unicorn. So we're prettying ourselves up for the most attractive possible partner…" – Bill Ackman, July 22, 2020
On July 21, Pershing Square Tontine Holdings raised $4 billion by offering 200 million units at $20 per share in the largest IPO of a special purpose acquisition corporation (SPAC). Several high-profile companies, including Nikola, Fisker, and DraftKings, agreed to merge with a SPAC as a means of going public instead of pursuing their own initial public offerings. According to SPACInsider, 59 SPAC IPOs raised $13.6 billion in 2019 with an average IPO size of $230.5 million. In 2020, 50 SPACs have gone public that raised $19.0 billion with an average IPO size of $380.1 million. During the period 2009 through 2020, there have been 274 IPOs that raised $65.7 billion.
What is a SPAC?
A special purpose acquisition corporation (SPAC), also known as a blank check company, is generally sponsored by an investor (i.e., Pershing Square Capital Management) and/or a management team and raises capital in an initial public offering (IPO) with the intention of completing an unidentified acquisition that meets the SPAC's investment objective. The IPO proceeds are held in trust that can only be accessed to consummate an acquisition. If the SPAC does not complete an acquisition within a specified time frame, it must liquidate and return the trust proceeds to its stockholders. Once the SPAC finds a company to acquire, investors have the choice of staying invested in the SPAC or redeeming their shares, if they do not like the transaction, for the amount for which they were acquired.
The Rationale
SPACs offer an alternative to a traditional initial public offering as a way for companies to go public. For some companies, it may be difficult to go public due to size, lack of investor interest, or a challenging IPO environment. Some companies in a "hot" sector may chafe at the prospect of their stock price taking off after a traditional initial public offering meaning that they might have left too much money on the table. For some, merging with a SPAC may offer a less costly and/or burdensome means of going public. Importantly, SPACs offer an alternative for private equity and/or venture capital firms to exit their investments. Because sponsors include providers of private equity, some may view it as a sign of asset managers' growing influence in the capital markets.
The Take-Away
Judging from the data below provided by SPACInsider, the number of special purpose acquisition corporation IPOs accelerated in 2017.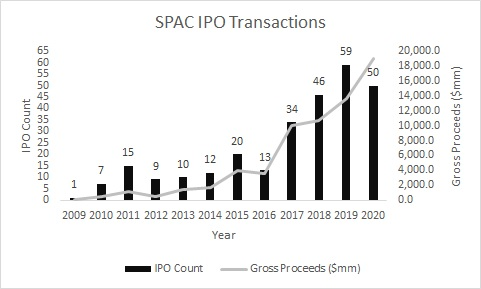 Source: SPACInsider and Noble Capital Markets
With no shortage of private companies capitalized by private equity and venture capital firms, coupled with well-recognized sponsors like Apollo Global Management and Pershing Square Capital Management launching successful SPAC IPOs, it is likely the trend may continue.
Suggested Reading:
Will Broadcast Mergers and Acquisitions Surge?
Will there be an Explosion of New Acquisitions?
Can the Market Continue to Defy Gravity?
Enjoy Premium Channelchek Content at No Cost

Each event in our popular Virtual Road Shows Series has maximum capacity of 100 investors online. To take part, listen to and perhaps get your questions answered, see which virtual investor meeting intrigues you here.
Sources:
Bill Ackman and Tontine Holdings Rewrite the Terms for SPACs, CNBC, Kenneth Squire, July 22, 2020.
Nikola and DraftKings Stock Started As 'SPACs.' What Investors Need to Know, Barron's, June 22, 2020.
SPAC IPO Transactions – Summary by Year, SPACInsider, July 2020.
Go SPAC Yourself, Techcrunch, Alex Wilhelm, July 22, 2020.
Bill Ackman's blank-check acquisition company to begin trading on Wednesday after Raising up to $4 billion, Markets Insider, Ben Winck, July 21, 2020.
SPAC-and-Span: A Clean Exit?, Harvard Law School Forum on Corporate Governance, Carol Anne Huff, Daniel Wolf, Kirkland Ellis, July 9, 2015.
Electric Car Maker Fisker to Go Public Through SPAC Deal at $2.9 Billion Valuation, Reuters, Ben Klayman, July 13, 2020.
Big Blank Checks, The New York Times, Dealbook Newsletter, July 14, 2020.
Ackman-backed Blank Check Company's Units Rise in NYSE Debut
, Reuters, C. Nivedita and Joshua Franklin, July 22, 2020.