Companies by Sector
More than 6000 listed
Communication Services
Telecommunication Services
Consumer Cyclical
Advertising & Marketing Services
Furnishings, Fixtures & Appliances
Homebuilding & Construction
Manufacturing - Apparel & Accessories
Manufacturing - Apparel & Furniture
Retail - Apparel & Specialty
Consumer Defensive
Beverages - Non-Alcoholic
Financial Services
Diversified Financial Services
Healthcare
Healthcare Providers & Services
Medical Devices & Instruments
Medical Diagnostics & Research
Medical Instruments & Equipment
Industrials
Farm & Heavy Construction Machinery
Transportation & Logistics
Utilities
Utilities - Independent Power Producers


	Image Credit: Dennis Jarvis (Flickr)
Is Gold Still Preferred Over Large Digital Currencies as a Safe-Haven Asset?
Gold, it was said, has been replaced by cryptocurrencies like Ether (ETH) and Bitcoin (BTC) as the preferred safe-haven asset in times of uncertainty. This may very well come to be one day, but based on the upward movement of gold over the past three days of economic concern and stock market turmoil, and the downward movement of digital currencies, there are still many who will gravitate toward the hard asset.
As it has become clearer that the Fed will soon begin reacting more aggressively to reduce the easy money scenario that is playing into inflation's strength, equity and interest rate markets have reacted as you'd expect them to; they sold off. There hasn't been much of an opportunity, frankly, since Bitcoin's founding to test its performance in the face of a fast ramp-up of interest rates. Although many factors impact price changes on any asset, it appears that gold futures prices are benefitting from the fears brought on after the December FOMC minutes became public on January 5th.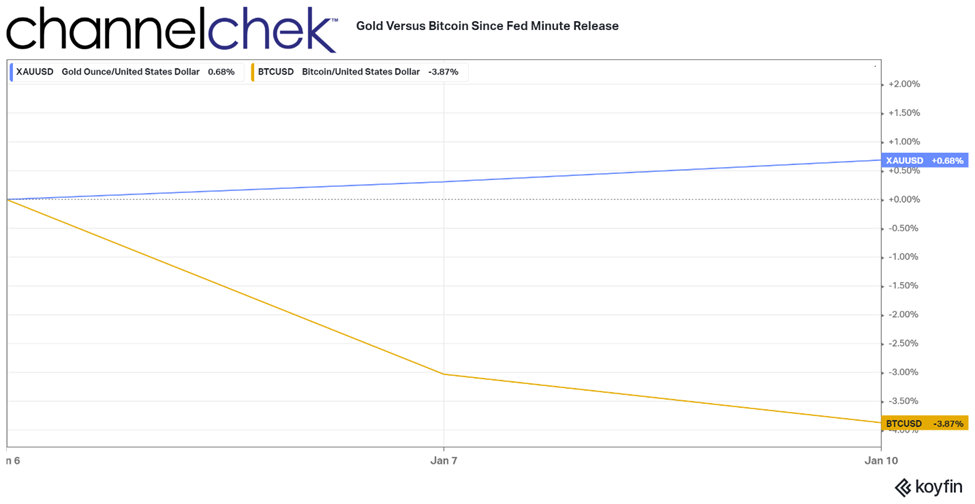 Dollar Weakness
The dollar has pulled back recently, this bodes well for gold and low yields on treasuries are not at a level where conservative investors yet see them as appealing. However, the Fed is expected to raise rates this year; estimates by Goldman Sachs and JP Morgan indicate four total Fed Fund increases. Higher U.S. rates have the potential to keep the dollar strong, which may limit gold's upside.
As part of his mining industry report released on January 3rd, Mark Reichman, Senior Research Analyst, Noble Capital Markets, Inc. wrote "While a rise in the U.S. dollar and treasury yields are headwinds for gold, we believe investors may view precious metals more favorably in 2022 to protect portfolio values from potential volatility in equity markets, an uncertain path for inflation, and the risk of Federal Reserve monetary policy errors."
The markets will have more data to evaluate as the U.S. consumer price index and the Fed Beige Book will be released on Wednesday (January 12), and the U.S. producer price index will be released on Thursday.
Take-Away
The year 2022 has already promised dramatic shifts that may include a complete turnaround in the fixed income markets. Since U.S. treasury interest rates are used as a benchmark or "risk-free" return rate against which other investments are judged, financial markets from gold to traditional currencies, digital currencies, real estate, and equities will all be impacted by higher available yields and an increased cost of borrowing.
If inflation continues to outpace interest rates, strength in gold and related assets such as gold mining stocks could continue to do well.
Managing Editor, Channelchek
Suggested Content:
Sources:
https://www.fxempire.com/forecasts/article/gold-prices-rebound-but-are-capped-by-rising-yields-861339
https://www.investopedia.com/terms/a/accomodativemonetarypolicy.asp
https://www.channelchek.com/news-channel/Industry_Report___Metals_Mining_Fourth_Quarter_2021_Review_and_Outlook
Stay up to date. Follow us: