Companies by Sector
More than 6000 listed
Communication Services
Telecommunication Services
Consumer Cyclical
Advertising & Marketing Services
Furnishings, Fixtures & Appliances
Homebuilding & Construction
Manufacturing - Apparel & Accessories
Manufacturing - Apparel & Furniture
Retail - Apparel & Specialty
Consumer Defensive
Beverages - Non-Alcoholic
Financial Services
Diversified Financial Services
Healthcare
Healthcare Providers & Services
Medical Devices & Instruments
Medical Diagnostics & Research
Medical Instruments & Equipment
Industrials
Farm & Heavy Construction Machinery
Transportation & Logistics
Utilities
Utilities - Independent Power Producers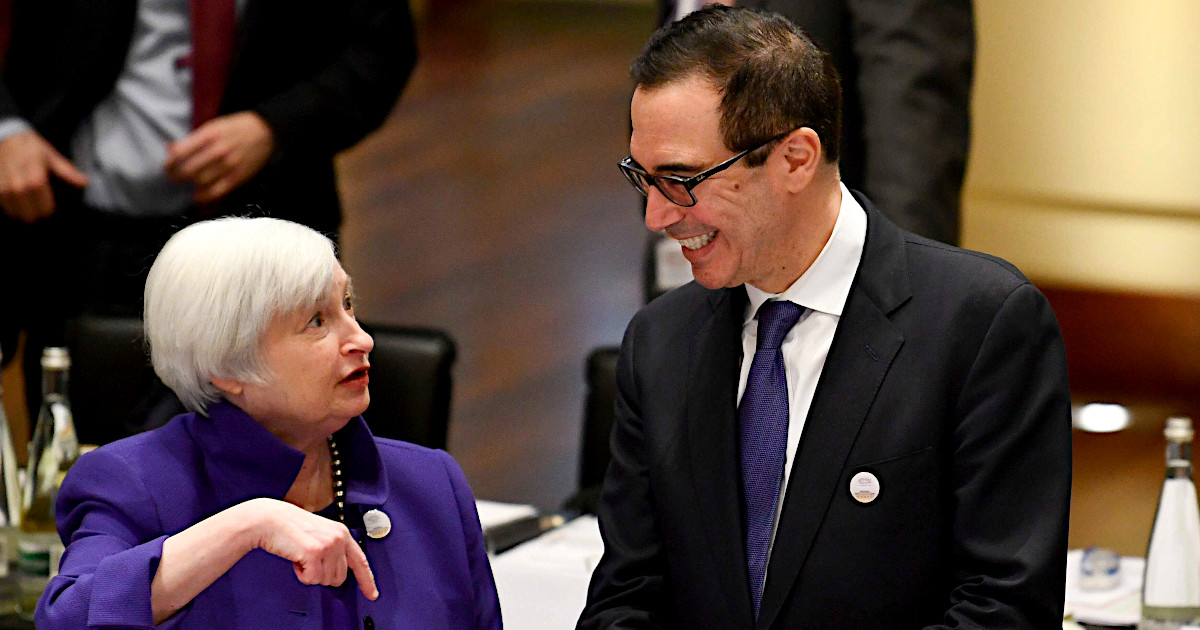 A New U.S. Treasury Secretary May Mean Reshuffling Personal Investments
How will an incoming Treasury Secretary Janet Yellen impact the economy and markets? The 74-year-old former head of the Federal Reserve Bank and Brooklyn-born Economics Professor has been in the public eye for a long time, so she has left us many clues. It's more than likely there will be dramatic shifts in approach in the position vacated by Steven Mnuchin. Adjusting portfolios and investment strategies to take advantage of change, particularly high impact shifts, is where opportunity lies.
On Friday, the Senate Finance Committee unanimously approved Janet Yellen's nomination as Treasury secretary; it's expected that she will win full Senate approval this week. Her nomination was approved 26-0 by the evenly split committee, with concerns expressed by Republicans about the President's expensive plans for massive economic relief spending, infrastructure investment, and tax hikes. The unanimous vote from both sides of the evenly split political aisle sends the message the Senate Finance Committee is making a solid effort to work together with the Yellen appointment on economic matters.
Now on the Table
President Biden has proposed a $1.9 trillion pandemic economic plan and another proposal to spend $2 trillion more in infrastructure, green energy projects, education, and research for the purpose of advancing American competitiveness. Yellen's confirmation hearing created an opportunity for lawmakers to discuss their discomfort executing Biden's economic policies, which include a bigger federal debt burden and repealing parts of the stimulative 2017 tax cuts.
Yellen told senators they needed to "act big" on the proposed $1.9 trillion stimulus package or risk a longer recession and long-term economic scarring, job, and loss of revenues. Her responses to questions shed light on a new angle from which government is beginning to view debt. Some economists and policymakers are looking at the interest cost and returns generated rather than the size of the borrowing. In recent months, Treasury's interest outlays have fallen from pre-pandemic levels due to lower rates, of course, rates on debt, which the U.S. Treasury issues with maturities as long as 30 years can rise as well.
Comments of Interest to Investors
The topics included tax policy, FOMC activities, climate change, foreign exchange, national debt, and policy surrounding China. The following categorizes some of the more noteworthy points from her answers to the Finance Committee:
National Debt
Yellen will review the Treasury's debt-issuance strategy, including the weighted average maturity of federal debt
She did not suggest major changes on the horizon.
She said the demand for U.S. Treasury debt is sufficiently strong to meet current and proposed financing needs.
As it relates to longer, more complex, ultra-long debt, she said it "deserves further study."
Taxes
Yellen promised to "work with members of Congress" on the idea of protecting households earning less than $400,000 a year from increased taxes if President Biden tries to implement his campaign promise of reversing the 2017 tax cuts.
Another Biden proposal was repealing the cap on state and local tax deductions. The plan would effectively deliver a sizeable tax cut to higher earnings, especially in high tax states. She did not give a response one way or the other on this plan, which appears to help those least in need.
She did respond to jabs at Biden's plan to reduce the threshold for the federal estate tax by saying it would impact very few.
Treasury-Fed ties
As it relates to the economy and stimulus, she warned, "Right now, taking too little action poses the greatest risk
As it relates to reviving several Federal Reserve lending facilities that were phased out by her predecessor that was implemented by Yellen when she was former Fed Chair and Former Chair Bernanke, she answered: "The Federal Reserve will continue to provide support to the economy through its ongoing programs and the use of its available tools, but as mandated by Congress, the 13(3) facilities funded by the Cares Act will not be available."
Yellen pledged not to pressure the Fed on the level of its yield targeting asset purchases: "I understand deeply why it is so important to maintain the tradition of the independence of the Fed in monetary policy."
U.S. Dollar Value
Yellen pledged more than once the U.S. won't seek a weaker currency. She did not comment on the "strong dollar" policy the Treasury once pursued
She said the administration would work, across agencies, "to put effective pressure on countries that are intervening in the foreign exchange market to gain a trade advantage."
Yellen singled out bilateral deficits as an indicator of unfair trade practices, which she said she would "vigorously oppose," although she said the gaps should be assessed in the context of the U.S.'s broader trade relationship with each country rather than a "single catch-all metric."
China Policy
Yellen asserted there would be no immediate lifting of tariffs on China and that the Biden administration will be monitoring China's adherence to pledges made in the Trump administration's "phase one" bilateral trade deal
She assured the new administration would use the "full array of tools" to counter China's "abusive economic practices."
She said the U.S. needs to compete with China's "economic statecraft" around the world and build partnerships distinguished from President Xi Jinping's signature Belt and Road Initiative
Climate change
In a written response, Yellen replied: "We cannot solve the climate crisis without effective carbon pricing."
She reminded: "The president supports an enforcement mechanism that requires polluters to bear the full cost of the carbon pollution they are emitting."
She believes tax policy should be used to provide incentives for individuals and businesses to adopt "climate-friendly policies."
She is concerned about proposals to use stress tests on banks to determine their ability to withstand the economic impact of climate change on their assets, including fossil fuels. "Generating environmental regulation is not the mission of financial regulators," she said.
Take-Away
Regardless of how one feels about the growing national debt or money creation, it appears the next Treasury secretary is on board with continuing the course we've been on. This could lead to another good showing for assets, including the overall stock market. There will be some sectors that should do better as the focus shifts more toward "green energy." She recognizes the importance of a strong banking industry, which may inadvertently help lenders by swelling longer debt issuance we which ordinarily causes a steepening of the yield curve. Yellen seems to want to manage to a stable dollar. Weakness adds to higher exports and inflation, while a strong dollar allows Americans to buy more imported goods. The tax and redistribute policies President Biden promised while he was candidate Biden may have been softened a touch, based on Yellen's responses; however, she is not currently part of the administration, and the concept does not sit well with a large percentage of the members of the Senate Finance Committee who supported the 2017 Tax cut in taxes.
Suggested Reading:
Where Could Investors Profit When the Economy Fully Opens
What are Stock Market Valuations Signaling?
Enjoy Premium Channelchek Content at No Cost
Sources:
Finance Committee Questions for the Record – Jan. 21, 2021
Treasury Nominee Yellen Testifies Before Senate Finance Committee
Follow or Subscribe to ChannelChek on your preferred social media: