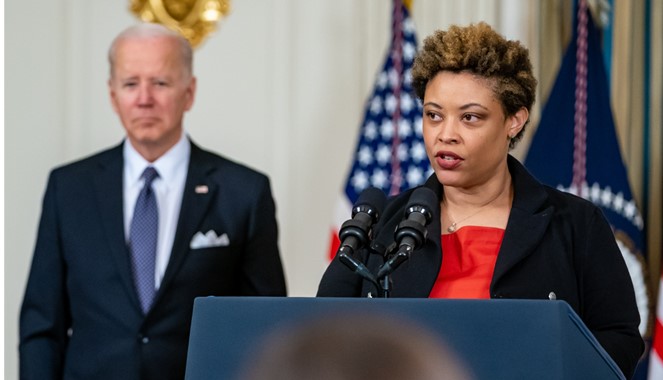 Investor Buy/Sell Patterns Could Change Under Biden Budget Proposals
The White House's annual budget request to Congress has the power to move market sectors, as it's a preliminary look at spending priorities and possible revenue sources. This year, alongside the pressure of Congress wrestling with raising the debt limit, the House Ways and Means Committee hearings related to the President's budget could have a more significant impact than before. Treasury Secretary Janet Yellen will address the House committee on Friday, March 10th, and respond to questions. Taxation and spending priorities of the White House will be further revealed during this exchange.
Watch Live coverage at 9 AM ET.    
What is Expected
The President's proposed budget for the 2024 fiscal year proposes cutting the U.S. deficit "by nearly $3 trillion over the next decade," according to White House Press Secretary Karine Jean-Pierre, this is a much larger number than the $2 trillion mentioned as a goal during the State of the Union address last month. Jean-Pierre explained to reporters that the proposed spending reduction is "something that shows the American people that we take this very seriously," and it answers, "how do we move forward, not just for Americans today but for … other generations that are going to be coming behind us."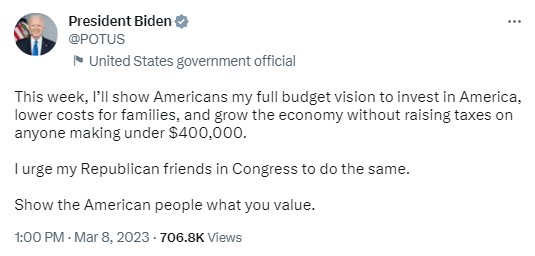 Biden's requested budget includes a proposal that could impact healthcare as it would grow Medicare financing by raising the Medicare tax rate on earned and investment income to 5% from the current 3.8% for people making more than $400,000 a year.
Railroad safety measures are also included in Biden's proposal, it asks for millions of additional funding for railroad safety measures spurred by recent derailments. The President also proposes a 5.2% pay raise for federal employees.
The budget deficit would be expected to shrink over ten years in part by raising taxes. One proposal investors should look out for is what has been called the Billionaire Minimum Income Tax. According to a White House brief, it "will ensure that the wealthiest Americans pay a tax rate of at least 20 percent on their full income, including unrealized appreciation. This minimum tax would make sure that the wealthiest Americans no longer pay a tax rate lower than teachers and firefighters." The tax will apply only to the top 0.01% of American households (those worth over $100 million).
At present, the tax system discourages taking taxable gains on investments to postpone taxes. If adopted by Congress, a 20% tax on the unrealized appreciation of investments could have the effect of altering buying and selling patterns of securities, as well as real estate and other investments.
Jean-Pierre did say that the budget would propose "tax reforms to ensure the wealthy and large corporations pay their fair share while cutting wasteful spending on special interests like big oil and big pharma." One reform, the White House has been outspoken about is corporate buybacks. He proposes, quadrupling the tax on corporate stock buybacks.
Take Away
The market will get insight beginning the second week of March 2023 into the financial priorities of the White House and thoughts on members of the House Ways and Means Committee. While nothing is set in stone, the White House and Congress would both seem to be on the same side of more fiscal restraint.
And although nothing is close to complete, the discussions and news of debate can have a dramatic impact on markets. For example, investors may be treated to more buybacks if it appears the tax on buybacks will increase in 2024. Another example would be a tax on the appreciated investments of wealthy individuals. It could follow that accounts of these individuals would have an increased incentive to transact than under a system where capital gains are only recognized by the IRS after taken.
Managing Editor, Channelchek
Sources
https://www.whitehouse.gov/briefing-room/press-briefings/2023/03/08/press-briefing-by-press-secretary-karine-jean-pierre-19/
https://www.whitehouse.gov/omb/
https://www.congress.gov/event/118th-congress/house-event/115464?s=1&r=6
https://fortune.com/2023/02/10/how-much-would-musk-gates-bezos-pay-bidens-billionaire-tax/