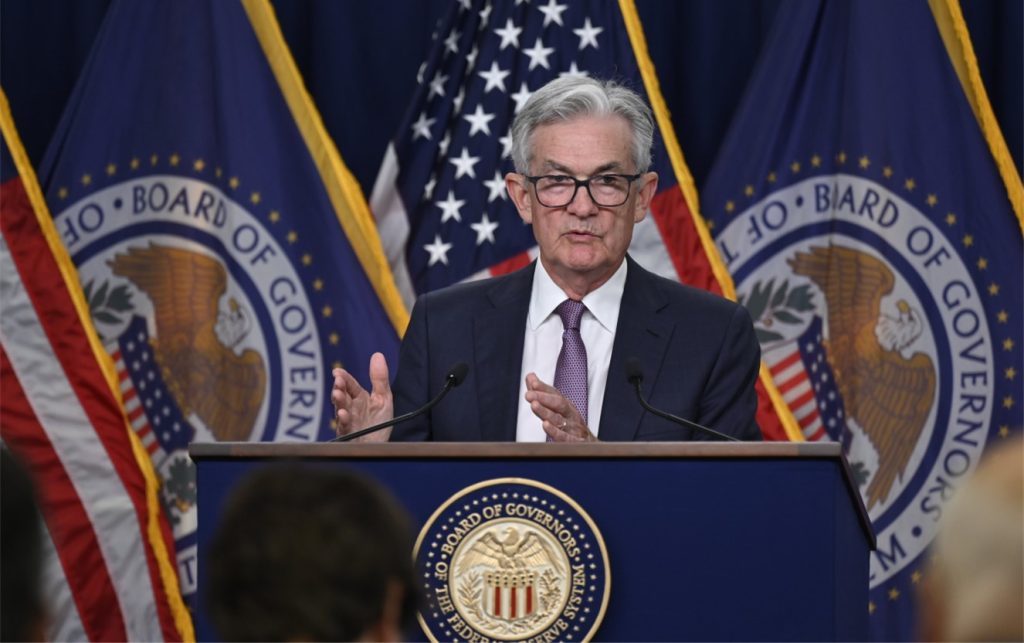 "By Any Standard Inflation Remains Much Too High," Says Powell
The Federal Reserve has a blackout period for its governors. It begins the second Saturday preceding an FOMC meeting. During this period the members cannot give any sort of public address on topics that will be under consideration at the Committee meeting. Today, Fed Chair Powell gave an address titled, Inflation and the Labor Market. These are the two missions of the Fed. This address may be the last the markets hear from Powell until after the December 14th FOMC session.
The stock and bond markets were hoping to hear that the Fed will be backing off significantly. Instead, what was delivered by Powell was more consistent with his previous talks which don't back away from full commitment to bringing down prices. Although he did suggest that they have covered the bulk of the ground, they will need to.
Current Status
Powell referred to the address given on the last day of November 2022 as a "progress report on the Federal Open Market Committee's (FOMC) efforts to restore price stability to the U.S. economy for the benefit of the American people." The report made mention several times that a healthy economy with ample job growth consistent with inflation targets is consistent with low price inflation. In fact Powell lead with the words, "the report must begin by acknowledging the reality that inflation remains far too high."
Powell said that he and other Fed governors are "acutely aware that high inflation is imposing significant hardship, straining budgets and shrinking what paychecks will buy." He continued, "price stability is the responsibility of the Federal Reserve and serves as the bedrock of our economy. Without price stability, the economy does not work for anyone. In particular, without price stability, we will not achieve a sustained period of strong labor market conditions that benefit all."
Inflation
Powell said that 12-month personal consumption expenditures (PCE) inflation through October ran at 6.0 percent (figure 1). While October inflation data received so far showed a welcome surprise to the downside. He cautioned that "these are a single month's data, which followed upside surprises over the previous two months. As figure 1 makes clear, down months in the data have often been followed by renewed increases." Powell said. He reminded that, "it will take substantially more evidence to give comfort that inflation is actually declining. By any standard, inflation remains much too high."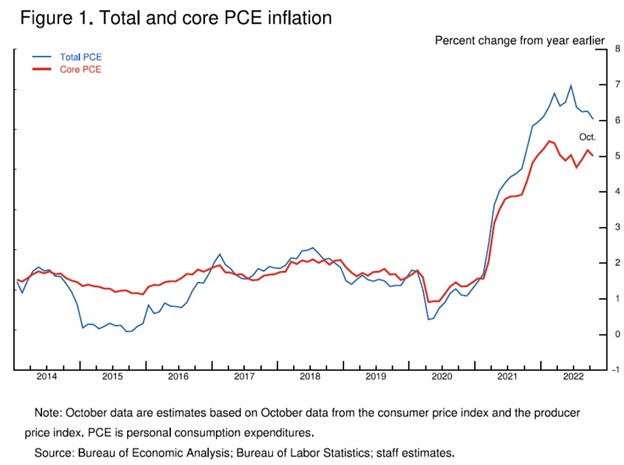 In order to reach the Fed's goal, Powell says they need to raise interest rates to a sufficiently restrictive level to return inflation to 2 percent. He relents that there is considerable uncertainty about what rate will be sufficient. Although he says they are much closer now than at the beginning of the year.
Powell said of himself and his associates, "we are tightening the stance of policy in order to slow growth in aggregate demand. Slowing demand growth should allow supply to catch up with demand and restore the balance that will yield stable prices over time. Restoring that balance is likely to require a sustained period of below-trend growth."
Housing Prices
The rise in the price of all rents and the rise in the rental-equivalent cost of owner-occupied housing is called housing services inflation. Unlike goods inflation, housing services inflation has continued to rise and now stands at 7.1 percent over the past 12 months, according to Powell. Housing inflation tends to lag other prices around inflation turning points, but because of the slow rate at which the stock of rental leases turns over. The market rate on new leases is a timelier indicator of where overall housing inflation will go over the next year or so. Measures of 12-month inflation in new leases rose to nearly 20 percent during the pandemic but have been falling sharply since about midyear (figure 3).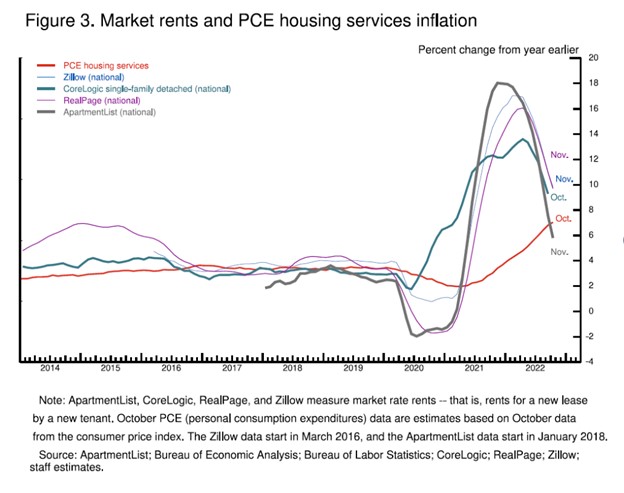 As the above chart shows, overall housing services inflation has continued to rise as existing leases turn over and jump in price to catch up with the higher level of rents for new leases. Powell thinks this is likely to continue well into next year. But as long as new lease inflation keeps falling, we would expect housing services inflation to begin falling sometime next year. Importantly, a decline in this inflation underlies most forecasts of declining inflation.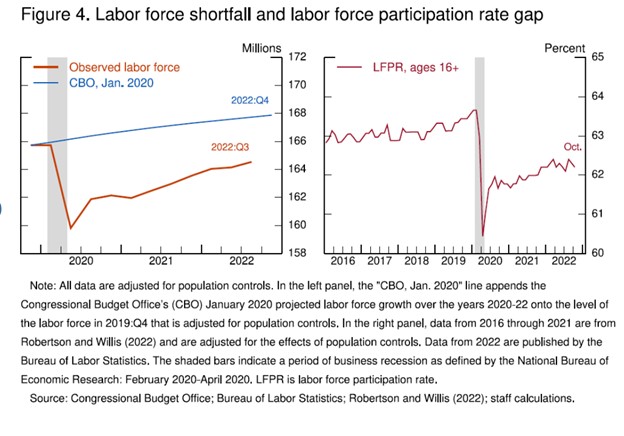 Labor costs is the largest of the three inflation categories covered in Powell's address. It represents more than half of the core PCE index. Powell used it to explain the future evolution of core inflation.  
Chair Powell said, " [the] demand for workers far exceeds the supply of available workers, and nominal wages have been growing at a pace well above what would be consistent with 2 percent inflation over time. Thus, another condition we are looking for is the restoration of balance between supply and demand in the labor market."
The Fed Chair said some of the labor force participation gap can be explained as workers who are still out of the labor force because of Covid related issues. But recent research by Fed economists finds that the participation gap is now mostly due to excess retirements—that is, retirements in excess of what would have been expected from population aging alone.
Economic Conditions Summed Up
In order to bring inflation down to 2%, the Fed Chair said he was happy that growth in economic activity has slowed. Also that bottlenecks in goods production are easing and goods price inflation appears to be easing as well. Housing services inflation will probably keep rising well into next year, but if inflation on new leases continues to fall, we will likely see housing services inflation begin to fall later next year. Finally, the labor market, which is especially important for inflation in core services ex housing, shows only tentative signs of rebalancing, and wage growth remains well above levels that would be consistent with 2 percent inflation over time. Despite some promising developments, we have a long way to go in restoring price stability.
Monetary Policy
Powell said in his address, "returning to monetary policy, my FOMC colleagues and I are strongly committed to restoring price stability. After our November meeting, we noted that we anticipated that ongoing rate increases will be appropriate in order to attain a policy stance that is sufficiently restrictive to move inflation down to 2 percent over time."
He admitted that monetary policy affects the economy and inflation with uncertain lags, and the full effects of rapid tightening are yet to be felt. With this, he says it makes sense to moderate the pace of the rate increases.
Powell said, "The time for moderating the pace of rate increases may come as soon as the December meeting. Given our progress in tightening policy, the timing of that moderation is far less significant than the questions of how much further we will need to raise rates to control inflation and the length of time it will be necessary to hold policy at a restrictive level. It is likely that restoring price stability will require holding policy at a restrictive level for some time. History cautions strongly against prematurely loosening policy. We will stay the course until the job is done."
Managing Editor, Channelchek
Sources
https://www.federalreserve.gov/newsevents/speech/powell20221130a.htm