Will Drivers Continue to be Dogged by High Gas Prices as US Strategic Oil Reserve is Replenished?
The last time the US Strategic Oil Reserves was this low was January 1985. The US population was then 238 million, The Cosby Show was the top-rated on TV, the threat of the AIDS virus was just beginning to be understood, and a newly appointed NIH Director named Anthony Fauci had just been promoted. In 37 years, some things have changed, and some things have not. One that has not is the need for reliable energy.
The Reserves reached its peak in April 2011 with 726.5 million barrels; today we sit with 453.1 million. Will it take 37 years to replenish the more than 200 million barrels, 160 million that have been siphoned off since March of this year?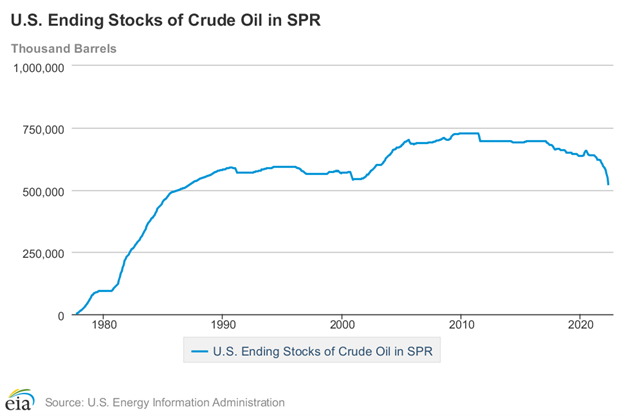 The barrels that are being used in 2022, were ordered released by the White House to offset domestic loss of production, pipeline distribution, and less supply compounded by global shortages resulting from a partial embargo against Russia. The order is intended to work to lower gas prices today and help reduce the impact oil prices are having on unacceptably high inflation.
President Biden said in March that the US would release one million barrels of oil a day for six months as petroleum products spiked following the start of the Russian/Ukrainian war. The White House then said, in late July, the US would release another 20 million barrels.
To some degree, it worked as intended. There has been a fall in the price at the gas pumps over the past two months. Much of this has been supply related helped by the reserve releases, and to a lesser extend, demand has also slowed from receding economic activity. WTI crude, the US benchmark price, has dropped around 24%.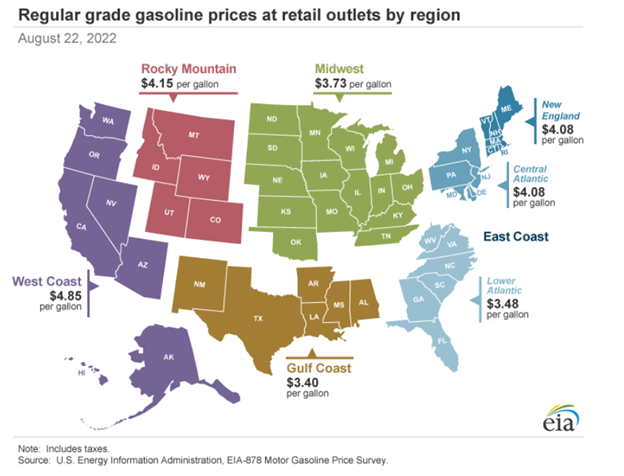 That decline has brought US gasoline prices down from above $5 a gallon in June to $3.89 on Tuesday, August 17. Globally, other countries are tapping into their own strategic reserves as well.
What Happens When we Refill It?
The US consumed about 20 million barrels of oil a day on average in 2021, according to the EIA. During the same year, it produced 11 million barrels a day. The Biden administration is proposing to refill the stockpiles under a plan that is likely to see it order 60 million barrels this fall for delivery at an unspecified time in the future. That leaves at least another 100 million barrels to bring the country back to where we were in March 2022 – over two hundred more to bring us back to the peak. It took 37 years last time for the country to stockplile the same amount.
The current infrastructure is not supporting additional oil output, or companies would be pumping now. On July 1, President Biden made public a five-year proposal for offshore oil and gas development in areas of existing production and said the final plan might have anywhere from zero to 11 lease sales.
The range of proposed options were, between two auctions a year and none at all. The plan seemed conflicted with a desire to balance the administration's efforts to reduce the use of fossil fuels and its calls to increase needed oil and gas.
Energy Demand Moving Forward
Does restocking the Reserves point toward high petroleum demand for a much longer time period than ever expected? Does it also create opportunities for producers of biofuels, for example GEVO?
The current fuel issues are not going to disappear overnight. Borrowing from the future with an intent, and now a plan to pay it back, will require more production than before. Companies that produce are not inclined to make big investments in building out a platform when the political climate is one of wanting to shut production down as soon as possible.
The cost of reducing energy output and then borrowing from reserves, especially when an unexpected embargo is placed on a major supplier, could keep the price of all energy elevated for a much longer time than, the end of a war, of installation of coastal wind farms.
Managing Editor, Channelchek
Sources
https://www.eia.gov/dnav/pet/hist/LeafHandler.ashx?n=PET&s=MCSSTUS1&f=M
https://www.eia.gov/petroleum/gasdiesel/gas_geographies.php#pricesbyregion
https://www.whitehouse.gov/briefing-room/statements-releases/2022/07/26/fact-sheet-department-of-energy-releases-new-notice-of-sale-as-gasoline-prices-continue-to-fall/
https://www.niaid.nih.gov/about/director
https://www.energy.gov/articles/doe-announces-additional-notice-sale-crude-oil-strategic-petroleum-reserve
https://www.reuters.com/business/energy/biden-administration-proposes-offshore-drilling-plan-focused-mainly-us-gulf-2022-07-01/