Image Credit: Johannes Plenio (Pexels)

Uranium is Reacting to Increasing Demand in the U.S. with Increased Support from Washington

The Senate approved Inflation Reduction Act (IRA) is yet another nod to nuclear energy. As the world is coming around to the idea that a significant, non-weather-dependent energy source is needed, if there is to be a successful transition away from fossil fuels, nuclear, more specifically, uranium fueled power, continues to get the nod from the U.S. Department of Energy (DOE), lawmakers in Washington, green energy groups, and even from countries like Japan and Germany.
This IRA bill that just passed in the Senate is headed to the House with almost $400 billion in energy security and climate-related programs over the next ten years. It is expected to easily pass without much renegotiation between the two branches of Congress. Below are some specifics on how it will impact the nuclear energy industry and, therefore, uranium investments.
Enriched Tax Credits for Nuclear Energy
There is a provision that improves upon the Zero-Emissions Nuclear Production law, which is a Power Tax Credit specific for nuclear energy producers. It is in the form of a scaled credit based on plant revenue and applies to existing power plants. The program now includes nuclear and would begin in 2024 and end in 2032; it will offer 5x the benefit if labor requirements are adhered to. The 2032 deadline is an extension of the original plan, which was included in Build Back Better.
The IRA provides for a technology-neutral clean energy production credit of 0.3 cents * kWh base rate for ten years starting in 2025. New, to the program is that energy producers (including coal) will receive a 10% credit in addition to any clean energy credit. This benefit does not look at the technology that is producing the energy.
High-Assay Low Enrichment Uranium (HALEU)
The version that passed the Senate also includes $700 million for HALEU, which is the fuel expected to be used in the next generation of reactors. This is interesting in that HALEU production is limited to Russia.
The HALEU funding is broken down into three categories and references the Energy Act of 2020:
$100M: Licensing and regulation of facilities and transportation packages.
$500M: Acquiring or providing HALEU from a stockpile of uranium to produce HALEU, estimating the quantity of HALEU necessary for domestic, commercial use, and developing a consortium to support the availability of HALEU for civilian use.
$100M: Support the availability of HALEU for civilian domestic research, development, demonstration, and commercial.
DOE Loans
The bill also includes $250 billion for DOE loans. The loans will help provide funding to smooth the road toward building tomorrow's carbon-free technology currently in development.
Related Investments
There are many non-energy generating U.S. companies involved in the various areas of providing nuclear fuel and even storing spent fuel. Additionally, there is a futures market and ETFs that either work to mimic the price changes in U308 or own uranium outright and store and provide valuation on the trust.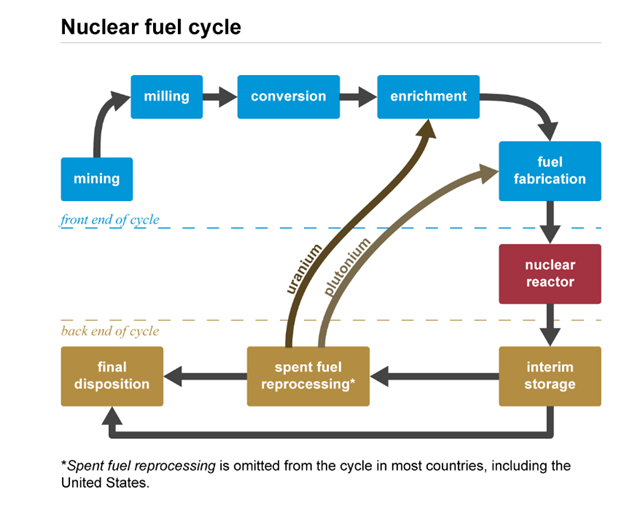 Source: Pennsylvania
State University Radiation Science and Engineering Center (Public Domain)
The chart below is provided as an example of how companies involved in producing uranium, uranium futures, and the ETF that owns the mineral all trade in relation to each other (three-month period).
Energy Fuels (UUUU) is the largest uranium producer in the U.S. and holds more production capacity and uranium resources than any other U.S. producer. A new research report update on Energy Fuels by Noble Capital Markets was released today (August 8). Read it here.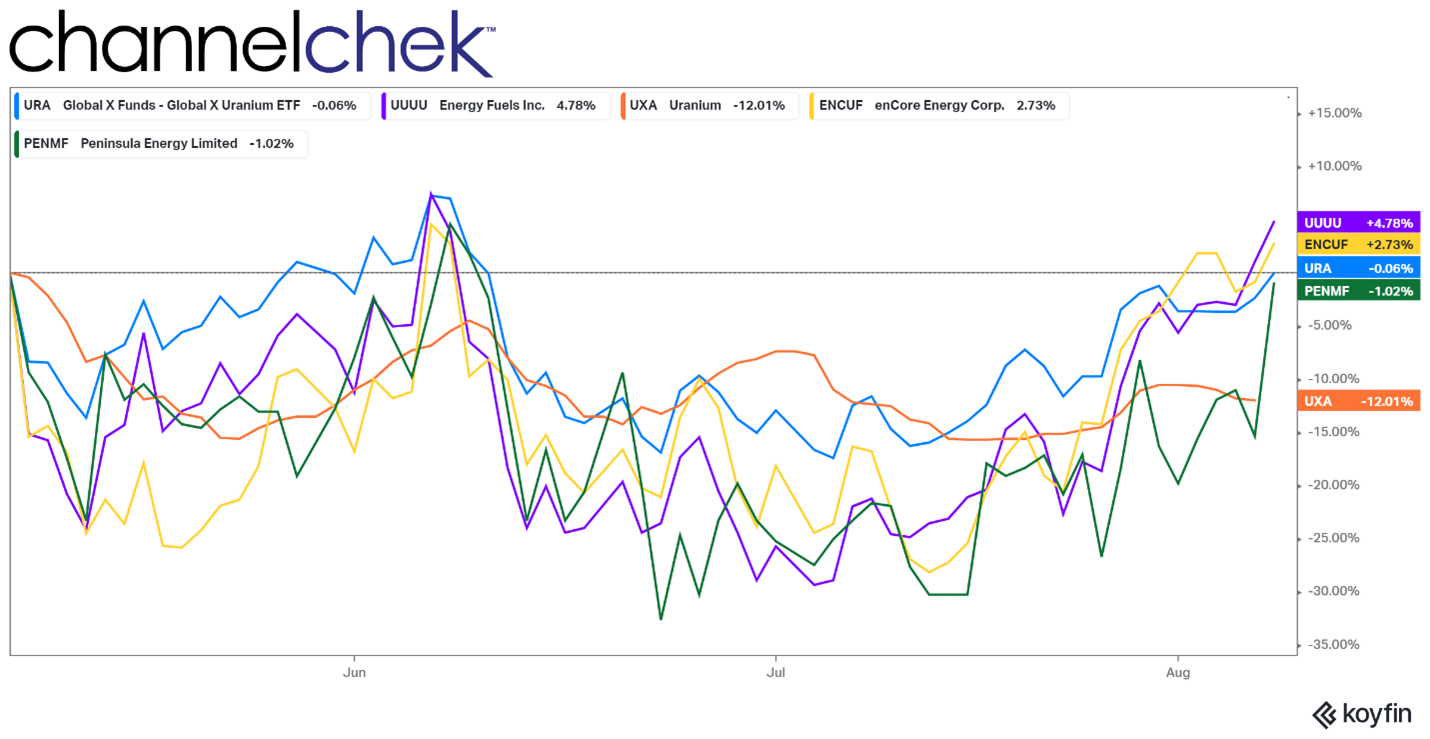 Source: Koyfin
enCore Energy Corp. (ENCUF) is focused on becoming a domestic (USA) uranium producer. It has significant existing resources in the southwest United States and licensed uranium production facilities in Texas; encore holds the largest uranium position in the Grants Mineral Belt and licensed processing capacity to respond quickly to market opportunities. Discover more here.
Peninsula Energy Ltd (PENMF) is a uranium mining and development company. Projects include Lance ISR Uranium Projects located on the north-east flank of the Powder River Basin in Wyoming and Karoo Uranium Projects in South Africa. It has three reportable operating segments, Lance uranium projects, Wyoming USA; Karoo uranium projects, South Africa; and Corporate. More data on Peninsula Energy is available here, and in the video link below.
Take Away
The provisions in the Inflation Reduction Bill, which seems sure to pass the House and be signed into law, would seem to create a tailwind worth several hundred billion to the industry. It also serves as a glowing nod toward nuclear as one important piece to meeting reduced carbon emissions goals.
The IRA bill gives current investors in the related nuclear power and uranium industries a reason to be more bullish and newer investors a reason to react to the possibility of adding stocks of producers, futures contracts, or uranium itself into their portfolios.
Managing Editor, Channelchek
Suggested Content
Sources
https://www.eia.gov/energyexplained/nuclear/the-nuclear-fuel-cycle.php
https://www.eia.gov/todayinenergy/detail.php?id=51978
https://thebreakthrough.org/articles/advancing-nuclear-energy-report
https://www.whitehouse.gov/wp-content/uploads/2022/08/SAP-H.R.-5376.pdf
Stay up to date. Follow us: