Long Story Short: Biotech Companies Determined to Eliminate HIV

A Cure For HIV Infection, Promise or Reality?
(Note: companies that could be impacted by the content of this article are listed at the base of the story [desktop version]. This article uses third-party references to provide a bullish, bearish, and balanced point of view; sources are listed after the Balanced section.)
Anti-retroviral therapy (ART), or highly-active-antiretroviral therapy (HAART), is effective in halting the progression of HIV infection (a disease affecting nearly 40 million persons worldwide). However, HAART does not cure the disease as the HIV virus, despite of the treatment, remains hidden in the human body. In 2018, Gilead's Genvoya and GlaxoSmithKline's Triumeq, the two top selling ART drugs, had annual sales of $4.62 billion and $3.36 billion, respectively. Notwithstanding their commercial success, these medicines do not cure the disease. The HIV virus often remains hidden in the human body in reservoirs such as dendritic cells, macrophages, and CD4+ lymphocytes. Resistance to treatment, side effects of HAART, stigma, and the cumbersome need for lifelong therapy are all important issues highlighting the need for a cure. If a patient interrupts antiretroviral therapy, the viral infection comes back. Since HIV was first detected in 1983, the medical community have intensively searched for a cure for this disease.
The Story of the Berlin Patient
In 2007, Timothy Ray Brown, an American studying in Berlin, Germany, was treated with a hematopoietic stem cell transplant. Two years earlier, Mr. Brown had been diagnosed with a type of blood cancer known as acute myeloid leukemia (AML). Besides its cancer diagnosis, Timothy was infected with the Human Immunodeficiency Virus (HIV). Dr. Gero Hütter, a German doctor from the Charité Hospital, Berlin University of Medicine, performed the transplant. Before seeing Timothy, Dr. Hütter had never treated an HIV patient, but he had learned about a rare genetic mutation causing natural resistance to HIV infection. Based on this information, Dr. Hütter found a stem-cell donor carrying this specific mutation. He performed the transplant on Mr. Brown using these mutated cells.
The procedure resulted in a surprising outcome. Timothy's HIV infection disappeared after the transplant. The HIV virus could not be detected on his blood, not even with the most sensitive diagnostic techniques such as polymerase chain reaction (PCR) methods. Timothy Ray Brown was cured of his HIV infection. He became famous in the medical community. Timothy is now known as the Berlin patient. The story of the Berlin patient triggered significant interest in both academy and industry, setting off a gold rush to find a sterilizing cure for HIV infection. Timothy's transplant treatment was done from a donor carrying a mutation in a gene known as CCR5, which happens to be the site of entry utilized by HIV virus to infect immune system cells (New England Journal of Medicine 2009, 360, 692-698). The CCR5 protein receptor is expressed on the surface of lymphocytes T, which are the primary cells targeted by HIV virus. Two cell receptors, CD4+ and CCR5, are utilized by HIV to enter the cell. The virus cannot enter and infect cells with a defective CCR5 receptor.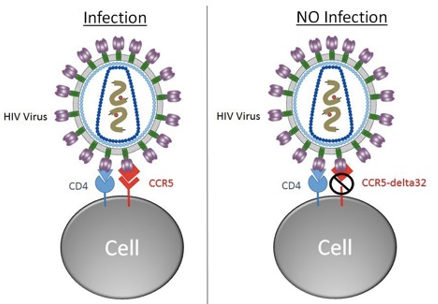 As a result of CCR5 mutation (no site of entry), HIV cannot find a home, the patient's viral load gradually decreases, and eventually the virus fizzles out. This is probably what transpired during Mr. Brown' treatment procedure. The virus became undetectable in Timothy's body. He stopped taking any medication for HIV, although he continued to undergo treatment for his blood cancer. Timothy has remained HIV negative for 12 years now. He has been cured from his HIV infection.
Berlin Patient Results Have Been Difficult to Reproduce
Twelve years have passed since the Berlin patient was cured. Despite many attempts in other HIV patients, the results obtained with Berlin and London patients have not been easy to reproduce. Dr. Hütter had treated other patients with the same procedure. These patients, like Timothy Brown, have been diagnosed with blood cancer and were concomitantly infected with the HIV virus. Unfortunately, the results of these treatment attempts have been negative. Unlike the case of the Berlin patient, these newly treated patients have not been cured. In one of these trials, six cancer patients, carrying the HIV virus, were treated with stem cell transplantation from donors with mutated CCR5. Unfortunately, they all died within 12 months. The causes of death were infections, graft-versus-host disease (an autoimmune complication of the transplant), and recurrent blood cancer (New England Journal of Medicine 2014, 371(25) p2437-2438). Due to its inherent risks, bone marrow transplantation is not suitable as a standard treatment for HIV patients. Many other physicians have also tried this treatment procedure, but have not been successful in their attempts as patients often die of the bone marrow transplant, or relapse years after treatment (HIV virus restarts replicating again in immune system cells). These negative results have cast doubts on the promise of finding a cure for this illness.
Efficiency of Gene Editing Technologies Needs to Improve
Dr. Hongkui Deng, one of the most prestigious scientists in China, and his team from Peking University published an article on the New England Journal of Medicine in September this year. In the article, the scientists published results from a study consisting of transplanting blood stem cells lacking the CCR5 receptor into an HIV infected patient who was also suffering from acute lymphoblastic leukemia (a type of blood cancer). The CCR5 receptor was removed from these stem cells (ex vivo) using CRISPR gene editing technology. The purpose of this experimental treatment was to reproduce the Berlin patient results (curing HIV infection) without the need for a bone marrow transplant, which is a very risky procedure. Although the "CRISPR-edited CCR5-ablated stem cells" persisted in the treated patient for more than 19 months, the HIV viral infection returned after interruption of antiretroviral therapy. From an HIV cure standpoint, the experiment failed. This result highlights the challenges of finding a sterilizing cure for HIV infection, despite recent advances in gene editing. One caveat of this study was that only approximately 5% of the transplanted stem cells were successfully CRISPR-edited for CCR5 ablation. The scientific consensus is that for this gene therapy approach to work in HIV-infected patients, there is a need to improve the efficiency of CRISPR gene editing technologies to achieve gene editing in nearly 100% of targeted cells before transplantation (the 5% CRISPR-edited stem cells were not enough on this trial).
Sangamo Therapeutics (NASDAQ: SGMO, Market Cap $1.36 billion) developed SB-728-T as a novel drug for the treatment of HIV infection. This candidate medicine was based on the genome editing of the CCR5 gene in T lymphocytes. The treatment was designed to render these T lymphocytes resistant to the virus. These genetically modified cells were subsequently grown outside of the human body (
ex vivo
), and then infused back into HIV patients to repopulate the immune system. Sangamo conducted a clinical trial in twelve HIV-infected patients, who were treated with SB-728-T (containing CCR5-ablated T cells). These cells were gene edited using Sangamo's zinc finger technology instead of CRISPR. For the 12 patients treated with SB-728-T, the number of transplanted T cells successfully edited (lacking CCR5 receptor) varied from 11% to 28%, whereas the rest of the transplanted T cells (72% to 89%) had a normal CCR5 receptor on their surfaces. Although the SB-728-T transplanted T cells proliferated in the treated patients, HIV infection returned when antiretroviral therapy was interrupted. Again, the treatment failed as a cure. Sangamo's novel gene therapy approach did not meet the goal of becoming a potential sterilizing cure for HIV infection (the negative results were published in the
New England Journal of Medicine
in 2014). As a result, Sangamo had abandoned its HIV program to focus on sickle cell disease and other blood and neurological disorders. Again, the need to improve the efficiency of gene editing was demonstrated in this trial, as the starting number of CCR5-ablated cells (11%-28%) was not enough to achieve efficacy. For a potential cure to work, it seems that 100% of the cells need to be CCR5-ablated, as it was the case with the Berlin patient.
What is Next in The Field, Is Stem Cell Transplant Still an Option
Most HIV experts in academia and industry believe that stem cell transplantation targeting the CCR5 receptor remains a viable option as a potential cure for HIV infection. Although significant challenges remain, stem cell transplantation seems to be the most promising approach to achieving complete removal of the virus from a patient's blood. Replacing infected blood cells for newly engineered cells, fully resistant to infection, to reestablish anti-HIV immunity makes sense from a scientific standpoint.
Scientists at the University of Pennsylvania, are combining the "CCR5-targeted stem cell transplantation treatment" with a CAR-T approach, which instructs T cells to kill the remaining HIV infected cells. The prevailing view among scientists in the HIV field is that a potential cure is now an achievable goal. Recent advances in gene therapy, combined with superior stem cell transplantation techniques should help bringing this new technology to the forefront of HIV treatment.
Sterilizing Cure versus Functional Cure
Rather than eliminating HIV reservoirs with a sterilizing cure, a functional cure aims at silencing HIV replication permanently. American Gene Technologies (AGT), a Baltimore-based biotechnology company, which is privately held, has developed a candidate medicine known as AGT103 as a potential functional cure for HIV infection. This cure is designed to prevent HIV replication after discontinuing antiretroviral therapy but does not destroy the HIV virus hidden in reservoirs. AGT103 is a gene & cell therapy consisting of genetically modified T cells, transformed into "super T cells" to fight and destroy the HIV virus. It is an autologous therapy as "HIV-specific T lymphocytes" are extracted from HIV-infected patients, genetically modified ex vivo, expanded and injected back into the patient to restore immunity against the HIV virus. AGT has demonstrated an average yield of one billion genetically modified T cells from a starting sample of less than a million cells extracted from the patient. The cells are genetically modified with a vector to carry miRNAs blocking expression of CCR5 receptor and HIV proteins "Vif" and "Tat", which are required for HIV replication. Without CCR5, Vif and Tat, HIV cannot replicate, rendering the genetically modified T cells permanently resistant to HIV infection. These modified cells, in turn, are instructed to find and kill any HIV-infected cell with active HIV replication. AGT has filed an investigational new drug application (IND) with the FDA. The company is expected to commence clinical trials on the use of AGT103 early in 2020.
The search for a functional cure has led to two main strategies: 1) the "shock and kill" strategy and 2) deep latency ("block and lock"). The shock and kill strategy consists of reactivating latent (dormant) HIV, let it replicate to become visible to the immune system and then kill it. The first step consists of getting the virus to come out of its hidden places, and then to completely eliminate it by immune clearance. The second strategy, deep latency, aims at permanently silencing the virus. It does not deplete the HIV reservoirs, but it is designed to make the HIV virus resident in those reservoirs dormant forever. If these functional cures are effective, HIV patients will be able to stop antiretroviral medication while remaining asymptomatic, despite the viral presence on their latent reservoirs. For HIV patients, either a functional or sterilizing cure will be welcome news. Such an achievement will be a true medical breakthrough. Although significant challenges remain, the prevailing view of the scientific community and industry experts is that a cure for HIV infection is within reach, especially given the concerted effort of both academia and pharma/biotechnology companies to improve current efficiency of cell and gene therapy technologies.
References
The Berlin patient was the first patient cured by stem cell transplantation (https://www.youtube.com/watch?v=f6DXqGZt_Fw)
Long-term control of HIV by CCR5 Delta32/Delta32 stem cell transplantation (Hütter, G., et al, New England Journal of Medicine 2009, 360, 692-698)
Hematopoietic stem cell transplantation for HIV cure (Kuritzkes, D.R., The Journal of Clinical Investigation 2016, 126 (2) p432-437)
More on shift of HIV tropism in stem cell transplantation with CCR5 mutation (Hütter G., Kordelas L., et al, New England Journal of Medicine 2014, 371(25) p2437-2438)
Homozygous defect in HIV-1 coreceptor accounts for resistance of some multiply-exposed individuals to HIV-1 infection (Liu R, et al, Cell 1996, 86:367-377)
Association between CCR5 genotype and the clinical course of HIV-1 infection (de Roda Husman AM, et al, Annals of Internal Medicine 1997, 127:882-890)
(Gilliam BL, et al, Journal of Translational Medicine 2011, 9 (Suppl 1:S9)
Making inroads toward eliminating latent HIV reservoirs (https://www.fiercebiotech.com/research/making-inroads-towards-eliminating-latent-hiv-reservoirs)
CytoDyn, Inc. (CYDY) HIV targeting with CCR5 antagonist (https://emerginggrowth.com/cytodyn-inc-otcqb-cydy-disruptive-targeting-of-hiv-and-expands-indications-to-cancer-with-ccr5-antagonist/)
Could gene editing fight the AIDS crisis? Scientists poised to re-try the risky procedure 10 years after it cured the Berlin Patient, but had disastrous results in every other trial (https://www.dailymail.co.uk/health/article-5387319/Could-gene-editing-fight-AIDS-crisis.html)
Gene therapy could revolutionize HIV treatment (http://www.hivequal.org/news-flash/gene-therapy-could-revolutionize-hiv-treatment)
HIV-1 remission following CCR5delta32/delta32 haematopoietic stem-cell transplantation. Nature 2019 (568) p 244-248.
CRISPR-Edited Stem Cells in a Patient with HIV and Acute Lymphocytic Leukemia (N Engl J Med 2019; 381:1240-1247)
Gene Editing of CCR5 in Autologous CD4 T Cells of Persons Infected with HIV (N Engl J Med 2014; 370(10)901-910)
Deep latency: A new insight into a functional HIV cure. EBioMedicine (Published by LANCET) 2019 (45) p624-629
Company
Ticker
Price
Previous
Mkt Cap
Volume
52wk Range
Enochian Biosciences Inc.
ENOB (Nasdaq)
$3.46
$161.36M
0
$1.96 - $13.44
Vical Incorporated
VICL (Nasdaq)
0
0
0
0 - 0
Mymetics Corp
MYMX (OTCQB)
$0.08
$23.69M
0
$0.03 - $0.11
Jaguar Health Inc.
JAGX (Nasdaq)
$1.95
$185.00M
0
$0.19 - $2.99
Geovax Labs
GOVX (OTCQB)
$3.41
$12.99M
0
$0.12 - $7.50
CytoDyn Inc
CYDY (OTCQB)
$5.82
$3.32B
0
$0.77 - $10.02
Co-Diagnostics Inc.
CODX (Nasdaq)
$10.39
$293.72M
0
$0.89 - $30.99
Chembio Diagnostics Inc.
CEMI (Nasdaq)
$5.29
$106.73M
0
$2.25 - $15.90