Image Credit: Elsa Olofson (Unsplash)
Banks and Credit Unions Are Now Allowing Services For Marijuana And Cannabis Businesses
Cannabis businesses continue to be challenged with their awkward legal situation. They're caught between different state and federal laws governing their products. While the U.S. Congress is expected to one day pass cannabis banking reforms and broader legislation for marijuana legalization, most notably the SAFE Banking Act and the Cannabis Administration and Opportunities Act, there are institutions that are opening their banking systems to help serve the needs of this part of the community.
Background:
Thirty-five states, the District of Columbia, Guam, and Puerto Rico, have all legalized the use of marijuana to some degree. Yet the possession, distribution, or sale of marijuana remains illegal under federal law, this means any contact with money that can be traced back to state marijuana operations could potentially be considered money laundering and expose a bank to significant legal, operational and regulatory risk.
The list of businesses falling between the gap of state and federal law is long. It includes growers, retailers, various vendors, landlords, and employees indirectly tied to the cannabis industry. This poses a legal risk on the federal level for banks if they serve any of these entities or individuals, as indirect connections to marijuana revenues are hard, if not impossible, for banks to identify and avoid.
The rift between federal and state law has left banks trapped between their mission to serve the financial needs of their communities and the threat of potentially severe federal enforcement action.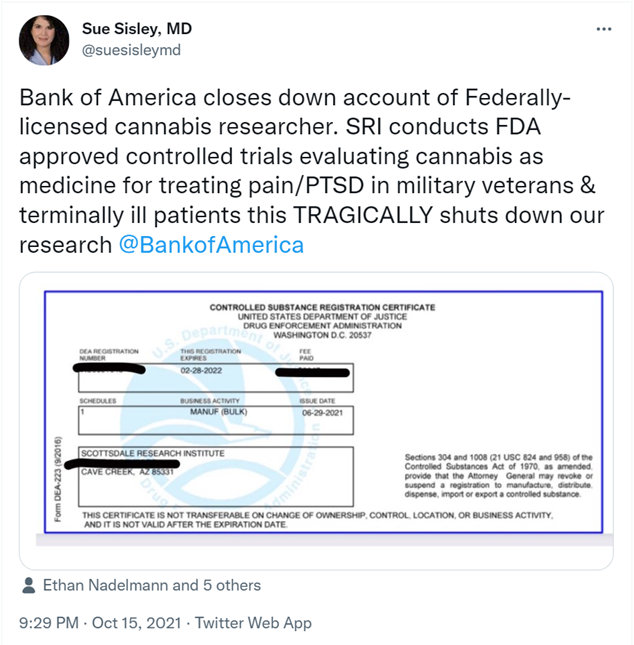 The second-largest bank in the U.S., Bank of America backed off from banking a federally legal research operation last week.
Cannabis Fintech Companies
StandardC is a Fintech company that provides cannabis-related businesses (CRB) with banking services. They're able to lend, make payments, insure, provide payroll services, and armored transport to CRBs. In a press release, The San Francisco-based company announced in a press release that it now has the capacity to serve over 1,500 CRBs and accept total deposits of over $1.3 billion.
While cannabis does remain restricted under the Controlled Substances Act (CSA); The Financial Crimes Enforcement Network (FinCEN), which is
the enforcer of the Bank Secrecy Act (BSA) and its Anti-Money Laundering (AML)
requirements, issued guidance (FIN-2014-G001) in 2014 that "…clarifies
how financial institutions can provide services to marijuana-related businesses
consistent with their BSA obligations." According to Robert Baron, the Chief Experience Officer of StandardC. Mr. Baron is a cannabis banking expert and Certified Anti-Money Laundering Specialist (CAMS, CAMS-RM), He noted in his company's release that the 2014 guidance provides a framework that is used by his company and its member banks and credit unions to solve the lack of access to banking. Mr. Baron noted that "While the largest banks sit out on the sidelines, we are solving the banking crisis by deploying proven technology and expertise to enable bankers to meet the needs of the cannabis industry."
Robert Mann, CEO of StandardC, commented "While Congress deliberates, our network of federally insured financial institutions is taking action to solve the problems faced by the cannabis industry. They deserve access to banking, and they no longer have to wait for the government to act."
Take-Away
Despite delays by the U.S. Congress to pass cannabis banking reforms and broader legislation for marijuana legalization, most notably the SAFE Banking Act and the
Cannabis
Administration and Opportunity Act, some banks and credit unions are stepping in to help bank this sector. With the help of a fintech company and supporting banks and credit unions, guidance issued in 2014 by FINCen is being relied upon to properly and compliantly structure the services.
Suggested Reading
Sources:
https://www.prnewswire.com/news-releases/banks-and-credit-unions-are-now-opening-accounts-for-marijuana-and-cannabis-businesses-301403389.html
https://www.aba.com/advocacy/our-issues/cannabis
https://www.jdsupra.com/legalnews/safe-banking-act-of-2021-where-are-we-5632341/
https://www.usnews.com/news/best-states/articles/where-is-marijuana-legal-a-guide-to-marijuana-legalization
https://twitter.com/suesisleymd/status/1449185818493390851
Stay up to date. Follow us: