Image Credit: Kindel Media (Pexels)
Marijuana, CBD, and Hemp Vapes Can Never be Mailed to Customers
While consumer marijuana companies, both medical and recreational, may soon find it easier to do business under proposed federal laws, a U.S. Postal Service (USPS) rule approved on Wednesday may cause a permanent drag on vape sales. The USPS issued its final amendments to the "Hazardous, Restricted, and Perishable Mail" rules which are designed to comply with a federal law signed last year that regulates electronic nicotine delivery systems (ENDS).
The final rule fulfills a required condition of the Preventing Online Sales of E-Cigarettes to Children Act (POSECCA) federal regulation. The federal law passed in 2020 "requires the USPS to implement regulations to prohibit the mailing of these systems"
Definition of Electronic Delivery System (ENDS)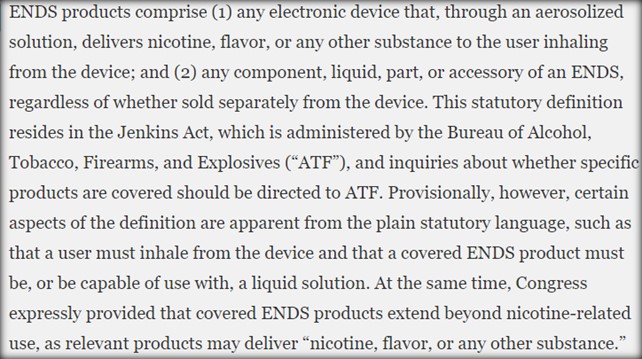 Source: Federal Register October 21, 2021
Although the final rule specifically prohibits mailing ENDS, and states "nicotine," Congress uses the term to describe all vaping products. Many cannabis, and hemp products, including CBD, are in the category that lawmakers banned, according to the final rule. This rule went into effect yesterday (October 21).
Comment Period
The public comment period leading up to the rule change brought in views and opinions from 15,700 citizens. Some comment themes were answered in the final written rule so as to better define the USPS inclusions and exclusions. One noteworthy decision was related to CBD. Commenters said the final rule would conflict with shipping other hemp and hemp-derived products that test under the legal 0.3% THC limit; the USPS said it is unable to go around the POSECCA because it specifically calls on the agency to prohibit the shipping of vape products and said the ban would not clash with other laws because it's under the federal government.
Virtual Road Show Series – Monday, October 25 @ 1pm EDT


Join Schwazze CEO Justin Dye and CFO Nancy Huber for this exclusive corporate presentation, followed by a Q & A session featuring questions taken from the audience. Registration is free and open to all investors, at any level.
Register Now |
View All Road Shows
The agency makes clear that the final rule does not interfere with the mailing of hemp and hemp derivatives that contain no more than 0.3% THC on a dry weight basis, as long as it is not "incorporated into an ENDS product or function as a component of one."
The final rule also "exempts business-to-business shipments from the mail ban, along with shipping to consumers within the borders of Alaska and Hawaii, and limited non-commercial shipping between private individuals,"
The USPS final rule allows for the shipping of cigarettes for "consumer testing" by public health researchers and federal agencies.
Specific Mention of
Marijuana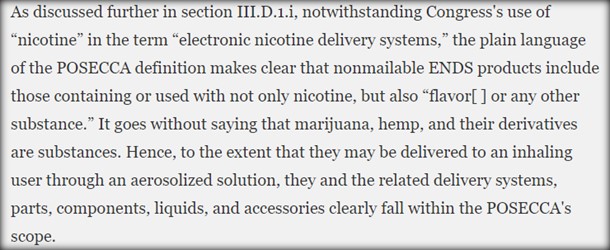 Source: Federal Register October 21, 2021
Take-Away
Within last year's electronic delivery systems federal law, final rules were determined this week related to the United States Post Office. Businesses are specifically prohibited from mailing any form of electronic vaping device to a consumer. This is a new law that is not likely to be updated or changed in the foreseeable future. Many marijuana companies are building sophisticated distributor
networks of their own. The restrictions placed on the USPS may only benefit the competitiveness of these businesses.
Suggested Reading:
Sources:
https://www.federalregister.gov/documents/2021/10/21/2021-22787/treatment-of-e-cigarettes-in-the-mail
https://vaping360.com/vape-news/111617/usps-final-rule-banning-vape-mail/
Stay up to date. Follow us: