Companies by Sector
More than 6000 listed
Communication Services
Telecommunication Services
Consumer Cyclical
Advertising & Marketing Services
Furnishings, Fixtures & Appliances
Homebuilding & Construction
Manufacturing - Apparel & Accessories
Manufacturing - Apparel & Furniture
Retail - Apparel & Specialty
Consumer Defensive
Beverages - Non-Alcoholic
Financial Services
Diversified Financial Services
Healthcare
Healthcare Providers & Services
Medical Devices & Instruments
Medical Diagnostics & Research
Medical Instruments & Equipment
Industrials
Farm & Heavy Construction Machinery
Transportation & Logistics
Utilities
Utilities - Independent Power Producers

Current Efforts to Combat Coronavirus Pandemic
(Note: companies that could be impacted by the content of this article are listed at the base of the story [desktop version]. This article uses third-party references to provide a bullish, bearish, and balanced point of view; sources are listed after the Balanced section.)
Current Efforts to Combat Coronavirus Pandemic
As the outbreak of the novel coronavirus disease COVID-19, caused by the SARS-CoV-2 virus, rapidly spreads around the globe, scientists and physicians have been racing to understand this new virus and the pathophysiology of this disease to uncover possible treatment regimens and discover effective therapeutic agents and vaccines.
Exhibit 7. Selected Companies Combatting Coronavirus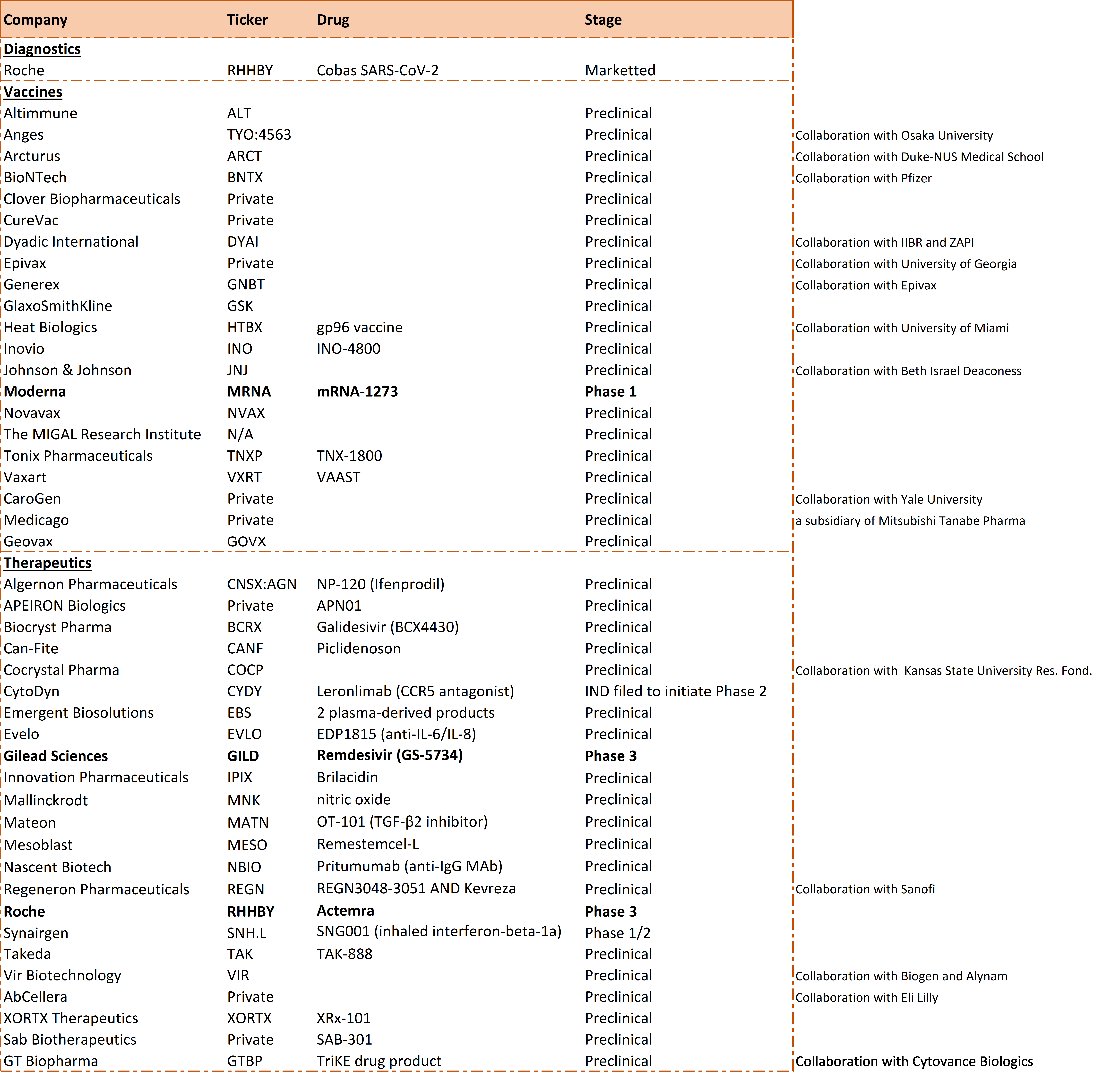 Source: Noble Capital
The outbreak gave rise to an active business development environment for deal-making to create join ventures and collaborations focused on the development of an effective therapy. In addition to multiple academic collaborations, recent industry deals include:
Abcellera with Eli Lilly
BioNtech with Pfizer
Generex with Epivax
Vaxart with Emergent BioSolutions
Vir collaborating with Biogen and Alynam
On the therapeutic side, Gilead's remdesivir was the first drug to enter the clinic against coronavirus. Remdesivir was initially tested in humans with Ebola virus disease and has shown promise in animal models for MERS and SARS. Two ongoing Phase 3 studies are assessing Remdesivir (that blocks RNA polymerase) for the treatment of COVID-19 in the United States and China. These randomized, open-label, multicenter studies will have readouts anticipated in April 2020.
Sanofi and Regeneron Pharmaceuticals have started a clinical program evaluating Kevzara (sarilumab) in patients hospitalized with severe COVID-19. Kevzara is an interleukin-6 (IL-6) receptor antagonist approved by the U.S. Food and Drug Administration (FDA) in 2017 to treat adults with moderately to severely active rheumatoid arthritis. The U.S.-based trial is expected to begin in New York, to assess the safety and efficacy of adding Kevzara to usual supportive care, compared to supportive care plus placebo. The multi-center, double-blind, Phase 2/3 trial has an adaptive design. The data is anticipated to readout in April 2020.
Roche and Genentech also initiated a Phase 3 trial of Actemra in hospitalized patients with severe COVID-19 pneumonia in China and Italy. The primary and secondary endpoints of the trial include clinical status, mortality, mechanical ventilation, and ICU variables. Actemra, an interleukin-6 (IL-6) receptor antagonist, was approved by the FDA in 2010 for the treatment of moderately to severely active rheumatoid arthritis (RA) patients.
Can-Fite BioPharma (CANF) is also exploring piclidenoson (A3 adenosine receptor agonist (A3AR) small molecule) on Coronaviruses viral load in a mammalian cell model system in collaboration with the Lewis Katz School of Medicine at Temple University, Philadelphia. Piclidenoson is currently in Phase 3 clinical stage for the treatment of patients with rheumatoid arthritis and it has anti-viral effects against single stranded RNA viruses.
Cocrystal is collaborating with Kansas State University Research Foundation (KSURF) to further develop proprietary broad-spectrum antiviral compounds for the treatment of Norovirus and Coronavirus infections. Cocrystal uses structure-based technologies to identify antiviral drugs.
CytoDyn (CYDY) is developing leronlimab (PRO 140), a CCR5 antagonist with the potential for multiple therapeutic indications. The company submitted an investigational new drug (IND) application to the FDA to conduct a Phase 2 clinical trial with leronlimab (PRO 140) as a therapy for patients who experience respiratory complications as a result of contracting COVID-19.
On the vaccine front, among over 40 vaccines are in development, Moderna's mRNA-1273 is the only one currently in the clinic. Moderna generates vaccines that contain nucleic acids with genetic codes (mRNA sequence). These codes instruct the body's cells to synthesize certain proteins from the virus that don't infect a person but activate an immune response. On March 16, the first patient was dosed with mRNA-1273 and Moderna became the second company to enter the clinic to combat coronavirus following Gilead. The open-label trial will be tested on 45 healthy volunteers between the ages of 18 and 55, according to ClinicalTrials.gov over approximately six weeks. The volunteers will be divided into three groups, each of which will receive a different dosage. Results from the Phase 1 trial are expected in June.
Dyadic is collaborating with The Israel Institute for Biological Research (IIBR) to develop therapeutics against Covid-19. As per the collaboration, IIBR will develop potential candidates and Dyadic will use their C1 technology to manufacture vaccines and monoclonal antibodies. C1 expression system is at the discovery stage to manufacture large volumes of low-cost biologic products such as enzymes and proteins.
Generex Biotechnology (GNBT) has signed a contract with EpiVax to use their computational tools to predict epitopes that can be used to generate peptide vaccines against the Covid-19 using the patented NuGenerex Immuno-Oncology (NGIO - Formerly Antigen Express) Ii-Key technology. EpiVax has identified a number of "hotspots" in the amino acid sequences of the nCOV-2019 coronavirus proteins. Using the epitopes predicted by EpiVax, Generex will manufacture a series of synthetic amino acid peptides that mimic the epitopes of the virus and send them to China for testing. EpiVax is collaborating with University of Georgia to develop a novel coronavirus SARS-CoV -2 (COVID-19) vaccine.
Heat Biologics (HTBX) is developing therapeutic vaccines in collaboration with the University of Miami to support the development of a vaccine leveraging Heat's proprietary gp96 platform designed to target the SARS-CoV-2 coronavirus that causes COVID-19.
Tonix Pharmaceuticals announced a collaboration with Southern Research to develop a vaccine TNX-1800 against Covid-19. The company is using its proprietary horsepox virus vector platform for the development of TNX-1800. Tonix has previously reported that horsepox has efficacy as a vaccine and good tolerability in mice and cynomolgus macaques.
Vaxart uses a specific virus called adenovirus type 5 (Ad5) as part of its novel technology platform to help train the immune system to recognize and defeat dangerous invading pathogens. The Ad5 virus serves as a vector to deliver the antigen and booster molecules to stimulate immune responses. The antigen is the pathogen protein designed to trigger the targeted immune response and the booster molecule is an adjuvant that stimulates and adds to the immune response. Vaxart can use the same vector with different antigens to provide an effective standardized and scalable approach for vaccine development. Vaxart's approach to develop a vaccine for Covid-19 involves generating potential vaccine candidates based on the published genome of the 2019 Novel Coronavirus (2019-nCoV).
Suggested Reading:
Company
Ticker
Price
Previous
Mkt Cap
Volume
52wk Range
Vaxart Inc.
VXRT (Nasdaq)
$5.53
$651.25M
0
$1.65 - $24.90
Tonix Pharmaceuticals Holding Corp.
TNXP (Nasdaq)
$1.18
$382.22M
0
$0.51 - $2.47
Novavax Inc.
NVAX (NGS)
$179.74
$13.28B
0
$16.41 - $331.68
Inovio Pharmaceuticals Inc.
INO (NGS)
$8.72
$1.82B
0
$6.89 - $33.80
Advanced Market Data
()
Detailed Quote
Charts
Statistics
Financials
Historical Quotes
Insider Activity
Key Ratios