Companies by Sector
More than 6000 listed
Communication Services
Telecommunication Services
Consumer Cyclical
Advertising & Marketing Services
Furnishings, Fixtures & Appliances
Homebuilding & Construction
Manufacturing - Apparel & Accessories
Manufacturing - Apparel & Furniture
Retail - Apparel & Specialty
Consumer Defensive
Beverages - Non-Alcoholic
Financial Services
Diversified Financial Services
Healthcare
Healthcare Providers & Services
Medical Devices & Instruments
Medical Diagnostics & Research
Medical Instruments & Equipment
Industrials
Farm & Heavy Construction Machinery
Transportation & Logistics
Utilities
Utilities - Independent Power Producers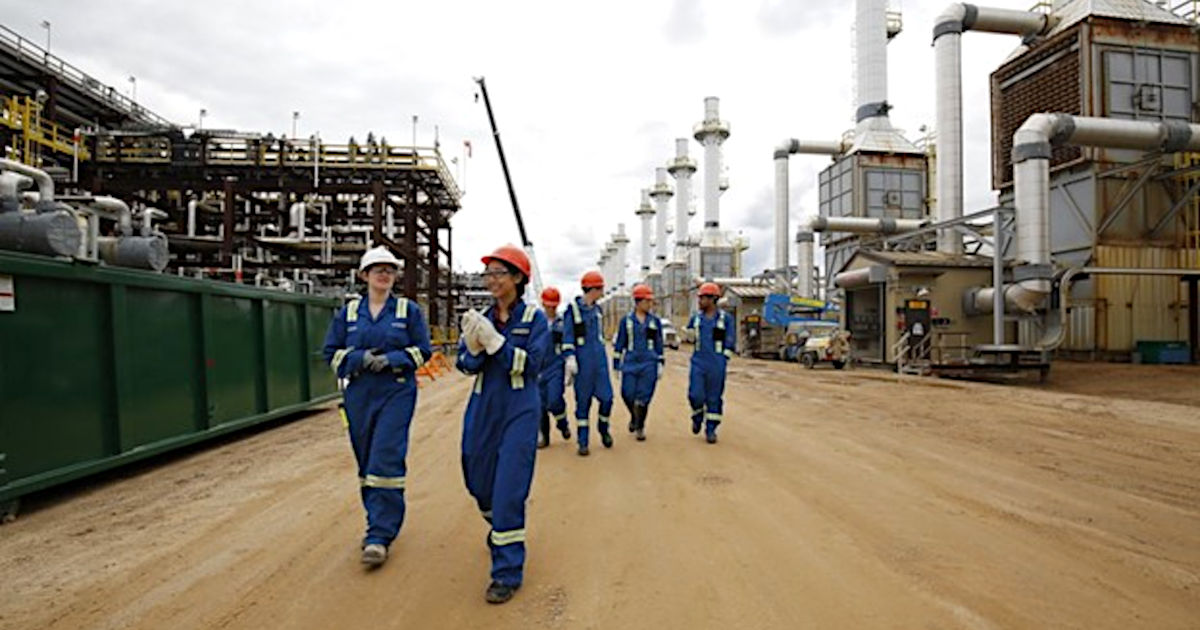 The Latest Marriage Between Two Oil Giants
Mergers and acquisitions in the energy industry are on the rise, and they're beginning to pick up among Canadian oil companies. Cenovus Energy Inc. agreed to acquire Husky Energy Inc. in a C$3.8 billion all-stock deal that will create the third-largest energy company in Canada. The merger combines two of the largest oil producers in Canada's oil-sands industry. The acquisition follows the completion of Canadian Natural Resource's acquisition of Painted Poney Energy Ltd earlier in the month and the recent merger announcements by Whitecap Resources and Manulife Financial NAL Resources. Waterous Energy Fund acquired Pengrowth Energy Corp in November 2019 and a 45% stake in Osum Production Corp in August.
The announcement follows several recent merger announcements involving companies active in the Permian Basin. These include ConocoPhillips buying Concho Resources, Chevron buying Noble Energy, and Devon Energy buying WPX Energy. In previous reports, we have discussed the need for energy companies to adapt to a lower oil price environment by cutting costs. Western Canadian oil prices have been depressed since 2014. Combining operations is one of the quickest and easiest ways to cut costs. As companies lower costs through mergers, other companies are forced to follow suit to remain competitive. Cenovus CEO Alex Pourbaix indicated, "I think we're going to see more continued consolidation."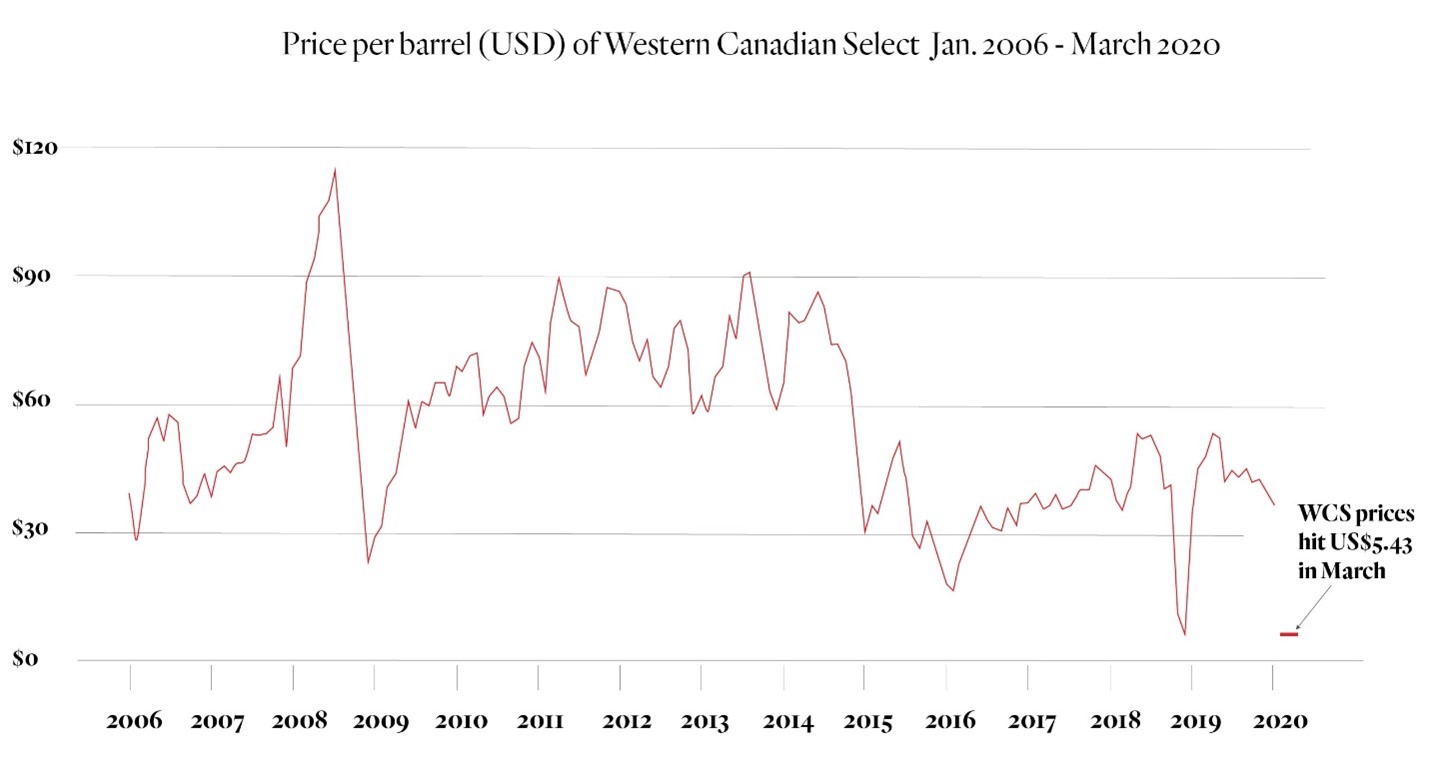 Source: The Narwhal, Alberta Government
The Cenovus-Husky merger will greatly enhance Cenovus's downstream refining capability and lead to C$1.2 billion in savings, according to company management. Cenovus and Husky management claim they will be able to break-even at $36 a barrel for WTI crude, with that number falling to $33 by 2023. The current WTI oil price is near $38 per barrel. Management believes the combined company will be cash-flow positive.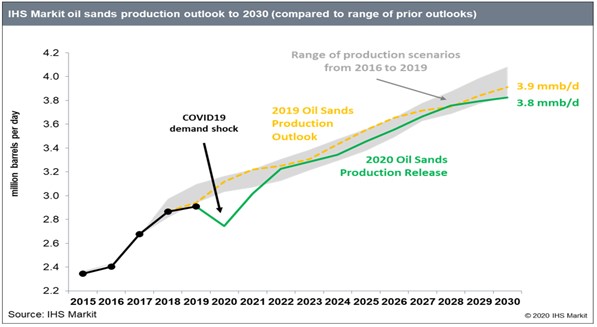 The impact of COVID-19 was significant for oil sand producers. However, the future remains positive. HIS Mankit expects oil-sand production to rebound sharply when the pandemic eases and to grow 33% over the next ten years. The optimism for production growth comes from the area's low extraction costs. Many drilling projects cost well below $20 per barrel to extract.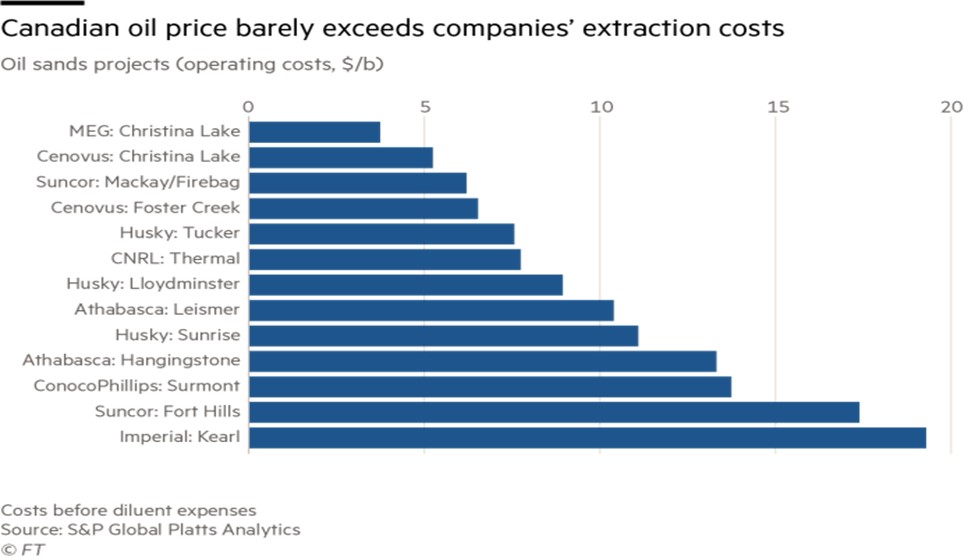 Analysts are also encouraged that prices will improve. Several oil pipelines are scheduled to be completed in the next few years that could ease transmission bottlenecks that have hampered oil prices at the wellhead.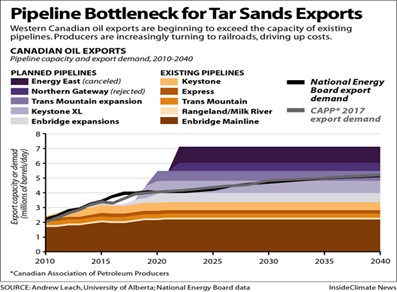 The list of oil-sand companies is long. The largest companies include Suncor Energy, Canadian Natural Resources, Cenovus Energy, ConocoPhillips, ExxonMobil, Shell, and PetroChina. These companies have the financial strength and backing of creditors to withstand temporary dips in oil prices. It is the smaller oil producers that are coming under pressure. Smaller producers include Athabasca Oil, MEG Energy, OSUM, Laricina Energy, Sunshine Oilsands, and Imperial Oil. Adam Waterous, CEO of the Waterous Energy Fund, believes, "the 20,000-barrel-day producer in Western Canada is an endangered species."
Suggested Reading:
Mergers Within the energy Industry are Heating Up
Mergers Within the Permian Basin are Heating up
Energy Stock Prices Have Led to Higher Dividend Yields


Each event in our popular Virtual Road Shows Series has a maximum capacity of 100 investors online. To take part, listen to and perhaps get your questions answered, see which virtual investor meeting intrigues you here.
Sources:
https://finance.yahoo.com/news/cenovus-energy-combine-husky-23-115745760.html, Simon Casey and Robert Tuttle, Bloomberg, October 26, 2020
https://www.cbc.ca/news/canada/calgary/cenovus-husky-energy-deal-1.5776221, Tony Seskus, CBC News, October 25, 2020
http://paramount.mediaroom.com/2020-10-01-Paramount-Resources-Ltd-Acquires-Common-Shares-of-NuVista-Energy-Ltd, Paramount Resources, September 30, 2020
https://www.ft.com/content/9042d463-db0e-4dc8-8c46-c71cce98e7b9, Derek Brower, Financial Times, April 7, 2020
https://insideclimatenews.org/news/12042018/tar-sands-oil-pipeline-protests-canada-first-nations-kinder-morgan-trans-mountain-economics, Nicholas Kusnetz, Inside Climate News, April 13, 2018
https://www.ran.org/list-tar-sands-companies/, Banking on Climate Change: Fossil Fuel Finance Report Card 2017
https://financialpost.com/commodities/energy/endangered-species-canadian-small-oil-and-gas-companies-under-pressure-from-impatient-bankers-to-find-partners-or-sell-out, Geoffrey Morgan, Financial Post, September 4, 2020
Company
Ticker
Price
Previous
Mkt Cap
Volume
52wk Range
TAG Oil Ltd.
TAO:CA (TSX)
$0.27
$24.75M
0
$0.10 - $0.39
TAG Oil Ltd
TAOIF (OTCQX)
$0.22
$19.94M
0
$0.07 - $0.29
Ring Energy Inc.
REI (AMERA)
$2.20
$218.20M
0
$0.44 - $3.36
Earthstone Energy Inc. Class A
ESTE (NYSE)
$7.25
$569.48M
0
$1.45 - $9.44
Advanced Market Data
()
Detailed Quote
Charts
Statistics
Financials
Historical Quotes
Insider Activity
Key Ratios