Image Credit: Image Credit: Twitter: @CEOAdam

AMC Entertainment's Plot Twist Gets Even More Interesting to Investors

While on his way to the Oscars Sunday afternoon, the CEO of AMC Entertainment spoke on the phone while his driver navigated the vehicle to Hollywood's "big night." He was being interviewed by Reuter's about AMC's recent purchase and plans for future acquisitions. What Mr. Aron revealed as part of the company's evolution demonstrates a complete rethinking of the AMC's strengths and what they can do to reward investors.
AMC is sitting on a large cash position that could benefit investors better if deployed to serve those that have believed in the company and invested in it during the pandemic – covid19 challenged the entertainment industry. They are beginning to recognize their current potential; this includes being able to shop for and make strategic acquisitions. The make-up of companies they would look to get involved with are those that could benefit from AMC's competence in the capital markets.
On March 15, AMC surprised many by announcing a $27.9 million investment for a 22%
stake in Hycroft Mining Holding Corp (HYMC). This outlay initially met with some head-scratching as the investment in the Nevada-based gold mine didn't naturally seem like a fit for a company operating 900 theaters. It was explained by the CEO that one of the company's core competencies is navigating the capital markets, he evidenced this by pointing to its success after being left for dead by investors in 2020. After just 10 trading days, AMC's Hycroft purchase looks good. AMC bought Hycroft shares at $1.07, and it is trading this morning (March 29) at $2.44. Hycroft has since raised $139 million by selling stock to investors in a bid to strengthen its balance sheet and grow operations at its gold and silver mine.
AMC has "dry powder" of about $1.8 billion that came from selling stock during the meme stock and short squeeze frenzy.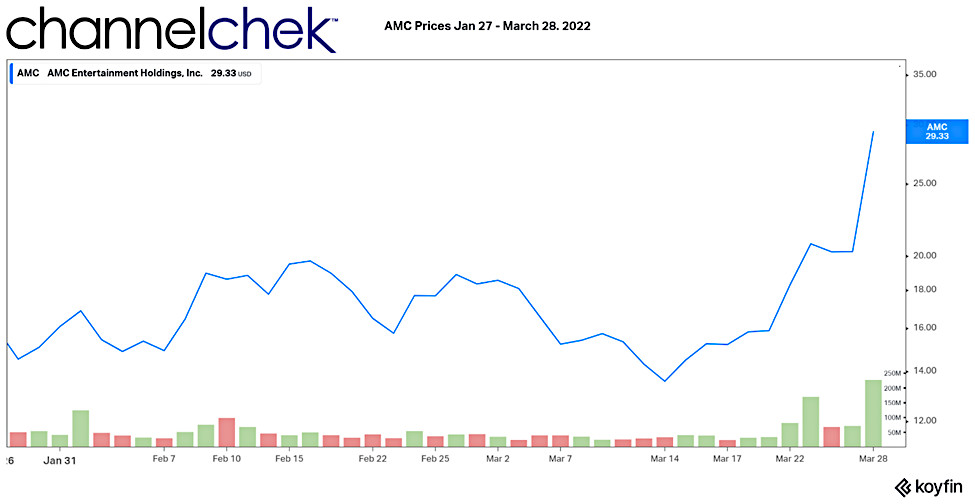 In another Adam Aron interview held by CNBC the day after the Academy Awards, David Faber asked, "Is that the new core competence of AMC, to sort of use these meme-sters that you have to help turnaround the fortunes of a company because they're willing to put money behind it?" "I think I have to say the answer is yes, and we proved it," Aron responded.
This response on CNBC was not a surprise to investors that had read the Reuter's interview where he said, "I'd like to think there will be more third-party external M&A announcements going forward…Transformational M&A is mandatory. Our shareholder base has given us capital to deploy with the clear expectation that we are… going to do exciting things with the money they entrusted to us"
Managing Editor, Channelchek
Suggested Reading
Sources
https://investor.amctheatres.com/newsroom/news-details/2022/AMC-Entertainment-Holdings-Inc.-Announces-Significant-Investment-Buying-22-of-Hycroft-Mining-Holding-Corporation/default.aspx
https://www.reuters.com/business/exclusive-amc-ceo-says-more-meme-stock-powered-deals-are-coming-2022-03-28/
https://markets.businessinsider.com/news/stocks/amc-entertainment-meme-stock-price-ceo-plans-more-deals-ahead-2022-3?utm_medium=ingest
https://www.google.com/search?q=what+is+a+transformational+acquisition
Stay up to date. Follow us: