Image Credit: Seanergy (Facebook)
Shoppers, Shippers, and Shareholders
Maritime shipping and the problems with supply lines, post-Covid, may be frustrating holiday shoppers, but investors have been treated well. This may not be the first Thanksgiving where many families will mention bottlenecks and containers, but it is likely the first where they are talking about supply chain problems. While shipping stocks are off their September highs, there is reason to believe the recent dip may provide an entry for those who felt they missed the boat.
Shippers
The maritime shipping side of the supply chain issues involves all three of the main types of shipping, dry bulk which is primarily raw materials, Container ships which are largely finished goods, and tankers for liquids and fuels. While most consumers have experienced some difficulty purchasing goods or having to pay higher prices, these bottlenecks have been good for some shipping stocks. In late Summer, early Fall, the share prices of bulk carriers, container lines or lessors, and liquified natural gas (LNG) carriers moved up significantly hitting new highs.
They did not all move up equally, for instance, tanker stocks relative to the performance of the S&P 500 were just treading water. Whereas container ship lines and lessors, and dry bulk carriers saw triple-digit gains. While some are up 200% or more, they have since erased 100% or more. The conditions that caused the initial runup are still in place, with the holiday shopping season, they may even intensify.
Below we'll look at two shipping companies that have dipped from their massive run-up. One derives a larger part of its revenue from container shipping, and the other is a dry bulk shipper.
Shareholders
At its peak Euroseas Ltd., (ESEA) was up 591% this year. It has since given up 194.48% of that gain and is only up 397.05% year-to-date. Euroseas provides shipping services worldwide. They own and operate container ships that transport dry and refrigerated cargo in containers. This includes manufactured products and perishables. They also operate dry bulk carriers that transport iron ore, coal, grains, bauxite, phosphate, and fertilizers.
The recent fall-off in price has this high-performing company trading well below its simple 200-day moving average.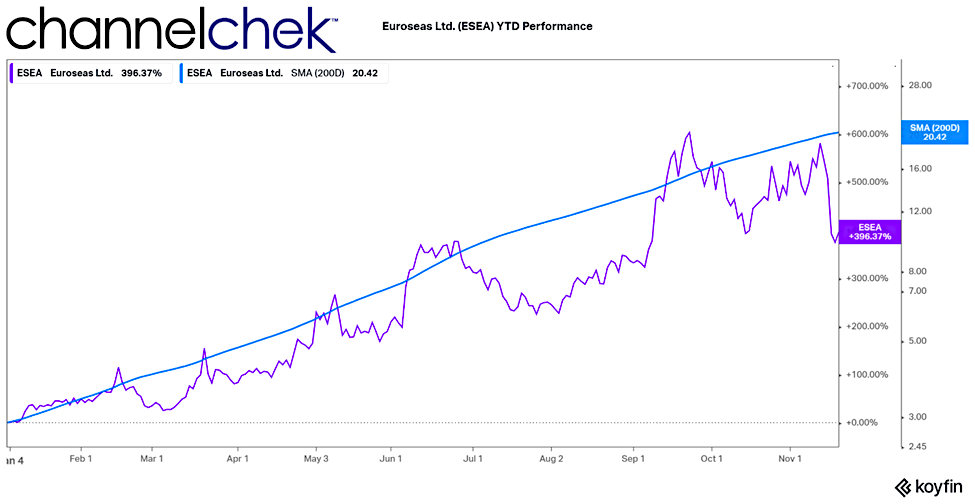 Chart: Koyfin
After rising as high as 354% this year, Grindrod ShippingHoldings Ltd. has given up 118% points of that increase and is now up 236% on the year. In a 3rd quarter report on the company's earnings, released today (November 18), Poe
Fratt, Senior Research Analyst from Noble Capital Markets maintained a Buy rating on Grindrod Shipping Holdings (GRIN), with a price target of $31.00. The company's shares closed yesterday at $13.55.
The company charters and operates a fleet of dry bulk carriers and tankers. It operates in two business units, dry bulk, and tankers. These business units are further subdivided into different size cargoes and ranges.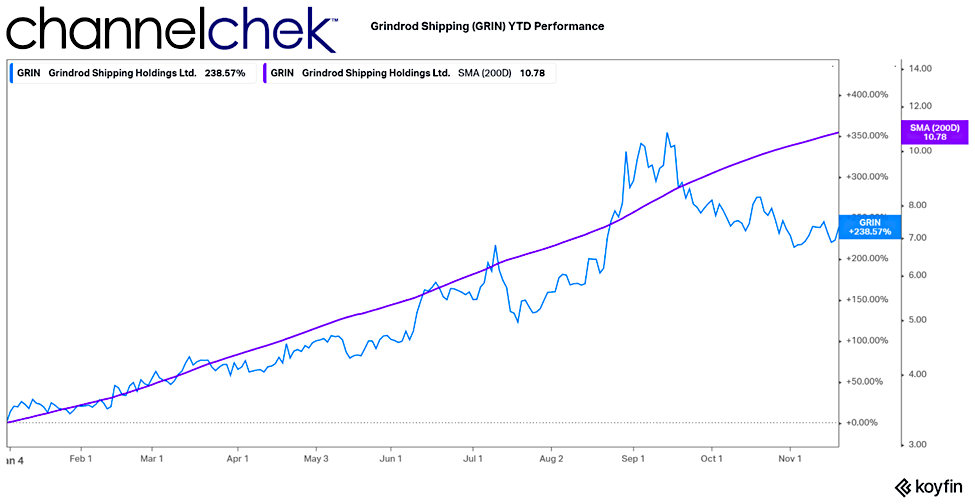 Chart: Koyfin
Shoppers
As reported earlier this week, retail sales have surged. October's sales rocketed 16.3% year-on-year (YOY) as retail sales were up 1.7% for the month, beating economist expectations of 1.4%. The YOY October retail sales are a gigantic 21.4% above their pre-pandemic level.
So it can be said the trend is for the consumer to be keeping the pressure on the shipping industry to fill the pent-up and new demand. Helping to drive the purchases in the face of rising costs is an increase in household wealth thanks to strong stock and housing markets. Adding to consumers' willingness to open their wallets is a massive increase in savings levels and wage gains.
Take-Away
While shipping may not seem as exciting as following metaverse stocks or green energy initiatives, the post-pandemic fundamentals make the seascape interesting and perhaps worth a look.
Research by Poe Fratt who Tip Ranks lists as performing in the top 2% of the over 7,000 analysts they rank, covers a number of companies in this category. See Poe's credentials and covered companies here.
Managing Editor, Channelchek
Suggested Reading:
Sources:
https://www.census.gov/retail/marts/www/marts_current.pdf
https://www.reuters.com/business/us-retail-sales-beat-expectations-october-2021-11-16/
Stay up to date. Follow us: