Companies by Sector
More than 6000 listed
Communication Services
Telecommunication Services
Consumer Cyclical
Advertising & Marketing Services
Furnishings, Fixtures & Appliances
Homebuilding & Construction
Manufacturing - Apparel & Accessories
Manufacturing - Apparel & Furniture
Retail - Apparel & Specialty
Consumer Defensive
Beverages - Non-Alcoholic
Financial Services
Diversified Financial Services
Healthcare
Healthcare Providers & Services
Medical Devices & Instruments
Medical Diagnostics & Research
Medical Instruments & Equipment
Industrials
Farm & Heavy Construction Machinery
Transportation & Logistics
Utilities
Utilities - Independent Power Producers

Investing in Microcap Biotech Stocks, Risks and Rewards
(Note: companies that could be impacted by the content of this article are listed at the base of the story [desktop version]. This article uses third-party references to provide a bullish, bearish, and balanced point of view; sources are listed after the Balanced section.)
The US stock markets have started the fourth quarter reflecting investors' negative sentiment fueled by slowing US manufacturing activity and fears of a possible economic downturn. In recent days, stocks have started to rebound as investors hope the Federal Reserve will cut interest rates once more. The data shows that the biotechnology sector has been a good investment for most of this decade. Both NYSE Arca Biotechnology (BTK, 356%) and NASDAQ Biotechnology (NBI, +275%) indices have outperformed the S&P 500 (SP50, +178%) and Russell 3000 (RUA, +177%) indices over the last 10 years (as of October 2, 2019) (Exhibit 1).
Exhibit 1: Biotechnology Relative Price Performance, 10 years (as of 10/2/2019)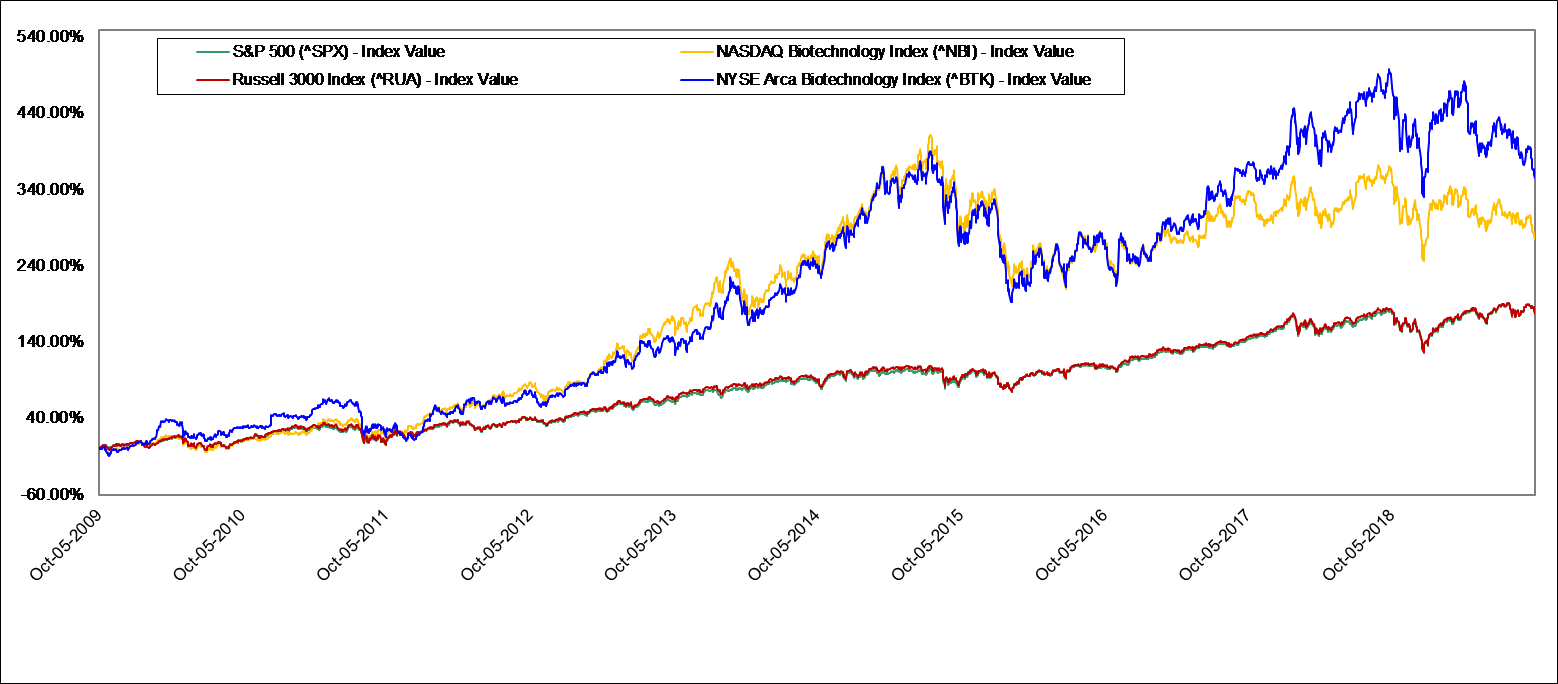 Source: CapitalIQ

Looking back to the first three quarters (Q1, Q2, Q3) of 2019, bull markets have been dominating. However, biotechnology indices (BTK, -2.5% and NBI, +0.3%) have recently underperformed the benchmark indices (SP50, +15.2% and RUA 14.9%) year-to-date (YTD), (as of October 2, 2019) (Exhibit 2).
Exhibit 2: Biotechnology Relative Price Performance, year-to-date (YTD, as of 10/2/2019)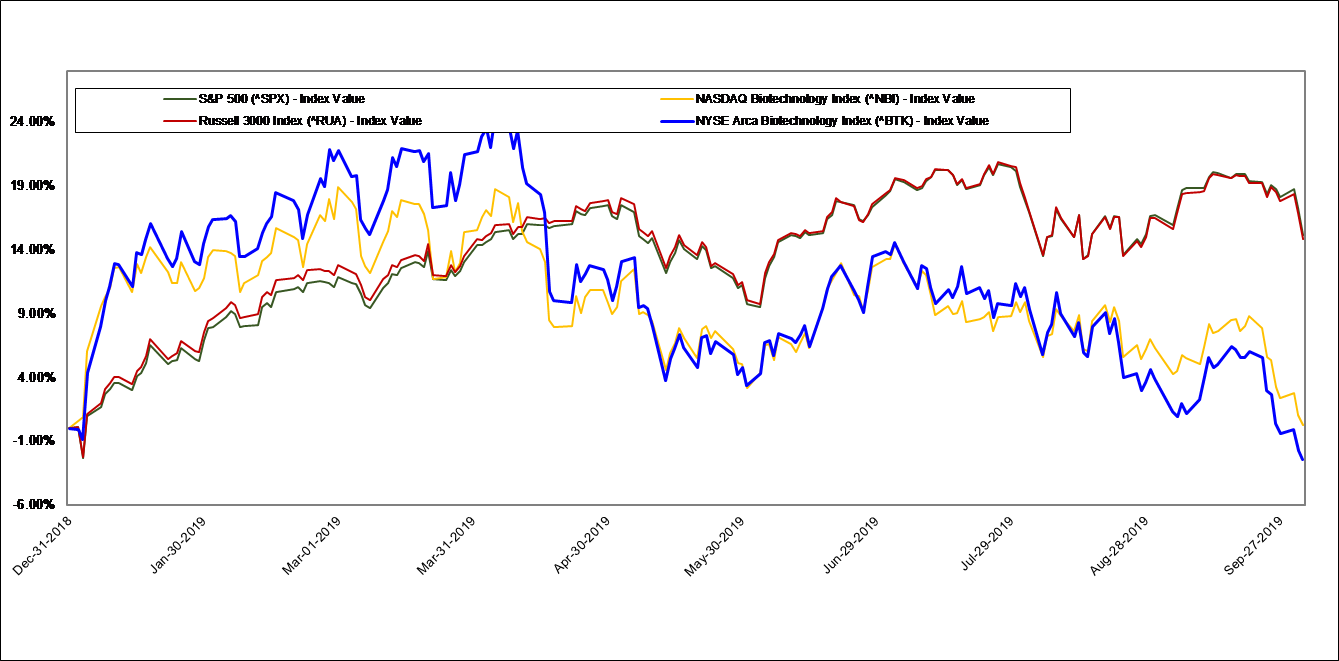 Source: CapitalIQ
Equity Capital Raises and Major M&A Deals. Biotechnology companies have not had any trouble raising capital, in either public or private markets, to fund their research. Total capital raised by initial public (IPO) and follow-on (FO) offerings in the three quarters of 2019 exceeded the full year 2018 number ($555mm vs. $526mm, respectively, +5%). The sector also experienced megamergers between pharmaceutical giants: Bristol-Myers Squibb (BMY) acquired Celgene for $74 billion, Takeda Pharmaceutical (TAK) bought Shire for $62 billion, and AbbVie (ABBV) is set to acquire Allergan (AGN) for $63 billion.
Smallcap Biotechs Have Been at the Forefront of the Majority of Medical Breakthroughs. Smallcap biotechnology companies are responsible for most of the major breakthroughs in the sector. As biotech stocks were reaching their peak in the middle of this decade, innovative drugs reached the market to fight common, serious diseases such as lung cancer and hepatitis C. Recently, companies are more focus on rare indications.
There Is No Shortage of Investment Opportunities in the Sector. Wall Street's biggest bulls expect 159 of the 218 stocks in the Nasdaq Biotech Index to double over the next year based on data compiled by Bloomberg. Wall Street analysts see potential for companies in the index to trade at prices ten times higher than their current values in 12 months.
Drug Approvals Slowed Down. Iqvia found that success rates of clinical trials in all stages fell to 11.4% last year, representing a number below the 10-year average of 14%. Despite remaining strong in a historical sense, regulatory approvals have also slowed down. Thus far, the US Food and Drug Administration (FDA) has approved 27 drugs in YTD-2019 compared to a record 59 approvals in 2018.
Focus on Rare Diseases. Biotechnology companies have recently focused on treatments of rarer diseases, such as spinal muscular atrophy or a form of hereditary blindness. There is no question these drugs are of high value for patients and individual companies. However, they generally don't reach enough patients to boost the entire sector's fortunes. Meanwhile, clinical trials in large potential markets for treatments of Alzheimer's disease or certain liver conditions continue to disappoint.
The Number of Potential Buyers is Shrinking. Large pharmaceutical companies, which have strong cash flow and investment-grade balance sheets, tend to buy a larger peer to achieve revenue growth. As the sector has undergone megamergers, the pool of potential buyers appears to be shrinking. In addition, some of the M&A transactions recently announced continue to hit obstacles delaying their closings. For example, the acquisition by Roche's (RHHBY) of Spark Therapeutics for $4.8 billion was announced in February. It has not closed due to an extended antitrust review by regulators.
The prevailing view in the capital markets is that the biotechnology sector represents a great opportunity for growth investors willing to understand the risks inherent to the sector. The biotechnology industry is a highly specialized area with no shortage of innovative technologies and investment opportunities. As large pharmaceutical companies persist under pressure by drug pricing, small biotechnology companies continue to develop medical breakthroughs for the benefit of patients. Microcap biotechnology companies with strong development pipelines and differentiating assets have the potential to grow faster than already established companies and emerge as industry leaders.
Sources:
Bloomberg Business Intelligence Biotechnology
Capital IQ
Wall Street Journal
Company
Ticker
Price
Previous
Mkt Cap
Volume
52wk Range
ProMIS Neurosciences Inc.
PMN:CA (TSX)
$0.09
$26.08M
0
$0.08 - $0.32
Fundamental Analysis
Onconova Therapeutics Inc.
ONTX (Nasdaq)
$0.83
$153.51M
0
$0.20 - $1.56
Fundamental Analysis
Genprex Inc.
GNPX (Nasdaq)
$4.04
$173.94M
0
$0.31 - $7.04
Fundamental Analysis
Dyadic International Inc.
DYAI (Nasdaq)
$5.42
$148.95M
0
$2.51 - $10.98
Fundamental Analysis
Tyme Technologies Inc.
TYME (Nasdaq)
$1.38
$179.64M
0
$0.86 - $2.04
Salarius Pharmaceuticals
SLRX (Nasdaq)
$1.04
$20.64M
0
$0.56 - $3.89
Immutep Limited
IMMP (Nasdaq)
$3.12
$202.15M
0
$0.53 - $7.95
Advaxis Inc.
ADXS (NGS)
$0.53
$58.21M
0
$0.27 - $1.49
Advanced Market Data
()
Detailed Quote
Charts
Statistics
Financials
Historical Quotes
Insider Activity
Key Ratios