Image Credit: Quote Inspector (Flickr)
Bitcoin and Ethereum are Usually Grouped Together, Should They Be?
The two largest cryptocurrencies based on valuation are Bitcoin (BTC) and Ethereum (ETH). Both are powered by blockchain and the complex technology of distributed ledgers and cryptography. But they differ quite a bit in their purpose and trade differently. While speculators may not concern themselves with the differences, understanding each of their functions and limits allows better decision-making for those that are involved.
Differences
The
whitepaper that launched Bitcoin 13 years ago this week has an unknown author, as the creator(s) of Bitcoin remains a mystery. The founder of Ethereum, Vitalik Buterin, was only16 when he started a publication called Bitcoin Magazine; at 21-years-old (2015), he launched Ethereum.
Bitcoin was created as an alternative to currency to be accepted as a medium of exchange and store of value. Unlike Bitcoin, the goal of Ethereum is not just to serve as an alternative monetary system, although Ether does, but rather to facilitate and monetize the operation of the Ethereum smart contract and decentralized application (dapp) platform. Decentralized applications are open source and, to date, provide a foundation for products and services such as finance, art, games, tokens, and media applications.
For most of its six-plus-year history, Ether (ETH) has been close behind Bitcoin (BTC) on rankings of the top cryptocurrencies by outstanding value. That being said, it is worth noting that the total valuation of Bitcoin is double that of Ether ($1.16T vs. $507B) as of November 4, 2021. The performance of Ether, on the other hand, has been stronger over the years. Year-to-date, as seen on the graph below, ETH is up over 1100%, while Bitcoin's increase is a respectable 363%.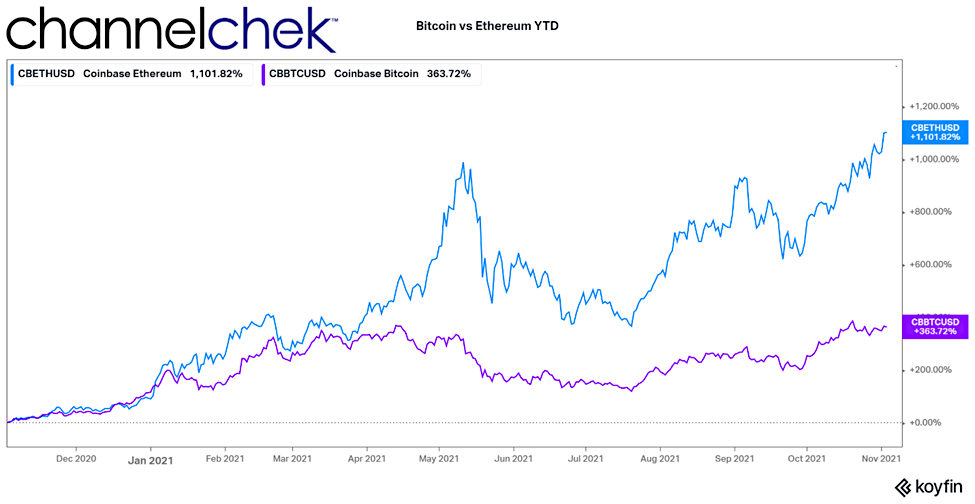 Aside from their covert and overt beginnings, there are other key differences. For example, transactions on the Ethereum platform may contain executable code, while data affixed to Bitcoin transactions are only for note keeping. Another difference is confirmation of a transaction; Ethereum transactions are confirmed in seconds, while Bitcoin still takes a minute or more.
Take Away
Ethereum or Ether is traded as a digital asset on exchanges in the same fashion as Bitcoin and other cryptocurrencies. It also has functionality beyond storing value and use as a medium of exchange. The Ethereum network, unlike Bitcoin, is also used to run applications. The better-understood Bitcoin is also a speculative digital asset that can store value and be used in transactions where accepted. This is its stated purpose; it is not used to create other products or services.
Managing Editor, Channelchek
Suggested Reading:
Sources:
https://investorplace.com/2021/04/ethereum-will-continue-to-outperform-bitcoin-partly-due-to-its-smart-contract-ability/
https://www.investopedia.com/articles/investing/031416/bitcoin-vs-ethereum-driven-different-purposes.asp
https://www.investopedia.com/terms/c/cryptocurrency.asp
Stay up to date. Follow us: