Companies by Sector
More than 6000 listed
Communication Services
Telecommunication Services
Consumer Cyclical
Advertising & Marketing Services
Furnishings, Fixtures & Appliances
Homebuilding & Construction
Manufacturing - Apparel & Accessories
Manufacturing - Apparel & Furniture
Retail - Apparel & Specialty
Consumer Defensive
Beverages - Non-Alcoholic
Financial Services
Diversified Financial Services
Healthcare
Healthcare Providers & Services
Medical Devices & Instruments
Medical Diagnostics & Research
Medical Instruments & Equipment
Industrials
Farm & Heavy Construction Machinery
Transportation & Logistics
Utilities
Utilities - Independent Power Producers


	Image credit: Liza Summers (Pexels)
Why Investors and Stock Pickers Watch Russell Index Addition Dates
A sudden rise in a stock's price is almost always demand-related. This could occur if the company beats earnings estimates, announces a breakthrough product, is being considered for acquisition from a larger company, or public policy shifts in their favor. Another reason could be inclusion in a major stock market index.
There are investors that look to determine which companies may be added to an index and which may be removed. Although being right doesn't always mean huge gains for them, the rewards on average make this a legitimate approach for stock picking. One of the more common family of indexes that investors watch is the FTSE Russell indexes. The reason is these are more transparent than others. Russell actually puts out a calendar each year and shares its methodology for including new companies on its website.
The annual rejiggering of the Russell indexes, known as the Russell Reconstitution, is in late Spring and attracts a lot of attention. Subscribers to Channelchek can expect to receive our notification and analysis on the small-cap Russell 2000 index reconstitution.
Abbreviated History of Impactful Companies Added to the Russell after their IPO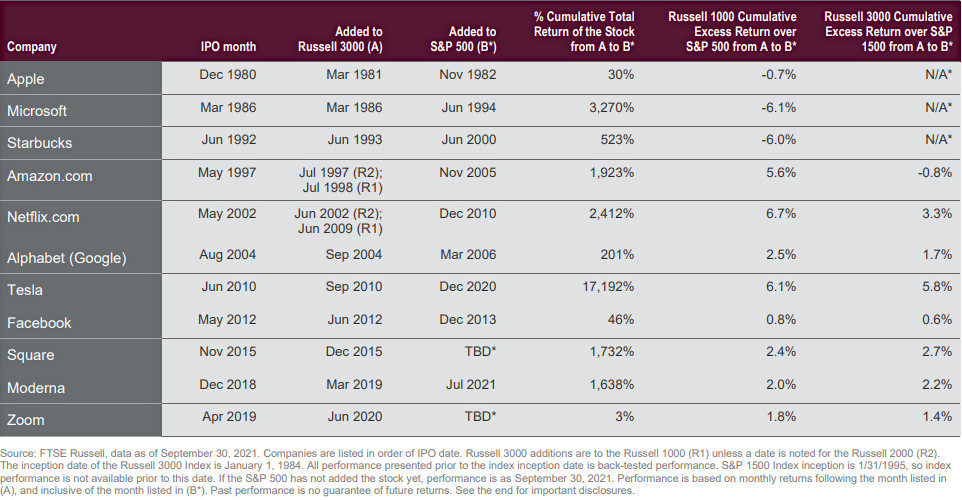 Russell updates its indexes quarterly to include new public companies to best represent the market.
In addition to the annual index reconstitution, FTSE Russell also has a quarterly calendar where they look at IPOs that occurred during the quarter and weigh the outcomes against their methodology for inclusion in the broad Russell 3000 index. Once in the 3000, companies may be further segmented into other indexes. These inclusions can alter the demand for the stock both immediately, as fund managers seek to mimic an index and buy the stock, and then over time, as index investor demand for the index funds ebb and flow.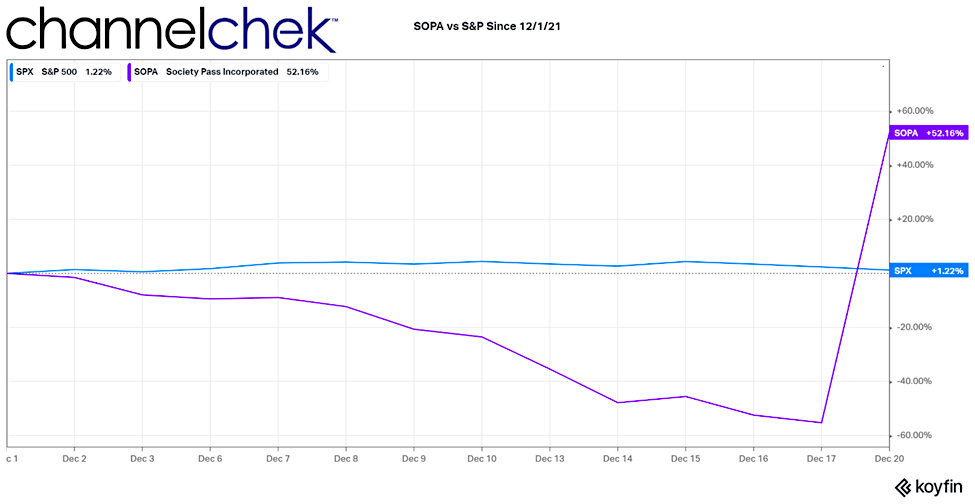 As a testament to just how impactful these additions may be, a recent example involves a company called Society Pass, Inc. (SOPA). Society Pass went public via an IPO in November. On December 20th Russell added new IPOs in order to update the indexes to reflect current markets, and SOPA was added both to the Russell 3000 broad index and the Russell 2000. The average daily trading volume for SOPA leading up to the inclusion was 1.3M, on December 20th, 167.5M shares changed hands. The impact is indicated above in the month-to-date graph (% change). The stock opened at $4.44, traded as high as $13.48, and closed at $11.26.
Opportunity in IPO Additions
Over the last ten years, there have been almost 1500 IPO additions to the Russell Indexes, and the Russell 2000 Small-Cap Index has had the majority of these additions.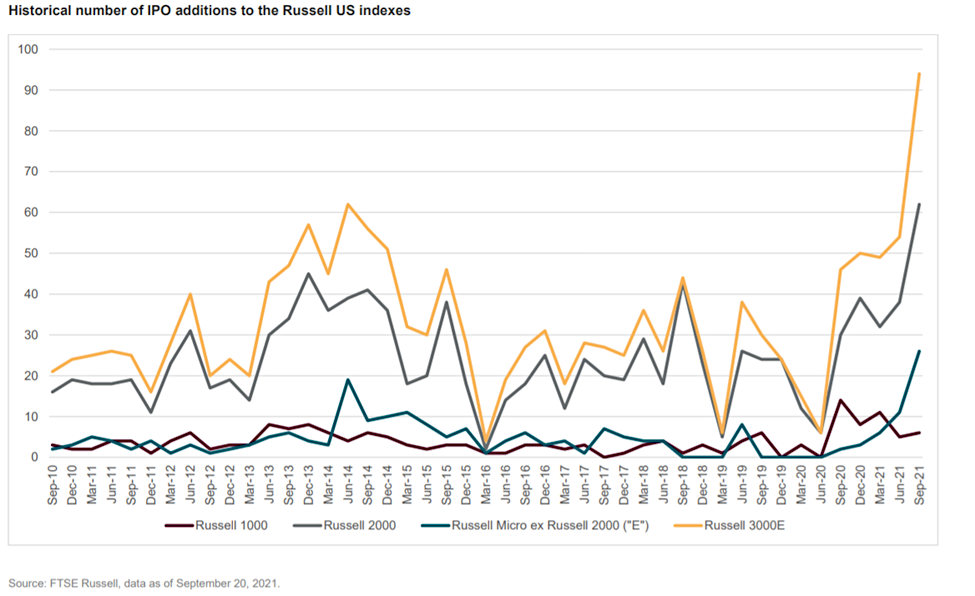 After the Addition
Inclusion in a major index generally results in a higher "base price" for the stock. Further price changes are then more closely tied to fundamentals like company performance. However, the stock will experience the added transactions that have very little to do with the company and are instead index expectation related. In addition, there should be higher trade volumes and possibly an even higher level of demand because of the company's increased visibility.
Managing Editor, Channelchek
Suggested Reading:
Sources:
https://content.ftserussell.com/sites/default/files/final_ipo_additions_2021_4_qtr_r3000.pdf
https://www.sec.gov/fast-answers/answersindiceshtm.html
https://budgeting.thenest.com/mutual-funds-safe-against-bad-stock-crash-30572.html
https://content.ftserussell.com/sites/default/files/2021_09_russell_indexes_quarterly_ipo_update.pdf
Stay up to date. Follow us:
Company
Ticker
Price
Previous
Mkt Cap
Volume
52wk Range
Society Pass Incorporated
SOPA (Nasdaq)
$3.39
$79.82M
0
$2.03 - $77.34
Advanced Market Data
()
Detailed Quote
Charts
Statistics
Financials
Historical Quotes
Insider Activity
Key Ratios