Image Credit: Livewire

Michael Burry's Public Investments in SPACs, Prisons, and Electric Hogs

On February 14, Michael Burry filed his company's holdings report with the SEC. Relative to the previous quarter there was a little reshuffling of his positions. While many fund managers and successful investors such as Cathie Wood are talking about their ideas several times a week in the news, Burry is more quiet. A good way to understand Burry's thinking and Scion Asset Management's direction is to review changes to his 13F holdings. Or, hope for a rare
tweet.
Below we list all of Scion's public company purchases and sales then provide information so you may drill down even deeper into Burry's small and microcap holdings.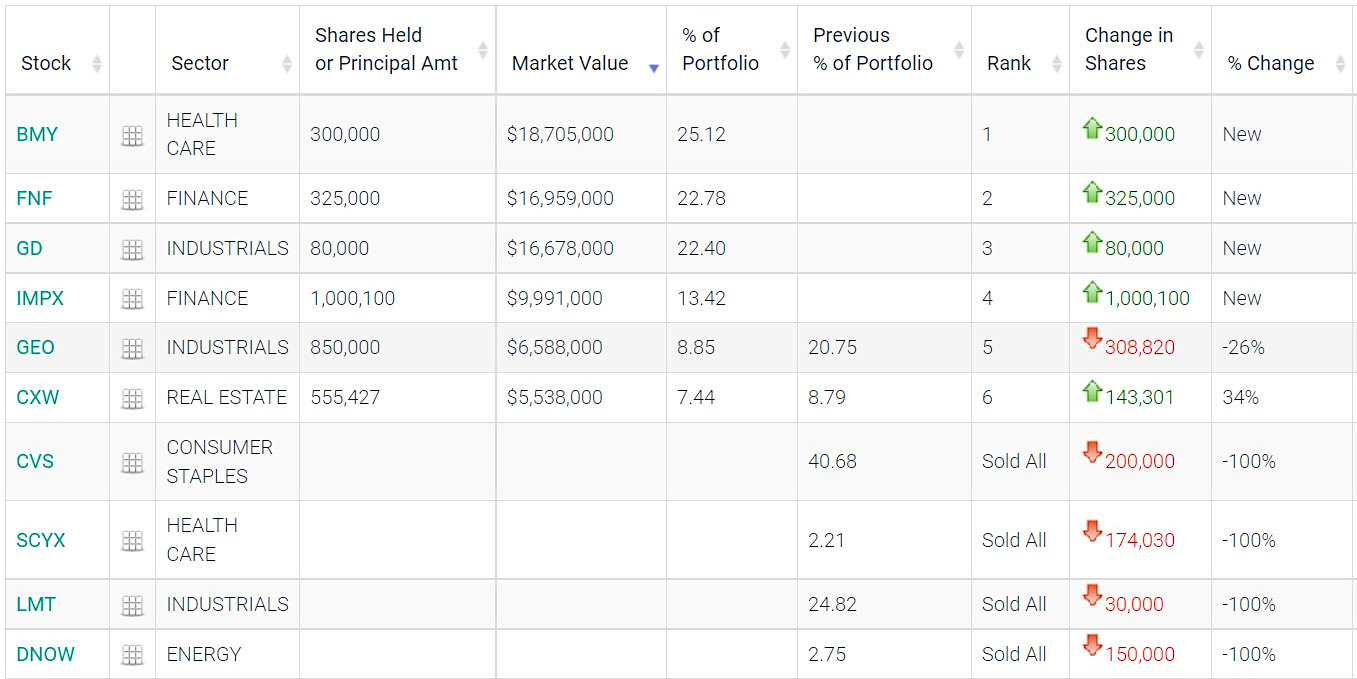 Why it Matters
No one would disagree that Burry's investment universe is broader than the average self-directed investor and even deeper than the average hedge fund manager. With this in mind, out of the entire universe of publicly held corporations he could hold, there are only six that Burry's portfolio owned at the end of the fourth quarter. One is a SPAC that is merging with an electric vehicle (EV) company. Two are small-cap holdings Scion had owned the previous quarter – Burry lightened up on one position and added to another. Three new large-cap purchases that round out the rest of the holdings span the defense, finance, and pharmaceutical industries.
Holdings Top to Bottom
Scion's largest holding is Bristol-Myers Squibb (BMY). BMY had a market value on filing date of $18.7M, Scion's position represents .014% of the company. The large pharmaceutical company was added last quarter while holdings in drug retailer CVS were brought to zero during the quarter.
Insurance company Fidelity National Financial, Inc. (FNF) provides various insurance products in the US with a large focus on real estate-related products. This includes title insurance, escrow, and other title-related services. FNF also provides technology and transaction services to the real estate and mortgage industries. Plus, life insurance products including annuities. The company had a market value on the filing date
of $16.96M, Scion's position represents .114% of the company.
General Dynamics Corporation (GD) is a large U.S. aerospace and defense contractor. It operates through four segments: Aerospace, Marine Systems, Combat Systems, and Technologies. GD had a market value on the filing date of $16.68, Scion's position represents .287% of the company. Scion's position in defense contractor Lockheed Martin (LMT) was brought to zero during the quarter.
On Dec. 13, 2021 Harley-Davidson, Inc. (HOG), announced that AEA-Bridges Impact Corp. (IMPX), a special purpose acquisition company or SPAC with a focus on sustainability, entered into a definitive business combination agreement under which they will combine with LiveWire. LiveWire which will trade under ticker LVW is Harley-Davidson's electric motorcycle division. The deal will create a new publicly-traded company. Michael Burry added this SPAC to Scion's holdings. As of year-end, Scion owned 2.50% of the special purpose company or $9.99M.
The GEO Group (GEO) is a correctional facility that specializes in the ownership, leasing, and management of correctional, detention, and reentry facilities. The market value of Scion's position was $6.69 million at quarter-end, which represented 6.94% of the company's market value. Burry rebalanced this position which was carried over from the previous quarter as he reduced his holdings by 26%.
CoreCivic (CXW) is a publicly owned prison system that was trading as a REIT up until January 2021, it now trades as a Regular C-Corporation. Scion took a position during the third quarter of last year and apparently added to it. Burry's quarter-end $5.54M position represents .46% of the company. During the quarter Burry increased the share of the company his fund holds by .34%.
Take-Away
Dr. Burry has an excellent record of spotting investment opportunities before the rest of the market catches up. His picks are as disparate as the mortgage market in 2008 and GameStop (GME) in 2020.
Recent research (GEO, CXW), and recorded interviews with management (CXW), and other small/microcap companies are available and regularly updated on Channelchek. Channelchek also closely follows and reports on the SPAC market with SPACtrac coverage and informative articles.
Sign-up to receive updates in your inbox.
Suggested Reading
Sources
https://investor.harley-davidson.com/news-releases/news-release-details/livewire-become-first-publicly-traded-ev-motorcycle-company-us
https://investor.harley-davidson.com/news-releases/news-release-details/livewire-become-first-publicly-traded-ev-motorcycle-company-us
https://whalewisdom.com/filer/scion-asset-management-llc#tabholdings_tab_link
https://13f.info/manager/0001649339-scion-asset-management-llc
Stay up to date. Follow us: