Companies by Sector
More than 6000 listed
Communication Services
Telecommunication Services
Consumer Cyclical
Advertising & Marketing Services
Furnishings, Fixtures & Appliances
Homebuilding & Construction
Manufacturing - Apparel & Accessories
Manufacturing - Apparel & Furniture
Retail - Apparel & Specialty
Consumer Defensive
Beverages - Non-Alcoholic
Financial Services
Diversified Financial Services
Healthcare
Healthcare Providers & Services
Medical Devices & Instruments
Medical Diagnostics & Research
Medical Instruments & Equipment
Industrials
Farm & Heavy Construction Machinery
Transportation & Logistics
Utilities
Utilities - Independent Power Producers


	Image Credit: Lisa Barker (Flickr)
Why are Chartered Financial Analyst (CFA) Candidates Having So Much Trouble?
The CFA Level 1 pass rate broke all previous records by plunging 12% this summer. According to a CFA press release dated September 14, only 22% of the 28,849 candidates who sat for the Level 1 test qualify to move on to Level 2. This is the lowest pass rate since the exam's origin back in 1963. The ten-year average rate of success is 41%. The previous low was set by those who took the exam last May. Their success rate was just 25%, almost half of the 49% that had passed in December of 2020.
What Has Caused the Back-to-Back Declines?
Peg Jobst, CFA Managing Director, Head of Credentialing, said: "We continue to see the impact from the exam disruptions brought on by the global pandemic. We understand how difficult this period has been for our candidates, who in many cases, saw their exam schedules changed more than once as they sought to sit for Level I of the CFA Program. We can clearly see that these disruptions have impacted the overall pass rate."
In a CFA press release following the initial fall off in passing grades earlier this year (May exam), the institute said the exam difficulty was consistent with past years. Did the pandemic cause a high level of distraction from exam prep? Did the move to computer-based testing play a role? The CFA Institute seems to suggest the low pass rate was in large part due to poorly prepared candidates. Each of the CFA exam levels requires at least 300 hours of study time. Candidates taking exams this year have had their studies disrupted by repeated exam postponements and cancellations due to COVID 19 preventative measures.
"Going forward, we do expect the pass rate to approach pre-COVID historical levels in time -- so long as pandemic conditions subside. As we have said before, the exams and the process for setting the minimum passing score have not changed. Unfortunately, the many challenges posed by life during a pandemic have clearly made the process more daunting," said Ms. Jobst.
Take-Away
Globally it seems the CFA candidates are not able to prepare and pass at the rate that they had previously. This is likely troubling for all candidates as well as the CFA Institute. It should be particularly concerning for those who must pass to retain a position at their firm as they are particularly hard hit if they don't succeed.
Of Importance to Finance Majors (or Related Field)
Each year Noble Capital Markets, Channelchek, and some very generous and caring sponsors hold the Channelchek College Equity Research Challenge.
The Challenge invites students to compete with one another for high cash prizes awarded to the student and the student's school - plus more (see rules). It may also provide high-value networking opportunities with veteran equity analysts.
Who can compete?
You don't have to be a finance, accounting, or major in a related field to understand that up to $7500 for you, and an additional $5,000 to your school can be quite helpful. If you are fully matriculated and interested, you likely qualify.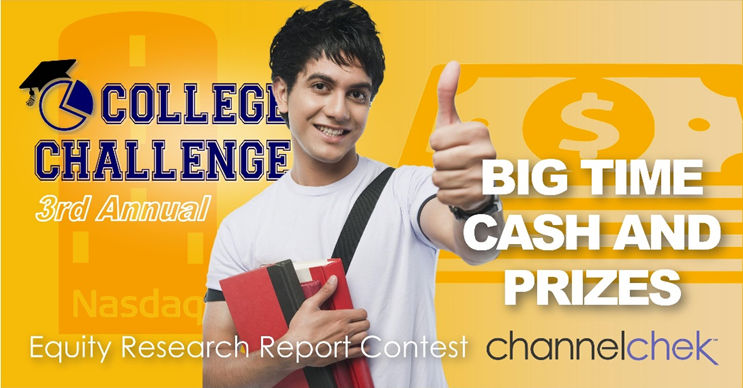 Sources:
https://www.cfainstitute.org/about/press-releases/2021/cfa-institute-reports-results-for-testing-in-july
Stay up to date. Follow us: