Companies by Sector
More than 6000 listed
Communication Services
Telecommunication Services
Consumer Cyclical
Advertising & Marketing Services
Furnishings, Fixtures & Appliances
Homebuilding & Construction
Manufacturing - Apparel & Accessories
Manufacturing - Apparel & Furniture
Retail - Apparel & Specialty
Consumer Defensive
Beverages - Non-Alcoholic
Financial Services
Diversified Financial Services
Healthcare
Healthcare Providers & Services
Medical Devices & Instruments
Medical Diagnostics & Research
Medical Instruments & Equipment
Industrials
Farm & Heavy Construction Machinery
Transportation & Logistics
Utilities
Utilities - Independent Power Producers


	Image Credit: Richard Masoner (Flickr)
Who Benefits if Oil Price Increases are Not Transitory?
One of the sectors worst hit and slowest to recover during the first year of the pandemic was oil. Since 2020 oil prices have more than recovered. In fact, gasoline use is now near its pre-pandemic level, and oil prices are at a seven-year high. What's more, analysts at top Wall Street shops are expecting crude to reach even higher. As with other natural resources, the increase in the price is not just positive for those trading the commodity, it's typically good for producers as well.
Background
Just before the holiday's last year, President Biden announced plans to bring down oil prices by releasing up to 50 million barrels of oil from the strategic petroleum reserve. Analysts then forecasted the impact this would have on price reductions would be fleeting. Prices did first head down beginning Thanksgiving; however, they have since topped not only their high for all of last year, but also since October 2014.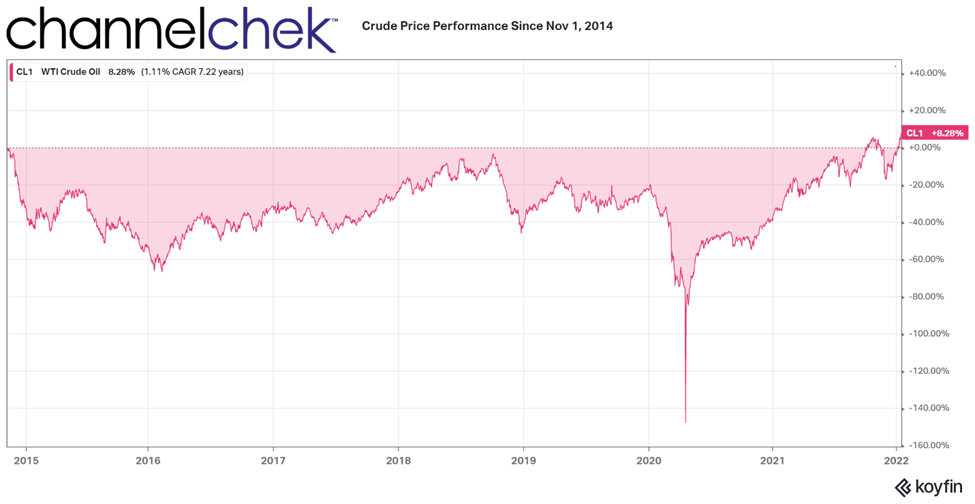 Expectations are that crude prices will move even higher. Although OPEC+ has plans to increase output by 400,000 barrels each month, they have not been meeting this target. With this and other price pressures in mind, Morgan Stanley recently said it expects Brent crude to reach $90 per barrel later this year. Goldman Sachs has the same price forecast, while JP Morgan believes oil could go as high as $100 this year. JP Morgan's forecast is predicated on OPEC+ capacity issues. Even with rising U.S. production, global supply remains short of demand.
Winners from Oil Rising
Among others, two noteworthy microcap producers in the oil sector have been benefitting from the price increases. One with operations in Canada and the other overseas. This morning (January 18), while XLE (energy sector SPDR) rose 0.25%, Indonesia Energy (INDO) rose 12.06%. InPlay Oil (IPOOF) climbed 2%.
Over the past week, the XLE increased a healthy 2.20%. Indonesia Energy lagged at up 1.06%, and InPlay Oil rose 32.36% over the seven days. Noble Capital Markets provided an updated view on InPlay in its report titled What to do when everything's going well? Do more!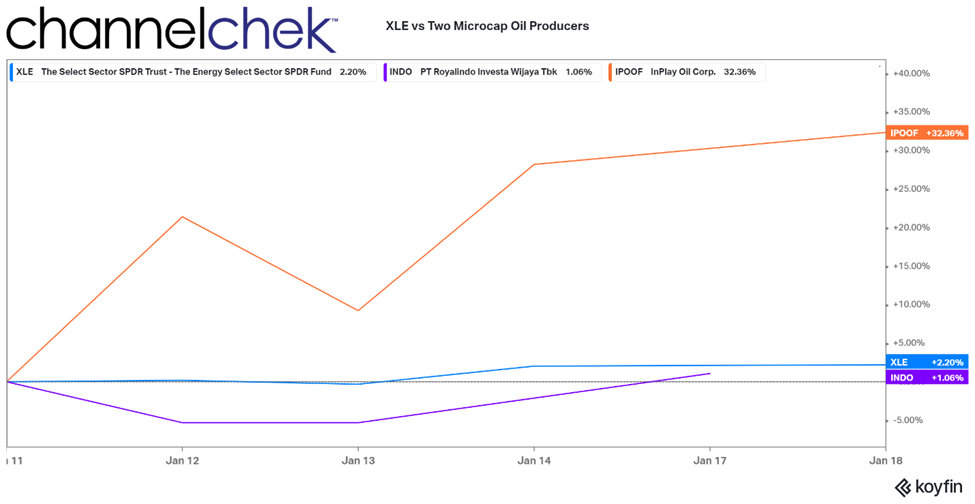 Indonesia Energy Corp Ltd (INDO) is an oil and gas exploration, and production company focused on Indonesia. It holds two oil and gas assets through its subsidiaries in Indonesia: one producing block (the Kruh Block) and one exploration block (the Citarum Block). In a December 21st report issued by Noble Capital Markets, written by Senior Energy Analyst Michael Heim, a price target was set on Indo, along with information regarding output, growth plans, and a late-year setback during monsoon season. Get the report here.
InPlay Oil (IPOOF, IPO:CA) is a junior oil and gas exploration, and production company with operations in Alberta focused on light oil production. InPlay operates long-lived, low-decline properties with drilling development and enhanced oil recovery potential. It also operates undeveloped lands with exploration potential. IPOOF was up 600% last year; read Noble Energy Senior Analyst's most recent note on the company, including price target, direction, and discussion.
Information and analysis concerning other junior oil producers and small and microcap stocks are searchable here on Channelchek.
Take-Away
Just how strong the upside potential for oil prices is right now is evident in the fact that although global output is rebounding and covid omicron cases are peaking, prices are not declining. The experts in this area are calling for further double-digit increases in the price of oil that should have an impact on producers. Small producers could have added potential to continue following or beating oil prices.
An excellent place to research smaller companies involved in this industry is Channelchek.
Managing Editor, Channelchek
Suggested Content

Sources:
https://oilprice.com/Energy/Energy-General/White-House-Helpless-As-Oil-Prices-Climb-Higher.html
https://www.sharewise.com/us/news_articles/Oil_Smashing_Stocks_ValueWalk_20220117_1753
Stay up to date. Follow us:
Company
Ticker
Price
Previous
Mkt Cap
Volume
52wk Range
Advanced Market Data
()
Detailed Quote
Charts
Statistics
Financials
Historical Quotes
Insider Activity
Key Ratios