Image Credit: Gage Skidmore (Flickr)
The Latest on Digital World Acquisition Corp's Progress (Trump Media SPAC Deal)
On October 20, 2021, the Trump Media and Technology Group entered into a definitive merger with Digital World Acquisition Corp. (DWAC). The company's main product, still in development, is a Twitter-like platform with a promise to encourage, "an open, free, and honest global conversation without discriminating against political ideology."
At the time the former President said, "I created TRUTH Social and video-on-demand service (TMTG+) to stand up to the tyranny of Big Tech."
DWAC is now up over 500% from its $10 IPO price, but well off its 845% moonshot after the merger announcement in October. DWAC also filed for a $1B PIPE deal for the social media company in December.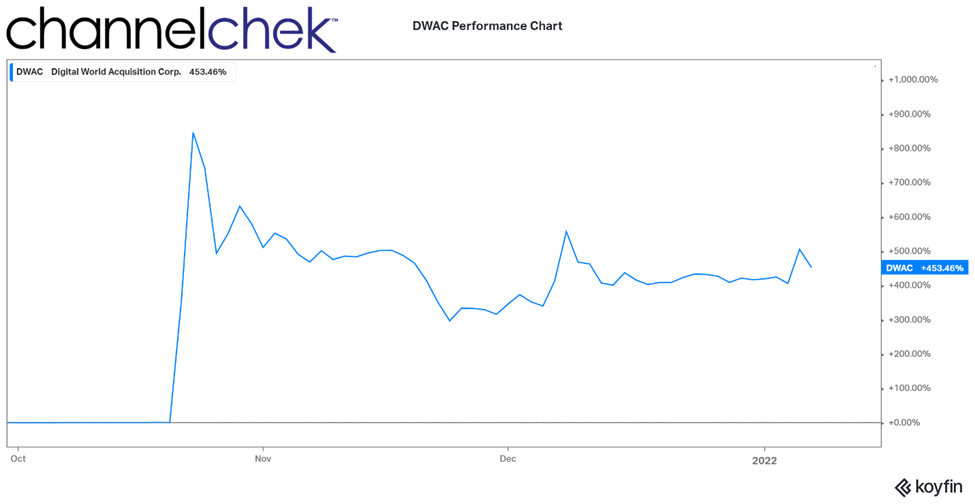 SPAC, Digital World Acquisition Corp. skyrocketed an additional 20% yesterday (January 6). The move followed a report that the TRUTH Social app is set to be launched in February.
Truth Social's listing on Apple's app store has an expected start date of Feb. 21.
In December, Trump Media & Technology announced that Representative Devin Nunes (R-CA) will take the role of chief executive officer of Trump's social media platform. The former dairy farmer has since resigned from Congress to fulfill this new role.
Suggested Reading:
Sources:
https://clerk.house.gov/members/CA22/vacancy
https://www.globenewswire.com/news-release/2021/12/04/2346139/0/en/Trump-Media-Technology-Group-Corp-and-Digital-World-Acquisition-Corp-Announce-1-Billion-PIPE-Investment-in-Committed-Capital-to-Fund-Business.html
https://seekingalpha.com/pr/18589421-congressman-devin-g-nunes-ranking-member-of-house-intelligence-committee-to-join-trump-media
Stay up to date. Follow us: