The Lesser-Known Inflation Indicator is Preferred By Fed Officials

Most people quote inflation based on the Bureau of Labor Statistics Consumer Price Index or CPI. But the metric the Federal Reserve is said to find more valuable is the Personal Consumption Expenditures Price Index, or PCE Price Index.
What is it that makes this measure considered more relevant to gauge inflation, and economic impact?
First, the number is composed of a very broad range of expenditures far broader than CPI. The PCE Price Index is also weighted by data reported through business surveys. Businesses account for and document transactions far better than households. CPI is consumer or household-based.
While CPI is based on a basket of goods and services that is revised infrequently, The PCE Price Index uses a formula that allows for changes in consumer behavior and changes that occur in the short term. For example, if gas prices rise and consumers drive less or switch to a lower octane fuel, this information is more useful than just noting that gas prices are up. These adjustments in consumer behavior are not made in the CPI calculation. This makes the PSE Price Index a more comprehensive metric for measuring price changes that impact the economy.
Advantages / Disadvantages of PCE Price Data
Personal consumption expenditures provide a glimpse of how the economy is going. When people are spending without any hesitation, it usually means that the economy is doing well. But when they cut back, it points to problems in the overall economic picture. Monitoring whether consumers are increasing spending, decreasing, or finding replacements that are less expensive is meaningful to recognizing and forecasting trends. This helps the Fed assess economic needs that may be assisted through monetary policy.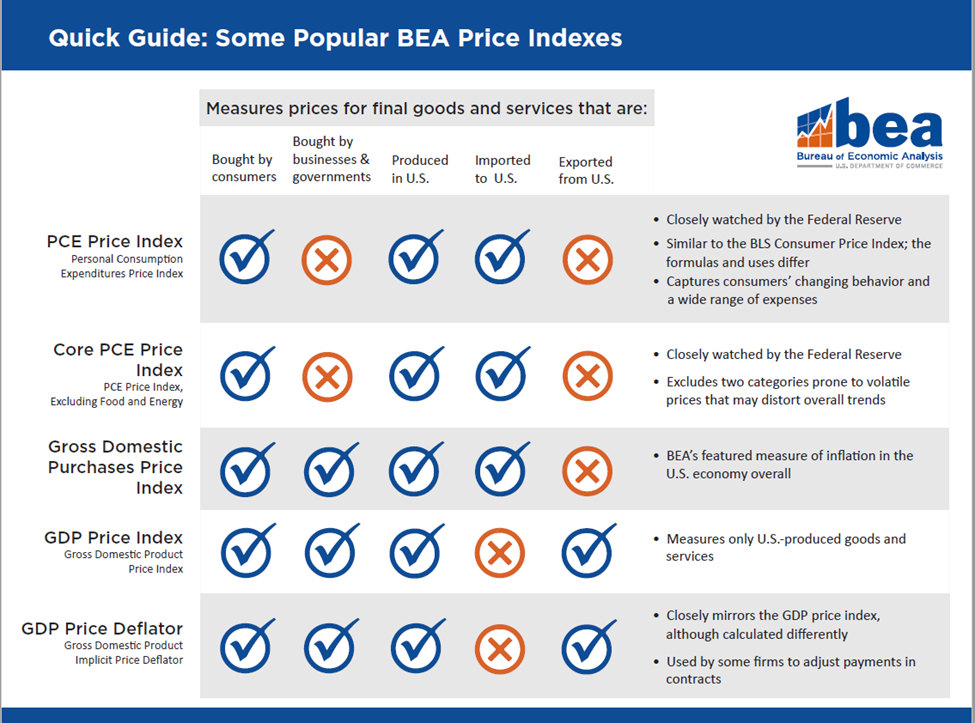 Source: Bureau of Economic Analysis
Stay up to date. Follow us: