Image Credit: IAEA Imagebank (Flickr)
Natural Gas Protests in Kazakhstan May Impact Global Fuel Costs Across the Board
Uranium futures are having their best week since early October. This is the result of protests in Kazakhstan that began Monday over an increase in natural gas costs. Natural gas powers most cars in the country of 19 million. The protests are important to investors globally as Kazakhstan is a large energy producer, including 40% of the world's uranium production. The country also has an abundance of other natural resources, including oil, gas, copper, and coal. Additionally, Kazakhstan has recently become a popular center for Bitcoin mining.
Crackdowns on protesters have impacted business. The government has suspended all operations of financial institutions including banks and the stock exchange, it has also disrupted communications. The situation continues to escalate despite Russia sending in "peacekeeping forces" to the former Soviet nation. There are reports of injuries and deaths of both protesters and police.
Impact on Uranium
As the world's largest producer of uranium, any long-term disruption could impact prices and future supply. The price of uranium which is up 48.12% YOY, has traded higher on news this week of the protests and crackdown. Mining companies that operate outside of Kazakhstan have experienced upward pressure on their shares since the start of the year/week.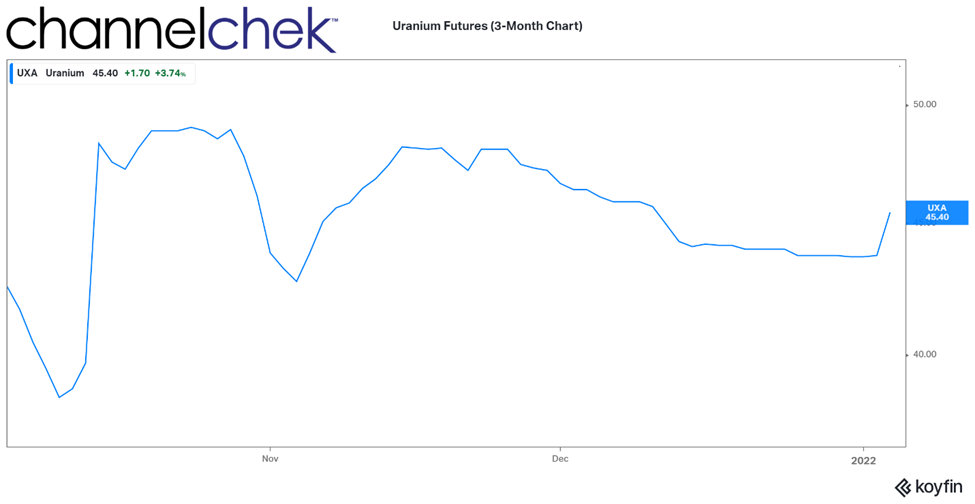 Data Source: Koyfin
Uranium Explorers/Producers With Operations in the Americas
While uranium stocks rose with uranium futures earlier this week, many have dipped as investors have now taken a wait-and-see stance. Listed below are a few small and microcap companies involved in uranium production that may be worth keeping on your radar as new developments play out.
Uranium Energy Corp (NYSE/AM: UEC) is an independent U.S. uranium mining company. The company controls 104M lbs. of qualified resources and a fully permitted uranium processing plant in South Texas. The company has a potential production profile of around 4 million pounds of U.S.-origin U3O8 per year with room to expand. UEC has a 52-week trading range of $1.51-$5.79 and is currently trading at $3.67.
Energy Fuels, Inc. (NYSE/AM:UUUU) is engaged in conventional and in-situ recovery (ISR) uranium extraction and recovery, along with exploration, permitting, and evaluation of properties in the United States. The Company conducts its ISR activities through its Nichols Ranch Project in northeast Wyoming and its Alta Mesa Project in south Texas. Detailed research including the Noble analyst 12-month
price target are available on Channelchek. UUUU has a 52-week trading range of $2.53-$11.39 and is currently trading at $7.90.
encore Energy Corp. (OTC/QB: ENCUF) is a diversified U.S. domestic uranium developer focused on becoming a leading ISR uranium producer. enCore's initial opportunities are created from enCore's licensed and past-producing South Texas-located Rosita and Kingsville Dome ISR production facilities, and multiple satellite projects in South Texas. ENCUF has a 52-week trading range of $0.64-$1.80 and is currently trading at $1.38.
Blue Sky Uranium (OTC/QB: BKUCF) is a Canada-based junior mineral exploration company engaged in uranium and vanadium exploration in Argentina. It has approximately 4,000 square kilometers of prospective tenements. The Company's projects include Amarillo Grande, Sierra Colonia, Tierras Coloradas, and Cerro Parva. The Amarillo Grande Project is located in central Rio Negro province, in the Patagonia region of southern Argentina. A video presentation by the company management is available on Channelchek's YouTube Channel.
Take-Away
Natural resource prices have a long history of increased volatility as turmoil hits regions where there are major suppliers. Mineral-rich Kazakhstan is currently going through a period of public uprising with uncertain consequences. Investors in this sector should further refine their watch-list.
Uranium and uranium producers have over the past year been benefitting from the move to low or no carbon-emitting fuels. The sector gained a lot of attention last year as announcements for new nuclear plants and physical uranium ETFs were created. Channelchek has been reporting on these developments including a series of videos of management presentations we call Power Players. We invite you to uncover more insights into the uranium mining industry through these Power Player videos.
Suggested Reading:
Sources:
https://www.bloombergquint.com/markets/turmoil-in-uranium-rich-kazakhstan-threatens-to-elevate-prices
https://www.aljazeera.com/news/2022/1/5/explainer-what-is-behind-the-protests-rocking-kazakhstan
https://online.flipbuilder.com/noblecon/roqa/
https://www.barrons.com/articles/russian-intervention-in-kazakhstan-fuels-markets-concerns-51641467131
Stay up to date. Follow us: