Companies by Sector
More than 6000 listed
Communication Services
Telecommunication Services
Consumer Cyclical
Advertising & Marketing Services
Furnishings, Fixtures & Appliances
Homebuilding & Construction
Manufacturing - Apparel & Accessories
Manufacturing - Apparel & Furniture
Retail - Apparel & Specialty
Consumer Defensive
Beverages - Non-Alcoholic
Financial Services
Diversified Financial Services
Healthcare
Healthcare Providers & Services
Medical Devices & Instruments
Medical Diagnostics & Research
Medical Instruments & Equipment
Industrials
Farm & Heavy Construction Machinery
Transportation & Logistics
Utilities
Utilities - Independent Power Producers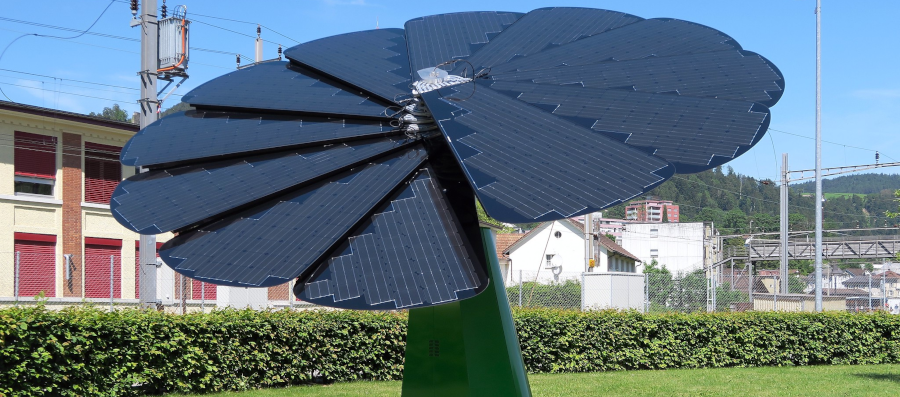 Has 28 Years of Jumpstarting Renewable Energy Been Effective?
Subsidy Background
In 1992, Congress passed legislation that included a production tax credit (PTC), a per-kilowatt-hour (kWH) tax credit for electricity produced using qualified renewable energy resources. Wind power qualifies for production tax credit (PTC), which can amount to more than one-third of the cost of building and operating facilities. The credit has been extended 12 times. The current PTC credit rate is 2.5 cents/KWh for projects begun before 2017 and 1.0 cents/kWh for projects begun after 2019. PTC benefits extend for ten years after a plant is put into service. The PTC program is scheduled to end for projects begun after December 31, 2020. Legislation has been introduced in the house that would extend the PTC credits at 2019 levels with reductions beginning in 2025.
Wind Power Marginal Costs Have Fallen
Renewable marginal power costs have decreased dramatically in recent years. The International Renewable Energy Agency (IRENA) notes that solar photovoltaic prices have fallen 82% since 2010, while concentrated solar power has dropped 47%. Wind power costs have also decreased, albeit not as much. Onshore wind costs have fallen 39%, while offshore wind costs have fallen 29%.
Declining Renewable Energy Costs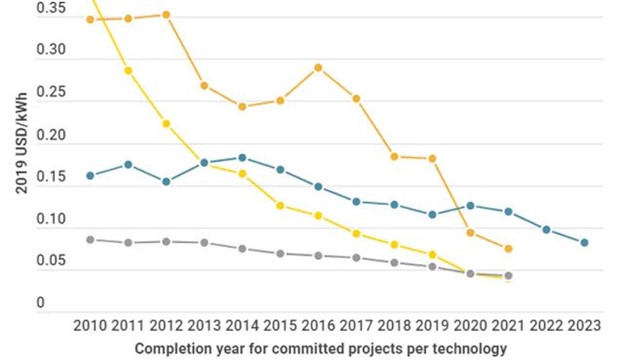 Onshore Wind (Gray), Offshore Wind (Blue), Solar Photovoltaics (Yellow), Concentrated Solar (Tan)
Source: Reve, June 5, 2020
Wind Power Costs Are Now Below Other Fuels Even Without Subsidies
With wind costs declining sharply, the levelized cost of energy for wind power has fallen below that of traditional carbon-based fuels. Levelized costs are a measure of the average cost for a power plant over the life of the plant and take into account construction costs. Lazard analysts estimate that the levelized cost of wind and solar dropped below coal in 2018 even without taking into account subsidies. With subsidies, Lazard estimate that wind levelized costs are $11-$45 per megawatt hour, well below gas peaking plants ($140-$208), nuclear ($115-$195), coal ($62-$157) and gas combined cycle ($38-$75).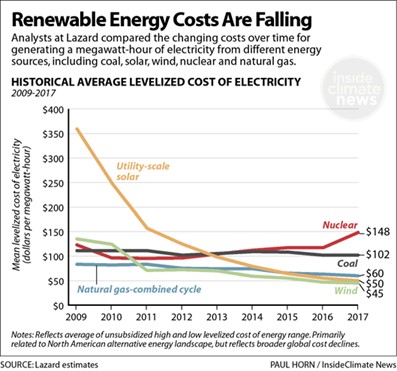 Wind Farms Are Taking Market Share
Not surprisingly, wind and solar have become the fuel of choice for new power plant construction, accounting for over 75% of planned construction in 2020. Wind power represents 44% of planned construction. As the figure below shows, the EIA expects a big rush of construction at the end of 2020, right before tax credits are scheduled to end. In fact, the EIA reports UY.S. electricity generation from renewable energy exceeded coal for the first time in April 2019. Clearly, that trend will continue as new renewable plants are constructed.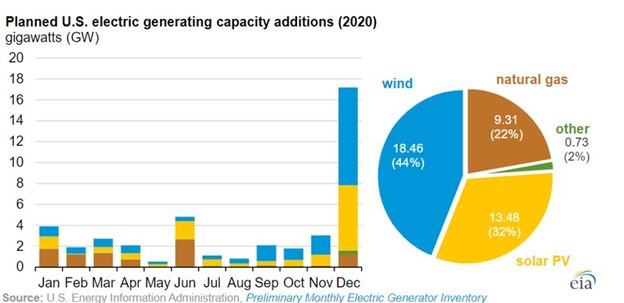 Conclusion
The subsidizing of renewable power has been a tremendous success, albeit at a high cost to the government. The Joint Committee on Taxation estimates that $30 billion has been foregone due to wind power tax credits, and an additional $10 billion is scheduled to be claimed in the remaining years of the program. Nevertheless, the program has achieved its goal of jumpstarting renewable energy so that it would become competitive with conventional fuels. As the wind and solar energy industries grew, costs decreased to a point where renewable costs are now below that of conventional fuels. That is true even as coal, natural gas, and oil costs have also fallen dramatically. The result to customers is cheaper, more environmentally friendly electricity. Renewable energy may have needed a boost to get started, but it should survive just fine without further support from the government.
Suggested Reading:
Industry Report – Energy, 3Q 2020
Industry Report – Metals and Mining, 3Q 2020
Virtual Road Show - Tuesday October 27 1:00PM EDT

Register Now and join InPlay Oil President & CEO, Douglas Bartole for this exclusive corporate presentation, followed by a Q & A session moderated by Michael Heim, Noble's Senior Analyst, featuring questions taken from the audience. Registration is free, but attendance is limited to 100. View All Upcoming Road Shows
Sources
https://www.irena.org/costs, International Renewable Energy Agency
https://www.americaspower.org/its-time-to-end-subsidies-for-renewable-energy/, America's Power, April 17, 2020
https://www.americaspower.org/its-time-to-end-subsidies-for-renewable-energy/%20(ITC,2027%20and%2010%25%20after%20that., renews.BIZ, June 26, 2020
https://fas.org/sgp/crs/misc/R43453.pdf, Congressional Research Service, April 29, 2020
https://www.evwind.es/2020/06/05/renewable-energy-costs-plummet-according-to-irena/75021, Reve, June 5, 2020
https://www.lazard.com/media/451086/lazards-levelized-cost-of-energy-version-130-vf.pdf, Lazard, November 2019
https://www.forbes.com/sites/energyinnovation/2020/01/21/renewable-energy-prices-hit-record-lows-how-can-utilities-benefit-from-unstoppable-solar-and-wind/#63a4de22c84e, Silvio Marcacci, Forbes, January 21, 2020