Companies by Sector
More than 6000 listed
Communication Services
Telecommunication Services
Consumer Cyclical
Advertising & Marketing Services
Furnishings, Fixtures & Appliances
Homebuilding & Construction
Manufacturing - Apparel & Accessories
Manufacturing - Apparel & Furniture
Retail - Apparel & Specialty
Consumer Defensive
Beverages - Non-Alcoholic
Financial Services
Diversified Financial Services
Healthcare
Healthcare Providers & Services
Medical Devices & Instruments
Medical Diagnostics & Research
Medical Instruments & Equipment
Industrials
Farm & Heavy Construction Machinery
Transportation & Logistics
Utilities
Utilities - Independent Power Producers


	
Wall Street Bets Meets Blockchain - Can Diamond Hands Extend to "Rare" Art?
In an amusing press release, it was announced yesterday the founder of WallStreetBets, in conjunction with a newly formed partnership, would be offering "Diamond Hands" non-fungible tokens. The subreddit forum, r/wallstreetbets, is known for its ability to leverage its following to communicate and mobilize that strength. Its collective market-moving power has been able to upend large institutional investors and traders. For example, as a group, the subreddit is credited with successfully creating the short squeeze in GameStop (GME) and AMC (AMC) stocks early this year.
WSB founder, Jaime Rogozinski is now in a strategic partnership forming a new entity called WSBDapp or Wall Street Bets Dapp. The thought process and NFT offerings was described in the release this way:
"The WallStreetBets community has been giving out memes for free for too long; Apple should be paying everyone royalties for rocket and diamond emojis at this point. That's why we brought together a global team of artists, builders, DeFi pioneers, and blockchain fanatics to develop an NFT experience that combines the culture and creativity the community has shown over the last year," said Jaime Rogozinski, founder of WSB and strategic partner of the WSBDApp project. "We're proud to introduce the Diamond Hands Pass NFT collection as we enter new frontiers in DeFi and create offerings that can help regular people own their financial futures. And cool art."
The WallStreetBets genesis Diamond Hands NFT unlocks a suite of benefits and utility into the future. And as the name suggests, the longer you hold, the greater you benefit. There are 15,000 handcrafted genesis NFTs up for grabs, each with unique qualities and some with desirable rarities. In the interest of fairness, WSB is introducing a 30,000 raffle ticket system that allows participants to mint up to five raffle tickets per wallet. Once all tickets have been sold or the minting window closes, the draw will be chosen randomly by a computerized selection process. All non-winning raffle tickets will be refunded.
WSB NFT Stats:
30,000 NFT raffle tickets

15,000 Diamond Hands Pass NFTs

153 unique artwork traits

40,600,560 unique possibilities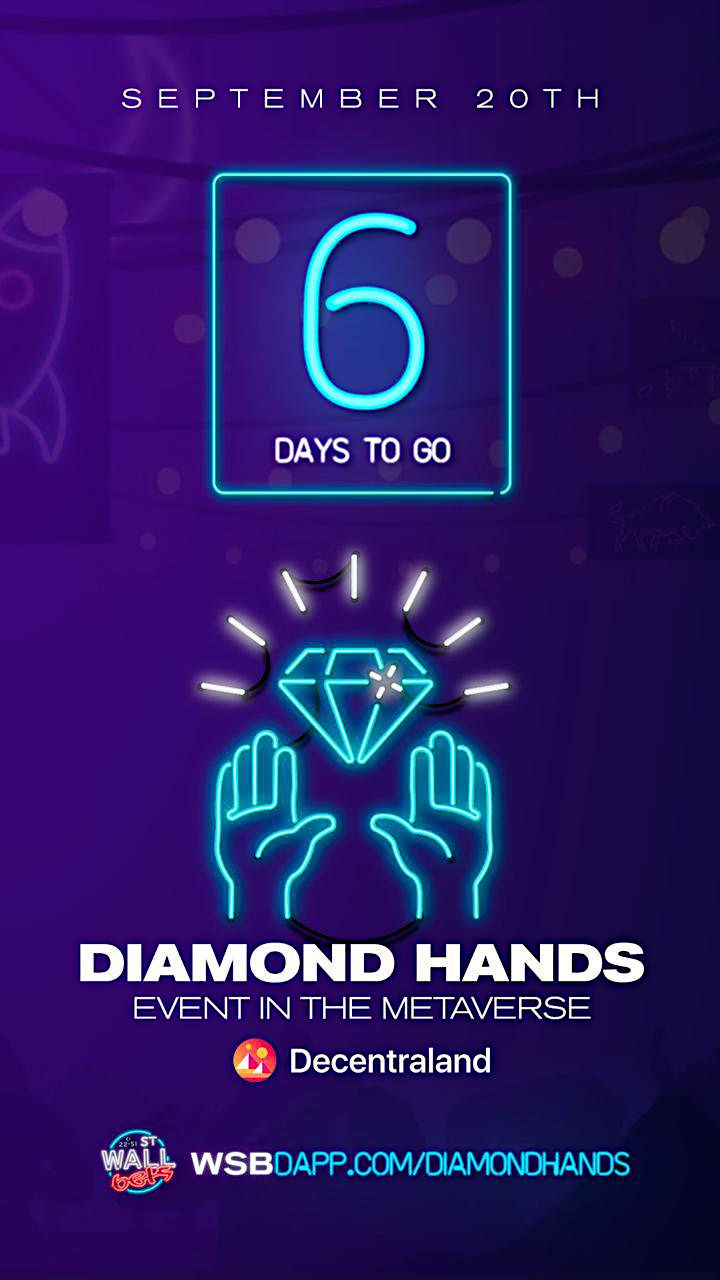 Each Diamond Hands NFT is a piece of handcrafted generative art, with traits of varying rarity and uniqueness. In addition to becoming a purveyor of the fine arts, Diamond Hands Pass owners will gain access to a members-only Discord room, voting privileges, exclusive events and opportunities to connect with like-minded individuals. Other benefits may include WSB merchandise, exclusive access to upcoming launches, rare metaverse wearables, enhanced yield farming rewards on BSC, and premium access to WallStreetBets events.
Diamond Hands Passes will also claim all generative collections for free, plus gas, indefinitely. This includes all three upcoming generative avatar drops: bulls, bears and apes. Collect and hold these three NFTs along with your Diamond Hands Pass to complete the Master Challenge. This will unlock exclusive rewards, including farming rewards at yields that boomers will say are impossibly lucrative.
Take-Away
Wall Street Bets was founded in 2012 to take on the big guys on Wall Street. It became so big that the founder, businessman, and author became uncomfortable that it lost its way toward the original goal. He separated himself years ago as his original intent was to work against those that "abuse" power.
Still, Jaime Rogozinski, at 39, likes to stay active in new technology and challenges. Also, he is not opposed to making money while providing value. Thus, he is a key part of the partnership forming WSBDapp-Diamond Hands. For more information on the WallStreetBets NFT collection and how to enter the raffle to achieve a Diamond Hands Pass, visit wsbcollectibles.io.
Suggested Reading:
Sources:
https://www.businesswire.com/news/home/20210922005352/en/WallStreetBets-Launches-NFT-Collection
https://millionsofcelebs.com/jaime-rogozinski-net-worth-age-height-weight-early-life-career-dating-bio-facts/
https://www.kitco.com/news/video/show/Market-Analysis/3584/2021-08-27/A-WallStreetBets-portfolio-Founder-Jaime-Rogozinski-launches-fund-where-investors-pick-the-stocks
https://twitter.com/wallstreetbets/status/1437883202962661376/photo/1
Stay up to date. Follow us:
Company
Ticker
Price
Previous
Mkt Cap
Volume
52wk Range
GameStop Corporation
GME (NYSE)
$213.90
$16.36B
0
$12.14 - $483.00
Advanced Market Data
()
Detailed Quote
Charts
Statistics
Financials
Historical Quotes
Insider Activity
Key Ratios