Image Credit: iamhenry (Flickr)

Shiba Inu Successfully Demonstrates How Token Burn Works
While the Federal Reserve promises to intensify its quantitative tightening (QT) in September by permanently removing more $US dollars from the economy, Shiba Inu holders are working on something similar with the cryptocurrency. Token burning, or destroying a percentage of a specific token in circulation, should positively impact the value. This has been working well for SHIB.
When introduced in 2020, Shiba Inu was first characterized as a meme scheme or a satire of Dogecoin (DOGE). It has become the 12th largest token and is taking steps to shore up its worth as a currency. One step it's taking, which has had a positive impact, is reducing tokens in circulation.
What is Token Burning?
"Burning" a token is the act of permanently removing it from any kind of exchange on the blockchain. It effectively destroys it, causing fewer tokens of the crypto to be available for use. This is done by anyone that sends tokens to a frozen private address, referred to as a burn address. A true burn address or null address is one from which the coins cannot be recovered. The definition demands that to be a burn address, there is no private key. Since a private key is needed to access the coins at an address, there is no access; the coins are no longer able to circulate — fewer tokens of the particular crypto are available.
What's the Purpose?
Scarcity increases the value of an asset. This simply adjusts one side of the supply-demand dynamics of worth.
The higher the demand for a given asset, generally the higher its value. And similarly, the lower the supply, the higher its value. So, where the supply of a given coin or token is fixed (Bitcoin is a prime example of this, with the underlying smart contract ensuring on 21 million BTC can ever be generated) there is means to impact value by destroying some of the supply.
Basically, it's used as an attempt to increase token value and/or create stability.
Has it Helped Shiba Inu?
Crypto's experienced an across the board boost in mid-August, but Shiba-Inu has outperformed all of the top 20 coins. SHIB, the 12th-largest cryptocurrency, has $8.01 billion in circulation and currently trades at around $0.00001235. The coin continues to have gained the most value on the month as others have since faltered.
SHIB's upwards price action is considered the result of a spike in the token's burn rate. Other factors include the launch of Shibarium (a layer-2 blockchain to be launched by Shiba Inu).
Nearly 110 million SHIB tokens have been burned over the past day (August 30), and 40% of the total SHIB supply has been burned to date, using data from Shibburn.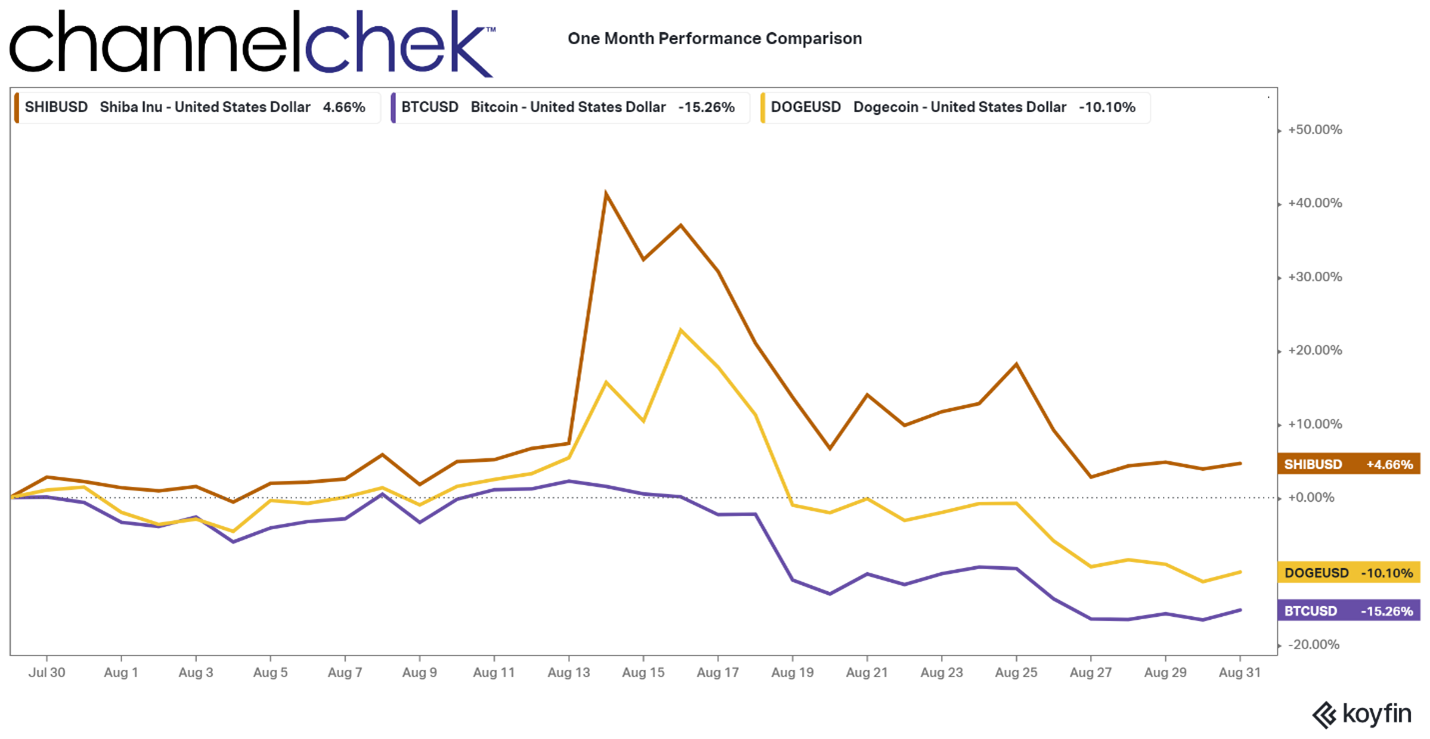 Source: Koyfin
Despite Shiba Inu's outperformance and momentum in August, it is down over 80% from its all-time high recorded in October 2021. According to Coinglass Over $1.2 million in SHIB trades have been liquidated over the past 24 hours, predominantly from short positions, according to data from Coinglass which provides data and analytics on cryptocurrencies,
Total addresses holding SHIB have increased by 0.023% to just above 1.211 million in the last 24 hours, according to data from Etherscan.
DOGE Follows SHIB
The leading so-called meme coin, Dogecoin, is down on the month but also outperforming its peers and has seen increased trading volume. With a circulation of $9.3 billion, DOGE is the 10th-largest cryptocurrency.
The broader crypto market has leveled off after a recent shellacking. Bitcoin (BTC) has recently risen and broken the psychological $20,000 mark.
Take Away
Removing some of a currency from circulation has a tendency to lift its value. The Federal Reserve does this by letting purchases mature and not buying more. Cryptocurrencies, although autonomous with no central authority, do this by limiting coins and even burning as Shiba Inu has done.
A stronger and more stable Shiba Inu will cause more people to want to keep it in their crypto wallet. The same is expected a more scarce higher demand crypto, and one of the reasons the dollar has strengthened so much during 2022.
Managing Editor, Channelchek
Suggested Content
Sources
https://ambcrypto.com/why-shiba-inus-400-ascension-ended-in-a-bone-afied-story/
https://decrypt.co/108212/shiba-inu-jumps-9-as-token-burn-intensifies
https://coinmarketcap.com/currencies/shiba-inu/
https://www.coinglass.com/
Stay up to date. Follow us: