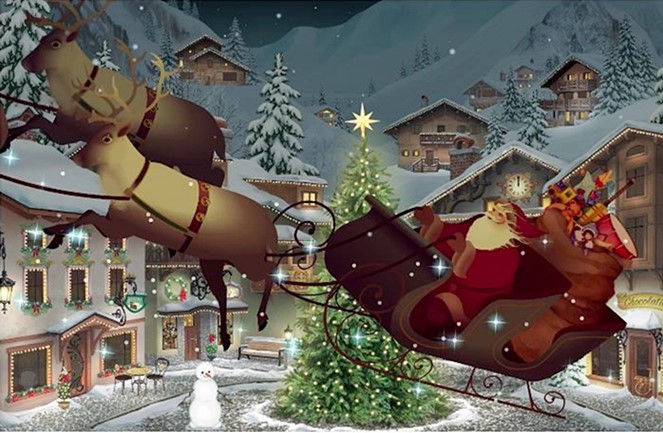 Improved Delivery Speeds Could Lower Inflation
Delivery speeds of goods worldwide have improved, impacting everything from shipping and freight to retail stores – and it should help provide a lower inflationary balance between demand and supply. Demand is waning, and supply speeds are normalizing. Months-long back-ups of ships are now gone, with shipping rates close to pre-pandemic levels, the post-pandemic era now has to adjust again.
Supply Chain Pressure
A government measure compiled by the Bureau of Labor Statistics (BLS) consisting of transportation and manufacturing pressures, called the Global Supply Chain Pressure Index Pressure (GSCPI), shows significant easing during 2022.
Global supply chain pressures are well off the high reached last December, although they have just modestly ticked up.  The largest contributor to this slight reversal is the increase in supply chain pressures from Chinese delivery times, though improvements were shown in U.S. delivery times and Taiwanese purchases.  The GSCPI's recent movements suggest that developments in Asia are slowing down the return of the index back to historical levels.
Shipping Impact
Goods are moving through the largest U.S. port complex faster than at any time since cargo was backed up for weeks at the Los Angeles-Long Beach docks during the pandemic. The average dwell time for containers is just 2.8 days, according to the Pacific Merchant Shipping Association. Meanwhile, U.S. container imports reached their lowest level in November since the early months of 2020.
The improvements and reduced demand have impacted ocean shipping rates. The daily spot rate to move a shipping container from Asia to the U.S. West coast is near $1,400, down from about $7,500 in July and roughly $15,000 a year ago, according to the Freightos Baltic Index. This current cost represents a slight discount over pre-pandemic rates.
Freight Impact
Maersk is a large logistics company that is involved in many aspects of shipping and tracking. Vincent Vlerc will take over as CEO on January 1. Mr. Clerc said, "You can't deploy more capacity than what our customers need." He explained, "we are going through a significant inventory correction in the U.S. and Europe, and we made significant capacity adjustments to our capacity in and out of Asia." Maersk has indicated it is transporting 30% fewer containers across the Pacific since last year.
The current chief executive of Maersk, Soren Skou said, "it's obvious that freight rates peaked and began to normalize, driven by falling demand and an easing supply-chain congestion."  In November, the shipping company lowered its 2023 forecast for container demand. It now expects a decline from 2% to 4%, from a maximum decline of 1% previously.
Rail Transportation
The major railroads, in addition to having averted a strike, have managed to hire more train and engine crew members during the second half of 2022. Recruiting had been challenging earlier. They reopened some hump yards and took out locomotives from storage to help ease some bottlenecks.
These changes helped to improve rail service from a low in the Spring when dwell time and train speeds were historically low. "We have turned the corner on service," Norfolk Southern CEO Alan Shaw said during the company's investor day in early December.
The railroads say they intend to draw more cargo currently on trucks back to rail, as rail service improves.
Parcel Delivery
FedEx and other regional carriers are having an easier time delivering packages. On Tuesday, FedEx reported average daily parcel volumes fell 10.2%, declining for the fourth straight quarter. There is a trend where shoppers are venturing back out; this has reduced online shopping.
There is now a surplus of capacity to deliver packages. In 2020 and 2021, their ability to deliver fell short of daily capacity.
Before the holiday season, parcel carriers noted consumers had reduced online orders. People seemingly have other pent-up demands to meet. They have resumed spending on travel, parties, and entertainment. Also, in-person shopping has increased post-pandemic.
Impact on Retail
After more than a year of paying higher and higher prices for shipped goods, Walmart and other retailers can resist price increases. In fact, they may even be successful negotiating discounts. With significant inventory and, in some cases, excess inventory, retailers have more bargaining power with shippers and suppliers. Dollar General Corp., after years of blaming high transportation costs as a drag on the business, said in December that falling transit prices could begin lifting the company in 2023.
Take Away
A new balance is being found in the shipping and delivery of goods. Where there was once more demand than supply, a more normal balance is surfacing. This balance is a relief to both sellers and buyers as products become available. Even more, it is likely to help bring inflation down. Also working to help this balance is higher interest rates that are intended to slow demand while supply-side channels catch up. The balance is much closer than it was when the Fed began tightening, this helps bring the costs of goods down, and as an added gift to those most hurt by inflation, it also has helped ease tight labor markets.
Managing Editor, Channelchek
Sources
https://www.newyorkfed.org/research/policy/gscpi#/interactive
https://www.wsj.com/articles/inventory-pileup-uneasy-shoppers-put-retailers-in-jeopardy-11661690106?mod=article_inline
https://www.wsj.com/articles/supply-chains-upended-by-covid-are-back-to-normal-11671746729?mod=Searchresults_pos2&page=1
https://www.wsj.com/articles/supply-chains-upended-by-covid-are-back-to-normal-11671746729?mod=hp_lead_pos6
https://www.wsj.com/articles/inventory-pileup-uneasy-shoppers-put-retailers-in-jeopardy-11661690106?mod=article_inline
https://www.wsj.com/articles/walmart-is-flexing-its-muscle-again-11668229212?mod=article_inline