Both Stockholders and Those in Prison May Quickly Benefit
The government process moves painfully slow. Some things that are presumed to be just, right, and even best still take years to become the law of the land. As investors, we can be perfectly correct as to the eventual outcome, but the future may not come fast enough. It is taking many years for cannabis or marijuana laws to settle where most presume the eventual outcome will be. That's a long time to be holding a stock, hopeful but with little real legislative news to propel it higher. The day may finally be approaching for U.S. pot stocks. President Biden announced on Thursday that he is taking quick steps to review federal marijuana laws and recognize related prison sentences. 
The U.S. president announced on October 6 that he is initiating an administrative review of federal marijuana scheduling, and he also said that he would be granting mass pardons for people who have committed federal cannabis possession offenses. He asked that state governors do the same for state-level convictions.
The pronouncements are both on the Whitehouse.gov website under Briefing Room and on Twitter @POTUS.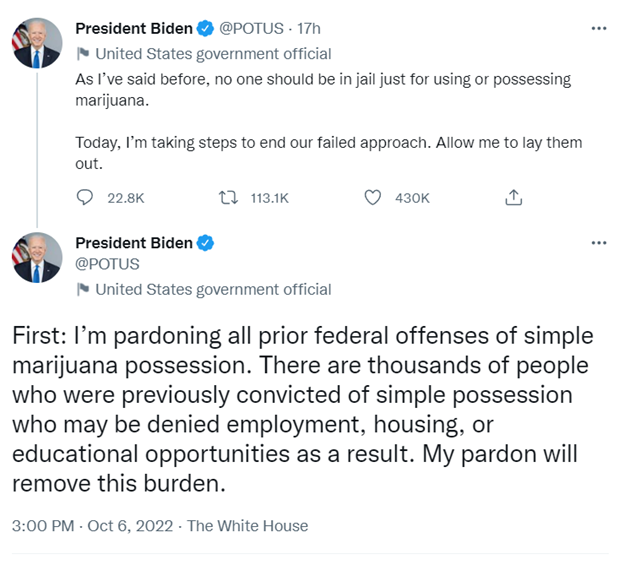 Biden has laid very low on legalization since taking office. Although he campaigned on marijuana decriminalization, rescheduling, and expungements for low-level cannabis convictions, he has not held these as a priority. Mid-term elections are a month away, and the president may be knocking things off his "To-Do" list after two years in office.

The White House estimates that about 6,500 people with federal cannabis convictions could be eligible for relief under the new order, and thousands of others whose local offenses have them incarcerated could also benefit.
The scheduling review—which would be conducted by the Justice Department and the U.S. Department of Health and Human Services (HHS)—could fundamentally reshape U.S. marijuana policy at the federal level. Advocates had been pressuring the president to use his executive authority to initiate a path forward.
It's not clear how long the review might take, but Biden stressed that he wants the agencies to process it "expeditiously." It's reasonable to expect that the review could result in a recommendation to move marijuana from the strictest classification of Schedule I under the Controlled Substances Act (CSA) to a lower schedule or no schedule at all.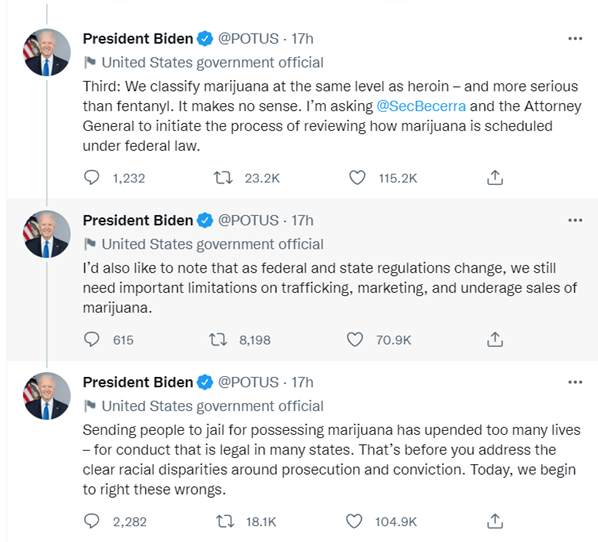 A White House official has reminded us that while the POTUS is asking for an expeditious review process, it's still going to "take some time because it must be based on a careful consideration of all of the available evidence, including scientific and medical information that's available."
"This is meant to proceed swiftly. But, you know, this has to be a serious and considerate review of the available evidence," they said. "So he's not setting an artificial timeline, but he is saying this needs to be expeditious."

This action is a clear about-face for the long-time politician. During his tenure in the Senate, Joe Biden served as chairman of the Judiciary Committee that helped shape drug policy during a period of intense scaremongering and increased criminalization. At the time, he was among the most prominent drug warriors serving in Congress.
Take Away
President Joe Biden has dropped what essentially amounts to a drug policy October surprise just before the midterm elections. The review comes at a time when a number of legislative efforts in both branches of Congress have failed to move forward.
While the pronouncement and order do not finalize federal laws related to banking or interstate commerce tied to cannabis products, it does signal an effort to move far more quickly.  A number of publicly traded U.S. cannabis-related companies jumped after the news, including Tilray (TLRY), Schwazze (SHWZ), and Curaleaf (CURLF).
Paul Hoffman Managing Editor, Channelchek
Sources
https://www.whitehouse.gov/briefing-room/press-briefings/2022/10/06/background-press-call-on-marijuana-reform/
https://twitter.com/POTUS/status/1578097878094024712?
https://www.marijuanamoment.net/where-presidential-candidate-joe-biden-stands-on-marijuana/