Source: Bloomberg TV (August 17, 2022)

Meme Stock Frenzy 2.0 – WallStreetBets Founder Thinks it Will Continue

Is Bed Bath and Beyond (BBBY) going to rebound? Are AMC Theatres (AMC) and GameStop (GME) just beginning to make another attempt at reaching the moon. In a Bloomberg interview on Tuesday (August 17), WallStreetBets' founder Jaime Rogozinski shared his thoughts. The interview is made more interesting in that it was conducted before news that Ryan Cohen, GameStop chairman and Chewy (CHWY) founder, filed to sell his entire stake in meme stock BBBY. This move gives pause to meme investors because the value of Cohen's holdings in Bed Bath and Beyond was roughly 10% of BBBY market value. Rogozinski said he believes meme stock investors are "probably aiming to the moon."
Meme Momentum
Rogozinski was asked if he was at all surprised to see so much trading come back in light of the lull in self-directed investor activity and inflation-related financial concerns. "I'm not really; summer vacation is over," he then continued, "that's when the activity gets to kick back up." Jaime recognizes the momentum we had seen previously from WallStreetBets had "whimpered down" but he said goes in cycles just like the regular economy. He also pointed out that it would be impossible to retain momentum and make the kind of moves stocks like Bed Bath and Beyond and other meme stocks make without shifts in cyclical momentum.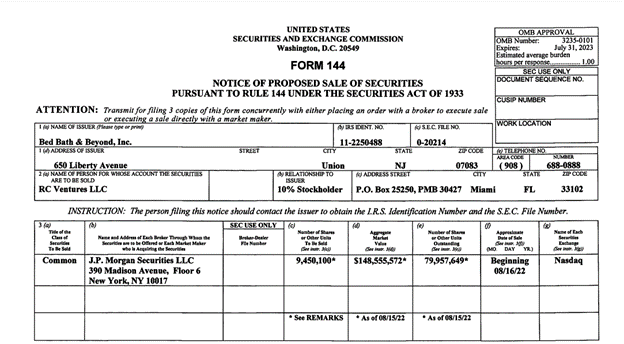 Image: A Section of Ryan Cohen's (RC Ventures) SEC form 144
Different Drivers?
Responding to a question about whether the drivers are different this time, Mr. Rogozinski said, "The drivers appear to be the same." He pointed out that it is early in the cycle, but "we have the meme component that, everyone's talking about it, the chatter and enthusiasm, you have a stock from a company that is relatively distressed, you have a high short float," then he said something that may cause an investor in at least one of the current meme stocks to pay more attention, Rogozinski continued, "you have Ryan Cohen dipping his hands into this particular stock and giving his Midas touch to it," as he expressed that the moves again have a lot of the same components.
WallStreetBets Leader
He was asked specifically about Ryan Cohen, which is interesting to review the morning after the activist investor filed to sell his shares of BBBY and a move to own calls that would expose him to gains for far fewer shares. Rogozinski, without knowledge of Cohen's plans, said, "There is no one individual. I think that if a high-profile individual decides to get into a stock or just to add to the thesis or find some confirmation bias, then it's always helpful." The WallStreetBets founder added, "It could be him, or it can be Elon Musk," or any one of a number of "quirky public figures or CEOs" that have stock market influence, so it's hard to pinpoint.
"The thing about retail trading or WallStreetBets is that it's a collective, right – there is no captain of the ship saying 'this is where we're sailing' the power comes from the numbers, the power comes from the fact that there are collective decisions that are made." He reemphasized, "There is no individual that makes that choice."
Will Meme Stock Frenzy Continue?
Jaime Rogazinski thinks the current meme stock resurgence has room to continue. He said, "As long as we don't disable the BUY button, we probably have a decent chance to keep going forward." He said he is not active in this move himself; the reason given is that to be profitable, he thinks he would need to have a strategy, and he personally doesn't have a strategy yet for these markets.
Asked if meme stock frenzy sustainability expectations should change with an entirely different economic backdrop, Rogozinski said he believes there is a bit more of an eye toward the big picture this time. But the fundamentals and price discovery that meme stock investors are adhering to are supply and demand. Standard fundamentals, in his analysis, don't seem to support GameStop's price sustainability he used as an example.
Managing Editor, Channelchek
Suggested Content
Sources
https://sec.report/Form/144-PAPER/43719
https://www.youtube.com/watch?v=Uv7j1hAhGSk
Stay up to date. Follow us: