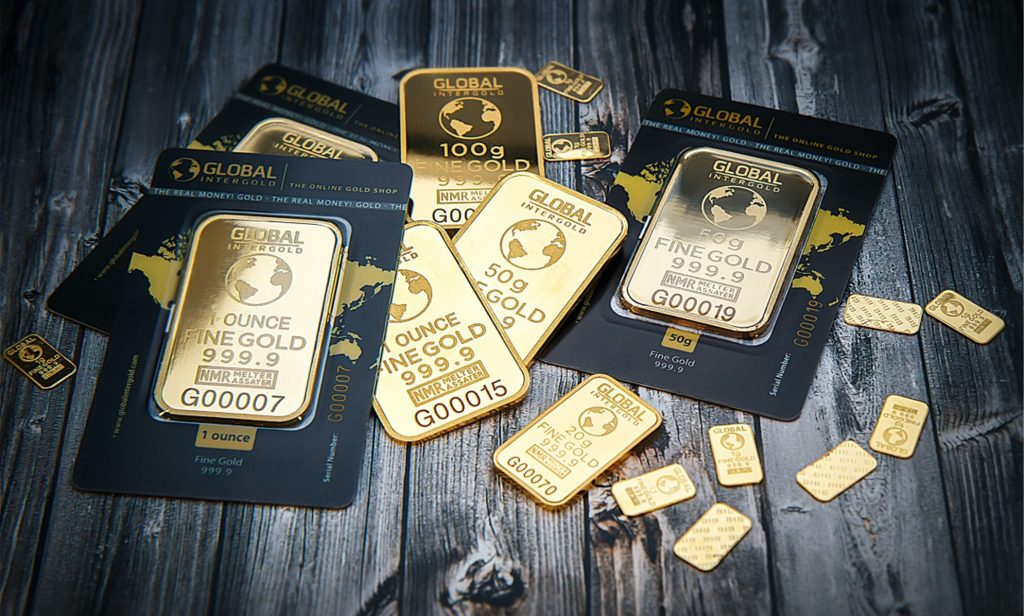 If Cryptocurrency is not the Safe Haven it was Expected to Be, Will Assets Move Into Gold Investments?
In addition to any information discovered from Michael Burry's 13F filing earlier this week, he's been coming out in support of gold. He seems to expect that those that were seeking a "safe harbor investment" in various crypto-related investments are now having a change of mind. Despite his long positions held on September 30 and made public on November 14, he has teased that he could be extremely short the market; presumably, this could include any tradeable asset when you're an investment analyst of this caliber.
Will Investors Rediscover Gold?
"Long thought that the time for gold would be when crypto scandals merge into contagion," Burry wrote in a tweet this week.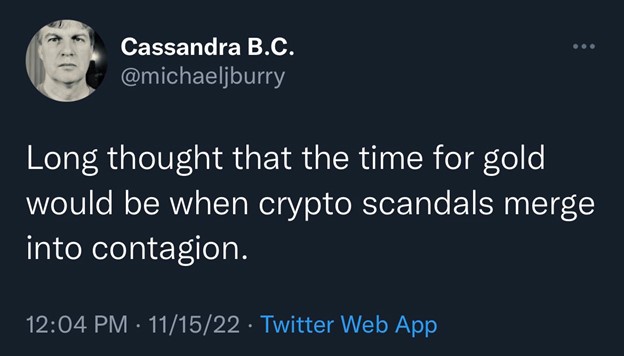 The financial pressures spreading across the crypto industry that have helped destroy the crypto exchange FTX and exposed characters like Sam Bankman-Fried that may have been given too much trust, are causing reduced trust in digital assets.
Supporters and believers in the benefit of crypto had been using bitcoin and other tokens as a means of storage outside of securities. Their expectation has been that crypto is superior as a store of value during periods of inflation, currency depreciation, and economic turmoil.
Crypto prices have not offered much protection against plunging stock, bond, and real estate values. In fact, relative to the strong US dollar, crypto's value has fallen off a cliff, offering no protection. The overall outstanding crypto worth has gone from $2.2 trillion to around $830 billion. Gold has not been rising during this period, but relative to US dollars, it is down only 3%.
Burry's likely message is that the escalating cryptocurrency negatives will reduce demand for coins, yet demand for a safe haven asset would not be reduced. This could make gold again one of the only games in town for investors looking to protect against asset erosion.
Is Burry Short?
"You have no idea how short I am," Burry said in a tweet this week.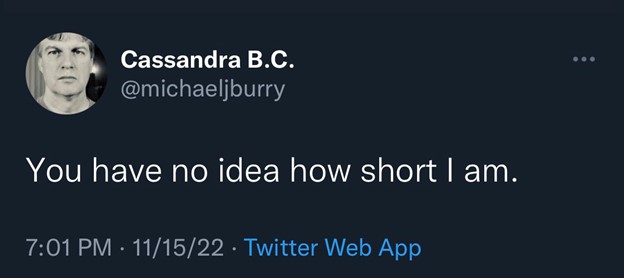 He does not say he is short at all in this tweet. However, against the backdrop of many previous tweets warning against a market he believes will become more bearish, coupled with a holding report released that has five long holdings, the hedge fund manager of The Big Short fame is likely warning investors not to read too much positive into his fund's holdings report.  That report was released just before the tweet.
The value of long securities held in his roughly $292 million AUM was $41 million. As he demonstrated during the financial crisis, there are non-publicly reported ways to be short, even short beyond your AUM. Fund managers with assets over $100 million only have to disclose US-listed stocks in their 13F filings with the SEC each quarter. Excluded in the reporting are shares sold short, overseas-listed stocks, and other assets such as commodities.
In actuality, Burry's increased positions in prison stocks and exposure to the company involved in making Artemis' rocket boosters is more likely a sign that he likes the prospects of some companies while at the same time doesn't like the broader market outlook.
Positive Tweets
In addition to his positive tweet on gold, Burry has suggested the Federal Reserve's interest-rate hikes, which have weighed on market prices, could end in the spring. This was reflected in his October 24 tweet "Still think the Fed back off on QT early next year."
Investing in Gold
Investors that look to gain exposure to gold, will typically buy gold bullion, gold funds, gold futures, and the stocks of gold mining companies. All have unique advantages. Investors looking to research junior miners of gold and other precious metals and natural resources, find Channelchek as an excellent resource to discover and research many different unique, actionable possibilities. Start here.
Paul Hoffman
Managing Editor, Channelchek