Michael Burry's New Comments Highlight the Importance of Pivoting
With most major indexes in positive territory for the year but still, well below their 2022 starting point, are markets moving to make up their losses? Michael Burry thinks so. In the most positive tweet I have seen from him in almost four years, Burry posted he was "wrong to say sell." As recently as late January, Burry posted a one-word tweet, "Sell." The pundits read into it that perhaps another economic crisis similar to the one that occurred in 2008 will crush markets. His almost cult-like following was built by being one of the few individuals who correctly positioned his investments for the housing and subprime mortgage problems that shook the U.S. in late 2008.

Michael Burry Suggests We Have a Bull Market
Market participants are surprised at both Burry's bullishness and open acknowledgment that he believes he was overly negative and has gotten it wrong this time. The widely followed investor has been bearish and broadcasting this sentiment to his 1.4 million Twitter followers. The suggestions have been that they should consider lightening their holdings. Burry even caught investor attention with his own 13F reported short position in Apple (AAPL).
Burry points to high levels of dip buying, which may have changed today's market landscape. This is backed up by other reports, including one from Bloomberg that gives a reason that 2023 is shaping up to be one of the best years for dip-buyers.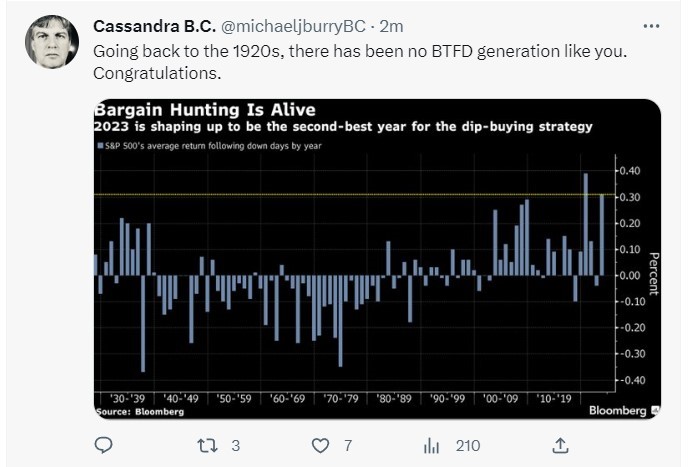 Importance of Pivoting
He may not have been "wrong." The best investors understand their time frame and will recognize when market moves are not as expected. On February 2nd, a few days after Burry's January 31st "sell" tweet, the S&P 500 index closed at 4,180 just after the Fed interest rate target increased by 25 basis points. To date, that is the large-cap index's highest close of 2023, as weeks of declines followed. The NDX  had fallen nearly 3% since that day.
But the trend, if it continues, appears to have changed. The equity market in March has been surprisingly resilient. It has been able to shrug off multi-country concerns surrounding the banks, elevated expectations of an economic downturn, and forecasts that S&P 500 companies will report their biggest quarterly earnings decline since the second quarter of 2020.
Moving from a sell to a more bullish position, for those that are looking to capture short-term moves, seems to be what is implied in his tweet. It may be that Michael Burry was not wrong in direction, as the markets did fall, just wrong in how long they would stay weak.
Take Away
There are long-term trends and short-term trends. Also, trends that are weak and strong through different sectors at the same time. While time will tell if Burry is correct in his most recent direction, the ability to see market sentiment changing and go with it is characteristic of a successful trader.
Managing Editor, Channelchek
Sources
https://www.bloomberg.com/news/articles/2023-03-30/should-i-buy-the-dip-michael-burry-of-big-short-fame-congratulates-dip-buyers#xj4y7vzkg
https://www.marketwatch.com/story/michael-burry-of-big-short-fame-says-he-was-wrong-to-tell-investors-to-sell-d1259c0f