Image Credit: Keith C (Flickr)

AMC Announces Peculiar Dividend and a New Class of Company Stock

"So, ladies and gentlemen, gentlemen and ladies, TODAY WE POUNCE." In his letter to shareholders, these are the words of AMC Theatres CEO Adam Aron. Amidst a flurry of reports, filings, and an open letter to shareholders yesterday (August 4), the company announced a unique dividend to be awarded to listed shareholders later this month. The AMC Preferred Equity announcement (ticker: APE) is causing as much or more confusion as the unusual GameStop (GME) dividend did last month.
Below we try to simplify the details of the new APE units.
Details of Dividend
The special dividend of one AMC Preferred Equity unit will be issued for each share of AMC Class A common stock outstanding at the close of business on August 15, 2022. The special dividend is scheduled to be paid at the close of business on August 19. AMC expects to list its AMC Preferred Equity Units on the NYSE under the symbol "APE," starting August 22. The symbol is a familiar term to the so-called meme stock investors who often refer to themselves as "apes."
AMC will be issuing one share of APE as a dividend for each of its 516,820,595 shares outstanding, according to Aron. "The issuance only to our shareholders of tradable AMC Preferred Equity units clarifies who is included in our current shareholder base," he said in a press release. The company has faced questions and theories that there are synthetic AMC shares in the hands of unwitting investors. Aron believes this can answer those questions by vetting through their shareholder of record list.


Source: Twitter (@PeterRHann1)

The theory that there are fraudulent shares in the float used by investors to cover short positions in the past could now be uncovered. Some online commentators argue that if they can add synthetic AMC, then they can add synthetic APE to trade. However, AMC took an extra step. An NFT. Bypassing the blockchain and creating fraudulent NFTs would, in theory, be more difficult, if only because it would take a different skill set. The "I own APE" NFT will be given to shareholders of record August 14.
What Shareholders Get
The company stock price has had wide swings over the past two years that took the theater chain from a down-for-the-count pandemic victim to a Robinhood investor phenomenon. AMC tapped the steep rise in its share price to raise $917 million in January 2021. At that time, Aron said the new financing meant any talk of imminent bankruptcy "is completely off the table."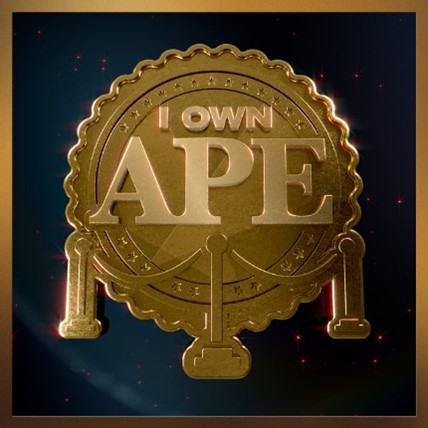 Source: Twitter (@CEOAdam)
Earlier this year, AMC stunned Wall Street when it made a $27.
9 million investment in Hycroft Mining Holding Corp. HYMC, a gold and silver mining company that diversifies AMC well outside of the entertainment industry. He spoke of the ownership interest on an investor call this week, saying, "We have every confidence that our Hycroft investment will pan out, excuse the pun, to be quite lucrative for AMC," he said. "I am so convinced that, when the story is finally written, this will be a good one for AMC."
Shares of the company, which skyrocketed to a high of $72.62 on June 2, 2021, have fallen 30% this year.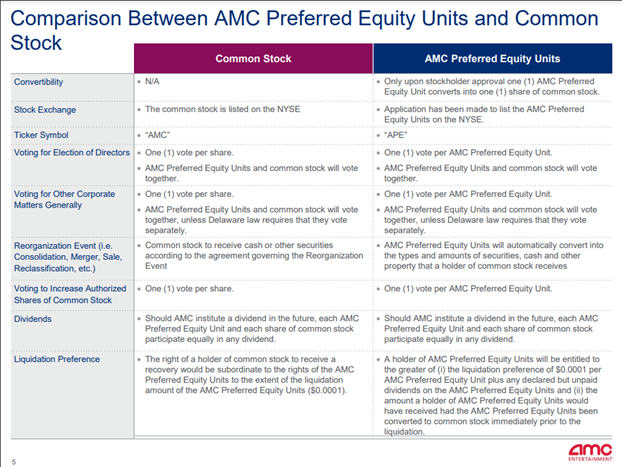 Source: AMC Website (AMC Preferred Equity Units)

The new class of stock is convertible into AMC common shares at one-to-one and conversion is at the discretion of the holder. It is designed to not add any dilution for current (authentic) shareholders. The ability to vote APE units will be the same for both classes of shares. APE shares have preferred rights and claims over the AMC class, making AMC shares subordinate in a liquidation event.
What AMC Gets
"This new AMC Preferred Equity gives AMC a currency that can be used in the future to strengthen our balance sheet, including by paying down debt or raising fresh equity," said AMC Chief Executive Adam Aron. "As a result, this dramatically lessens any near-term survival risk for AMC, as we continue to work our way through this pandemic." In the letter to shareholders he explained, "I believe all of this makes us vastly, and I mean, vastly, stronger." The Aron, referred to AMC's critics as "naysayers" and "prophets of doom" and took a shot at those shorting the stock by saying the dividend is very bad news for people "not rooting for AMC."


Source: AMC Theatres Press Release (August 4, 2022)

Take-Away
The AMC dividend is unique. It adds a new class of company stocks that does not mathematically devalue the company. It appears to be designed to give investors confidence that each share traded is authentic. Less importantly, it allows investors that refer to themselves as Apes to own a favorite company trading under the ticker APE. Separately, it gives a nod to blockchains' ability to provide authenticity through NFTs.
Managing Editor, Channelchek
Suggested Content
Sources
https://d18rn0p25nwr6d.cloudfront.net/CIK-0001411579/d143ef2b-7a84-47d2-a8a1-7930f7527930.pdf
https://s25.q4cdn.com/472643608/files/doc_financials/2022/q2/FINAL-APE-Dividend-Press-Release-20220804-0930-v.F-clean.pdf
https://s25.q4cdn.com/472643608/files/doc_downloads/2022/FINAL-APE-Dividend-Shareholder-Letter-20220804-1400-v.F.pdf
https://s25.q4cdn.com/472643608/files/doc_downloads/AMC_Preferred-Equity-Units_WEBSITE-(Weil-8.3.2022).pdf
https://twitter.com/CEOAdam/status/1555324348852047872/photo/1
Stay up to date. Follow us: