Image Credit: Oregon State University

Investment Opportunities in Uranium and U.S. Nuclear Generation are Blossoming

The last time a nuclear reactor was certified in the U.S., Apple Computer had just introduced its first operating system, DOS 3.1.
Last week, nuclear power history was made as the Nuclear Regulatory Commission directed staff to issue a final rule certifying a small modular nuclear reactor. NuScale ($SMR) had submitted its application to the NRC back in 2016 to certify the company's small modular reactor. The NRC staff met its goals and completed its technical review, and will be certifying its first commercial nuclear reactor in the U.S. since 1978.
About NuScale
NuScale was founded based on research funded by the United States Department of Energy (DOE). As funding for the research ended, scientists involved in the project obtained the necessary patents to develop the idea into a functioning product and company. Now, the NRC is about to fully certify NuScale's first nuclear reactor. This reactor could be the first of a coming wave of advanced reactors, all riding a wave created by advanced technology and policies to move away from fossil fuels.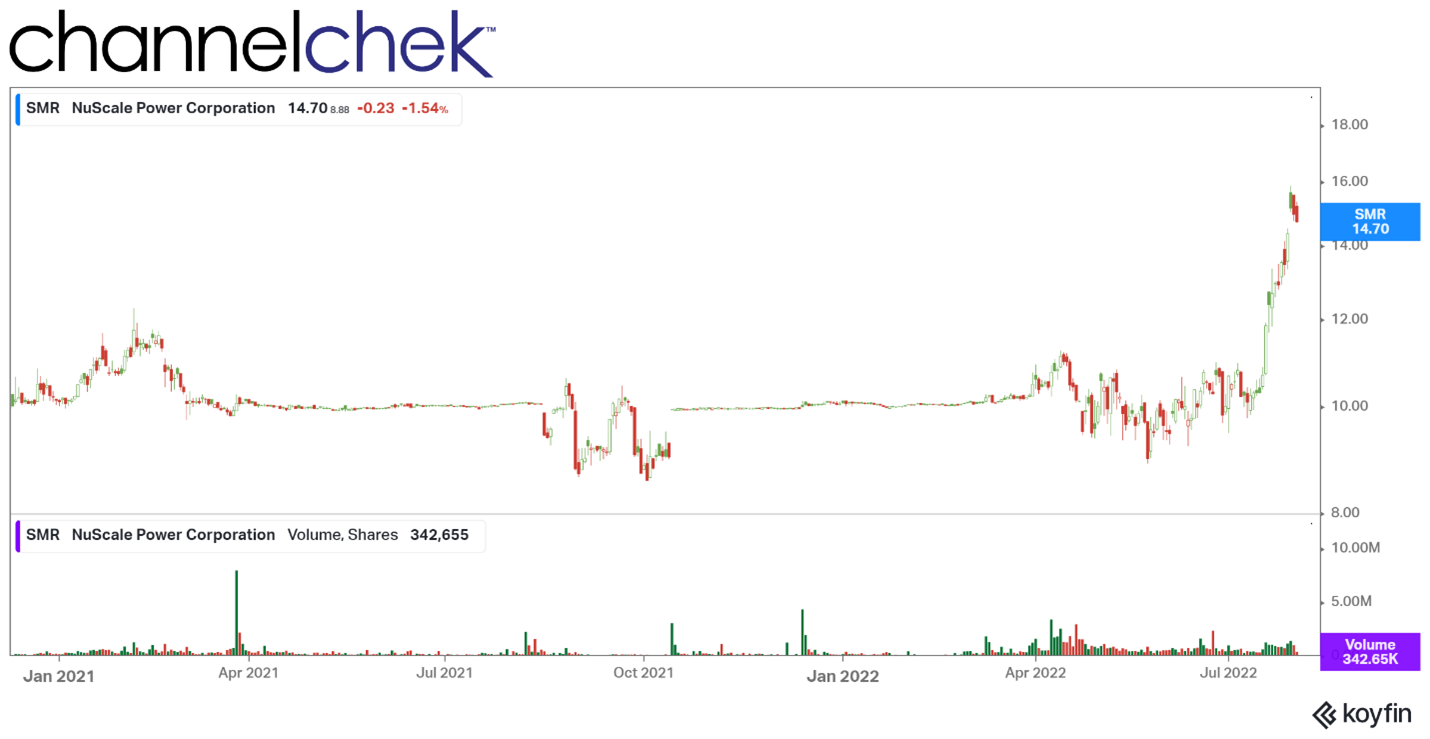 Source: Koyfin

The Future of Nuclear
The compact and modular design of NuScale's nuclear generating system is a dramatic change from the large site-specific nuclear plants that utilities have been in service for over 40 years. NuScale's light water reactor modules are roughly 65 feet tall. The company plans to build them in a factory and can distribute the pre-fab reactors globally. The first commercial reactor was a project that began in the early 2000s and could be a major step in changing how nuclear power is implemented.
The fact that so much time has elapsed since the NRC has approved a reactor, and this is the first advanced reactor design, had left enough uncertainty to make attracting investors difficult. Especially with such a long approval timeline. A new certification could foretell what the future of energy generation will include. Other companies that have SMR designs underway in the U.S. include Holtec and GE Hitachi, though none have yet submitted a design to the NRC.
The final certification to approve NuScale's application filed in 2016 is expected soon. This first SMR power plant is expected to begin generating power in 2029, with all six of its modules due to come online by 2030. Located at the Idaho National Laboratory, the Carbon Free Power Project will generate some 462 MW, much of which is already contracted to be sold to power distribution companies for a 40-year period.
Managing Editor, Channelchek
Suggested Content
Sources
https://www.nrc.gov/reactors/new-reactors/smr/nuscale.html
https://www.nrc.gov/reading-rm/doc-collections/news/2022/22-029.pdf
https://www.scientificamerican.com/article/first-new-nuclear-reactor-in-us-since-1978-approved/
https://www.computerhope.com/history/1978.htm#major-events
Stay up to date. Follow us: