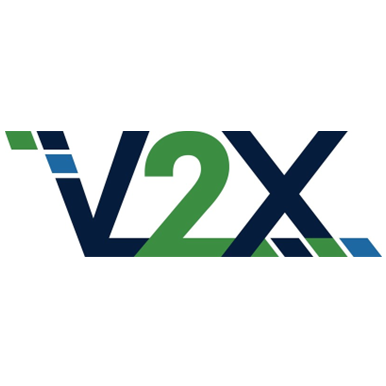 Research News and Market Data on VVX
Company Release – 3/2/2023
On July 5, 2022 ("Closing Date"), Vectrus, Inc. ("Vectrus") completed its merger ("the Merger") with Vertex Aerospace Services Holding Corp. ("Vertex"), thereby forming V2X, Inc. Fourth quarter "reported results" reflect the contributions of Vectrus and Vertex from October 1, 2022, through December 31, 2022. Full year 2022 "reported results" reflect the contributions of Vectrus from January 1, 2022, through December 31, 2022, and Vertex from the Closing Date through December 31, 2022, unless otherwise noted. Comparisons to historical periods are relative to legacy Vectrus results, unless otherwise noted.
Fourth Quarter 2022 Highlights:
Revenue of $978.2 million, up 20% y/y on a pro forma basis
Grew INDOPACOM revenue sevenfold as presence and footprint continues to expand
Recently awarded two key contracts with Space Command and a National Security client
Reported operating income of $31.0 million; adjusted operating income1 of $74.5 million
Adjusted EBITDA1 of $79.3 million with a margin1 of 8.1%
Diluted EPS of ($0.35); adjusted diluted EPS1 of $0.92
Repaid $25.0 million of debt and in February 2023 executed a more efficient credit facility with substantial interest savings and improved liquidity
2023 Guidance:
Establishing full-year 2023 guidance with revenue growth of 5% and adjusted EBITDA1 growth of 8% at the mid-point
MCLEAN, Va., March 2, 2023 /PRNewswire/ — V2X, Inc. (NYSE:VVX) announced fourth quarter and full-year 2022 financial results.
"This was a very successful year, achieving several milestones, including the completion of the merger with Vertex and making significant progress on the integration while driving strong results with high quality uninterrupted service and support to our clients," said Chuck Prow, President and Chief Executive Officer of V2X. "Our teams came together seamlessly, demonstrating agility and outstanding performance, delivering 9% pro forma revenue growth for the full year. Importantly, current demand and leading indicators for our business remain strong with a substantial backlog of over $12 billion and close to 4.5 years of future revenue already under contract for our top ten programs. With our enhanced and differentiated capabilities, we are providing increased innovation and technology to our clients' complex mission requirements and believe we have meaningful opportunity for future growth with our expanded addressable market of approximately $160 billion dollars."
Mr. Prow continued, "We capped off the year with 20% year-over-year pro forma revenue growth in the fourth quarter, driven by new business wins, successful recompetes, and continued expansion on our core programs. Importantly, we demonstrated significant growth in the Pacific or INDOPACOM, as our presence and footprint expands to support increasing mission requirements. Our momentum is continuing this year, and in January 2023 we were awarded a strategically important five-year recompete contract valued at over $90 million with a National Security client. I'd like to thank our team for their exceptional performance and dedication, which has resulted in significant growth with this client over the past several years. Adjusted EBITDA margin1 was 8.1%, due to favorable program performance, strong execution, and the acceleration of program productivity that was expected in 2023. Our integration related activities continue to progress, and we were successful in delivering our expected cost synergies for the quarter. We remain on track to achieve our integration milestones and previously communicated cost synergies."
Mr. Prow concluded, "The significant momentum in our business, a robust backlog exceeding $12 billion, and limited recompete risk, provides solid visibility that we believe should drive revenue growth of approximately 5% at the mid-point in 2023. Importantly, over 90% of 2023 revenue is expected to be generated from existing contracts. Furthermore, recompetes are expected to comprise only 2% of revenue. In 2023, we remain focused on delivering on our strategy to drive growth and value creation by providing converged solutions that fuse the digital and physical aspects of our clients' missions. We have much to be excited about and will continue to execute our strategic framework to: Expand the Base, Capture New Markets, Deliver with Excellence, and Enhance Culture."  
Fourth Quarter 2022 Results
Revenue of $978.2 million, up 20% y/y on a pro forma basis
Operating income of $31.0 million, including merger and integration related costs of $23.4 million and amortization of acquired intangible assets of $20.1 million
Adjusted operating income1 of $74.5 million
Adjusted EBITDA1 of $79.3 million with an 8.1% adjusted EBITDA margin1
Diluted EPS of ($0.35) including merger and integration related costs
Adjusted diluted EPS1 of $0.92
Net debt as of December 31, 2022, of $1,221 million, representing an $87 million decrease from the Merger closing on July 5, 2022
The Company was undrawn on its revolver as of December 31, 2022
Total backlog as of December 31, 2022, of $12.3 billion
"Our fourth quarter financial results were strong and provide great traction for V2X leading into 2023," said Susan Lynch, Senior Vice President and Chief Financial Officer. "Pro forma revenue increased 20% year-over-year to $978.2 million. Revenue growth was driven by continued expansion in INDOPACOM and on LOGCAP, volume associated with rapid response efforts in Europe, and growth associated with new programs including Fort Benning, E-6B, Advanced Helicopter Training System, Navy Test Wing Atlantic, and Global Strike programs. Notably, revenue from INDOPACOM increased sevenfold year-over-year to $54.4 million, reflecting our additional work throughout the region, including Kwajalein and the Philippines."
Ms. Lynch continued, "In the fourth quarter, V2X leveraged its solid cash position to repay $25 million of its second lien term loan. Importantly, our strong fundamentals and visibility have allowed V2X to significantly improve its capital structure by refinancing portions of its debt into a lower cost, pro rata credit facility. This new, five-year $750 million credit facility is expected to generate substantial interest expense savings and drive value for our shareholders. At the end of the fourth quarter, our net consolidated indebtedness to EBITDA1 (net leverage ratio) was 3.7x, a 0.3x improvement from Merger close. We have been able to reduce our leverage in line with plan and anticipate that our leverage ratio will show further improvement in 2023."
Full-Year 2022 Results
Full-year revenue was $2.891 billion and pro forma revenue was $3.670 billion, up 8.8% pro forma year-on-year. The Company reported full-year operating income of $55.8 million and adjusted operating income1 of $187.5 million. Full-year EBITDA1 was $201.0 million with a margin of 7.0%. Full year pro forma Adjusted EBITDA1 was $278.0 million with a margin of 7.6%. Full-year diluted EPS was ($0.68), due primarily to Merger and integration related costs, amortization of acquired intangible assets and interest expense. Adjusted diluted EPS1 for 2022 was $4.60.
Cash provided by operating activities for the year was $93.5 million, compared to $61.3 million in 2021 for legacy Vectrus. Pro forma adjusted operating cash flow for the year was $85.8 million and excludes $62 million of Merger related payments and $8 million of repayments tied to the CARES Act. Lynch continued, "Our ability to generate strong cash flow with low capital intensity is an important attribute of our business."
During the second half of the year, V2X lowered its net debt balance by $87 million resulting in an ending balance of $1,220.7 million. Cash at year-end was $116.1 million up from $38.5 million at the end of 2021.
Total backlog as of December 31, 2022 was $12.3 billion and funded backlog was $2.6 billion. The trailing twelve-month book-to-bill was 1.3x.
2023 Guidance
Ms. Lynch concluded, "Based on our expected continued strong demand trends and operational execution, we are setting the mid-point of our guidance for revenue at $3.850 billion, representing approximately 5% pro forma growth and Adjusted EBITDA1 of $300 million, representing 8% pro forma growth."
Guidance for 2023 is as follows:

Fourth Quarter 2022 Conference Call
Management will conduct a conference call with analysts and investors at 4:30 p.m. ET on Thursday, March 2, 2023. U.S.-based participants may dial in to the conference call at 877-506-6380, while international participants may dial 412-542-4198. A live webcast of the conference call as well as an accompanying slide presentation will be available here: https://app.webinar.net/EZQ7LMALNPo
A replay of the conference call will be posted on the V2X website shortly after completion of the call and will be available for one year. A telephonic replay will also be available through March 16, 2023, at 844-512-2921 (domestic) or 412-317-6671 (international) with passcode 10174938.
Presentation slides that will be used in conjunction with the conference call will also be made available online in advance at https://investors.vectrus.com/. V2X recognizes its website as a key channel of distribution to reach public investors and as a means of disclosing material non-public information to comply with its obligations under the U.S. Securities and Exchange Commission ("SEC") Regulation FD.
Footnotes:
1 See "Key Performance Indicators and Non-GAAP Financial Measures" for descriptions and reconciliations.
About V2X
V2X is a leading provider of critical mission solutions and support to defense clients globally, formed by the 2022 Merger of Vectrus and Vertex to build on more than 120 combined years of successful mission support. The Company delivers a comprehensive suite of integrated solutions across the operations and logistics, aerospace, training and technology markets to national security, defense, civilian and international clients. Our global team of approximately 14,000 employees brings innovation to every point in the mission lifecycle, from preparation, to operations, to sustainment, as it tackles the most complex challenges with agility, grit, and dedication.
Safe Harbor Statement
Safe Harbor Statement under the Private Securities Litigation Reform Act of 1995 (the "Act"): Certain material presented herein includes forward-looking statements intended to qualify for the safe harbor from liability established by the Act. These forward-looking statements include, but are not limited to, all the statements and items listed under "2023 Guidance" above and other assumptions contained therein for purposes of such guidance, other statements about our 2023 performance outlook, revenue, contract opportunities, and any discussion of future operating or financial performance.
Forward-looking statements generally can be identified by the use of forward-looking terminology such as "may," "will," "expect," "intend," "estimate," "anticipate," "believe," "could," "potential," "continue" or similar terminology. These statements are based on the beliefs and assumptions of the management of the Company based on information currently available to management.
These forward-looking statements are not guarantees of future performance, conditions, or results, and involve a number of known and unknown risks, uncertainties, assumptions, and other important factors, many of which are outside our management's control, that could cause actual results to differ materially from the results discussed in the forward-looking statements. In addition, forward-looking statements are subject to certain risks and uncertainties that could cause actual results to differ materially from the Company's historical experience and our present expectations or projections. For a discussion of some of the risks and uncertainties that could cause actual results to differ from such forward-looking statements, see the risks and other factors detailed from time to time our Annual Report on Form 10-K, Quarterly Reports on Form 10-Q, and other filings with the SEC.
We undertake no obligation to update any forward-looking statements, whether as a result of new information, future events or otherwise, except as required by law.
CONTACT:
V2X, Inc.
Mike Smith, CFA
719-637-5773
[email protected]
View original content to download multimedia:https://www.prnewswire.com/news-releases/v2x-announces-fourth-quarter-and-full-year-2022-results-301761554.html
SOURCE V2X, Inc.