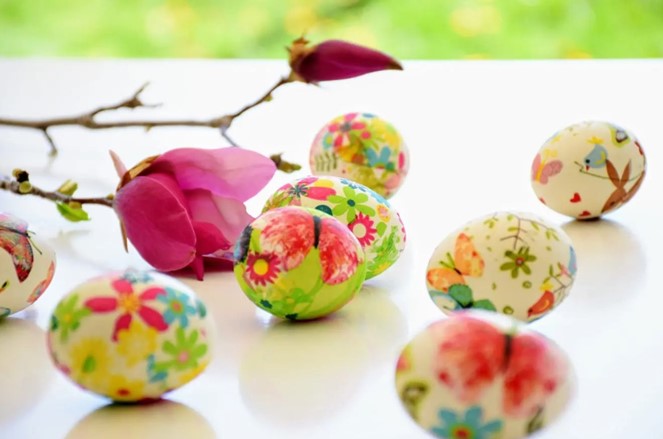 On May 11 the Covid National Emergency Will Be Declared Over – Are You in the Right Stocks?
Were there any companies that had lasting benefits from the shutdowns and lockdowns in response to the pandemic? During the first two years of the 2020s, pandemic consumer behavior caused sports equipment makers, communications, ecommerce, and healthcare companies to be favorites of investors. As investors then pivoted and began to look for the "post-covid" trade, many of these high-flyers, including Peleton (PTON), Teledoc (TDOC), Chlorox (CLX) and others, no longer held the advantage they had, and sold off. The focus then turned to energy, leisure, and other segments that had been decimated during forced lockdowns and fear. While some once strong sectors and segments faltered, some ecommerce companies, that were experiencing growth going into the pandemic, received a huge, albeit challenging, boost during the changed economy. The astute ones took the opportunity to grow deeper roots.
Online businesses are one segment where many companies maintained their bulge from the Covid lockdowns. The following insights are largely from a roadshow I attended, supplemented by research by Noble Capital Markets on Channelchek.com. While this isn't the only ecommerce business that has retained substantial benefits from the pandemic, it is a company that can serve as a template as to what to look for when doing your own fundamental analysis.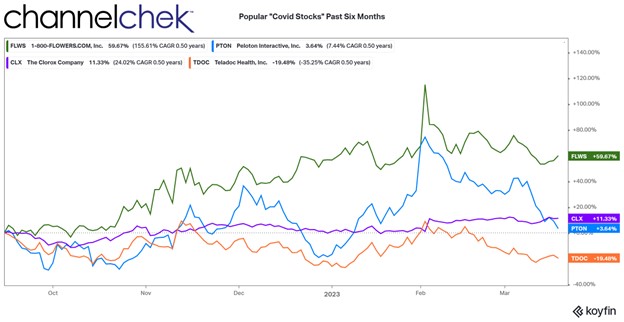 1 (800) FLOWERS
Toll free numbers (eight hundred numbers) for decades helped consumers overcome the reluctance to incur long-distance phone charges when needing help ordering from a mail order company. At the same time they saved the company from time-consuming collect calls. Introduced in 1967, it was a win-win technology that was quickly adopted and allowed broader reach.
From very humble beginnings an entrepreneur who still heads the company grew a 14-store flower shop based on Long Island by amassing enough financing to acquire 1-800-FLOWERS (FLWS), an ailing store based in Texas. His company instantly became a national brand through the use of this toll-free technology.
The company today is worth over $621 million and has not forgotten that they are a technology-based retailer. Their product is also not narrowly defined as flowers, but instead gifts for special occasions and people who are special to you. FLWS is a successful online retailer, willing to engage pertinent technology, learn from it, adapt that which works, and commercialize it to maintain a competitive edge in the ecommerce segment. This includes automation which helps offset post-pandemic era wage increases; artificial intelligence, which can help customers customize a notecard with a poem; and of course all that helps online retail build customers.
The pandemic allowed FLOWERS to double the size of its file of customers. On the revenue side, the company went from $1.2 billion in 2019, then quickly grew and peaked at $2.2 billion by March of 2022. They have been able to keep much of this revenue gain, and it isn't going backward. This is because the ecommerce trend was already in place, but the pandemic helped accelerate the use and permanent adoption by individuals that are now in the habit of thinking online when it comes to special occasion gifts. This trend continues, even as the overall economy is showing cracks.
The negative for FLOWERS, like other retailers operating during the pandemic period, was grappling with supply chain issues and dramatically higher shipping costs. The cost of having a container shipped has now dropped significantly. FLWS, during the worst period, had worked to keep more than ample inventory of non-perishables since the supply-chain was not reliable. As a result, they are still working off more expensive inventory, which has the effect of a higher cost of goods sold, this shows up on financials as narrower profit margins. The working off of this more expensive inventory and replenishing it with goods with lower shipping costs should serve to expand profit margins going forward, even if revenue remains neutral.
Ecommerce
How might this this apply to other ecommerce companies? Flowers has innovative management that is not afraid to experiment with technology and adapt to their business those which helps save them money or reach more customers. A good way to discern this is by attending industry conferences such as NobleCon19 in December or attending roadshows as I did to meet FLWS management.
Another characteristic that this company had, that is admirable, is an acceleration of users during the pandemic that may not have otherwise decided to buy online. The company makes good use of this larger root system and stays in touch with the customers using its expanded list, sharing thoughts on other offerings.
An interesting situation of 1(800)-FLOWERS.com that may exist with others is the changed cost of shipping and inventory. This negative, which is still unwinding, provides a declining cost of goods sold for a period of time. This could translate into higher earnings, depending on other market and business factors – this could get the attention of investors. It's important to note that once inventories are worked off, margins would stabilize, and lower-cost inventories would no longer contribute to net earnings.
Take Away
Meeting with management, in this case at a road show sponsored by Noble Capital Markets (see calendar here), or at a large investor conference such as NobleCon (Information provided here) helps provide insight into a company itself, an evaluation of management, plus ideas of what to look for in related companies. I wouldn't expect CNBC or Bloomberg to spend as much time discussing a $621 million company as they spend on AAPL or MSFT, nor would I expect that the average investor can have breakfast with Elon Musk of Tesla or Mark Zuckerberg of META, and get to know their plans, their company, and current industry factors that they are challenged with.
If you are serious about discovering what's beyond CNBC, Stocktwits, and Yahoo Finance, I recommend attending a meet-the-management style road show and if you can, an investment conference that showcases industries you are interested in.
Managing Editor, Channelchek
Sources
https://www.channelchek.com/company/flws
https://www.politico.com/news/2023/01/30/biden-end-covid-health-emergency-may-00080305
https://www.whitehouse.gov/briefing-room/presidential-actions/2023/02/10/notice-on-the-continuation-of-the-national-emergency-concerning-the-coronavirus-disease-2019-covid-19-pandemic-3/
https://www.macrotrends.net/stocks/charts/FLWS/1-800-flowerscom/revenue