Image Credit: Jimmy Liao (Pexels)

Investors' Interest in Taiwan Being Highlighted with House Speaker's Trip

Chinese President Xi Jinping holds the position that Taiwan is a Chinese territory that needs to be reunited with the mainland. When U.S. House Speaker Nancy Pelosi announced an official visit to the island, an important U.S. trading partner, Beijing, threatened to possibly intercept the plane, and members of the media there suggested they had the right to even shoot it down.
Regardless of geopolitical considerations and ignoring memes suggesting how husband Paul Pelosi may have positioned his portfolio holdings, investors should pay attention to the unfolding market swings for their own portfolios.
Background
Speaker Pelosi had cancelled her plans to visit Taiwan last April as she was said to have been infected with Covid-19. She then rescheduled her trip for August. These plans were confirmed in late July, at which time President Biden said, "the military thinks it's not a good idea right now." There has been concern within the White House that China may go as far as to ground her travel by implementing a no-fly zone over Taiwan. This would put the two nuclear powers in direct conflict.
Taiwan is an important trading partner with the U.S. The announcement caused Taiwan technology stocks to dip, and the Taiwanese dollar and other Asian currencies are also off. While saber-rattling may be as far as mainland China takes their disapproval, the trip serves as a reminder of the significant risk that Taiwan represents for the U.S. technology sector. Most of the world's advanced chips are made in Taiwan.
Investor Considerations
In assessing whether the dip is a buying opportunity or if this is the beginning of a need to sell and invest in domestic chip makers remains to be seen. It has certainly stirred up many semi-dormant issues between China, Taiwan, and U.S. relations. Investors should not underestimate the inherently unpredictable nature of global politics, positioning, and egos. Just as a war in Europe seemed improbable last December, this may play out differently than anticipated. One can never gauge based on the current state of relations. Analysts believe that if the U.S. and China do confront each other militarily, Taiwan would be the likely cause.
That there is genuine chatter and news reports discussing the chance of a war between China and the U.S. deserves serious attention. While the normal horrors of war first come to mind, as investors we can't help but to contemplate all the industries this could impact.
Most of the advanced chips critical for military defense systems and corporate computing services are made in Taiwan. Taiwan represents more than 90% of the world's most complex chip manufacturing (South Korea is at 8%). .
A large portion of this production is from Taiwan Semiconductor Manufacturing (TSM), which makes unique chips for external customers. TSM had total revenue of $57 billion last year and is the world's largest third-party foundry, dominating the market for high-end chips. The products include the main processors inside Apple's (AAPL) iPhones, the smartphone chips used by Qualcomm (QCOM), and computer processors for Advanced Micro Devices (AMD).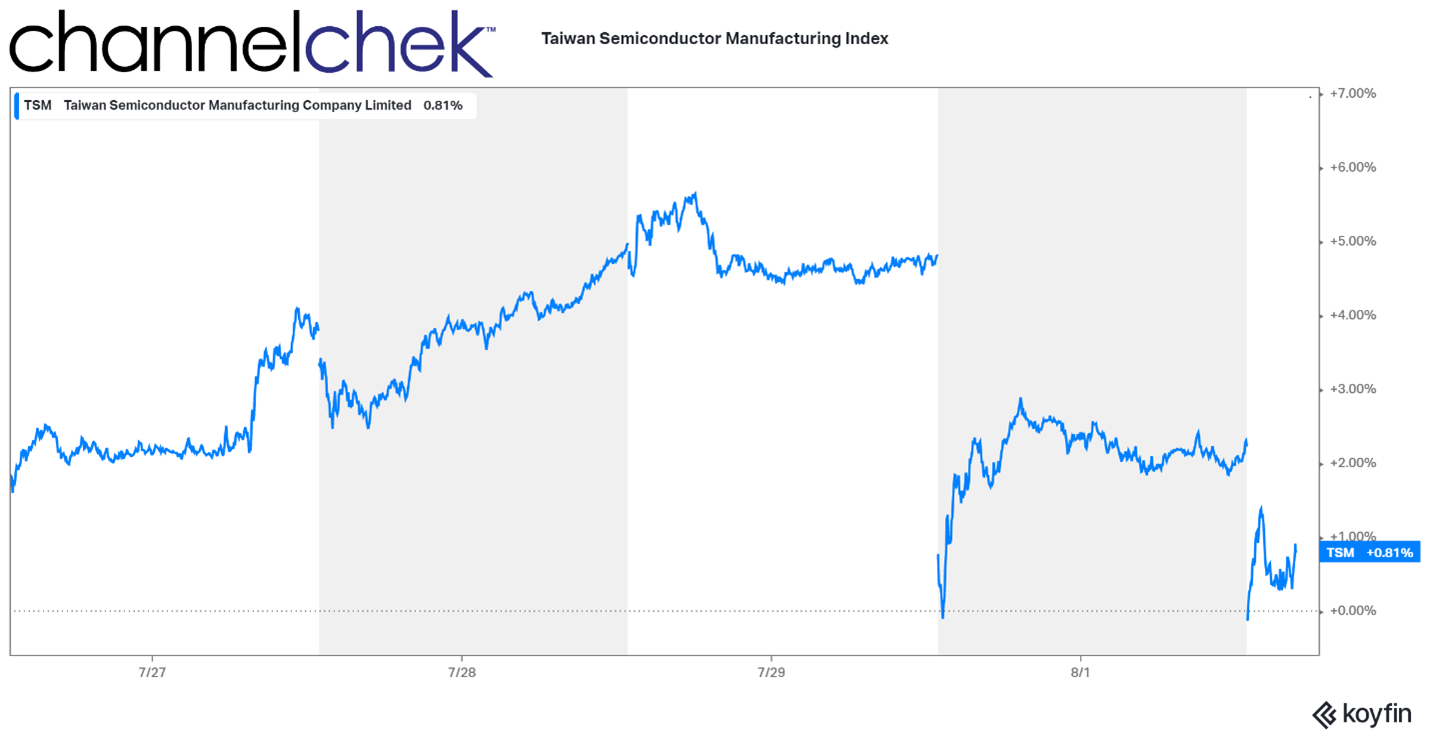 Source: Koyfin
Since the last days in July when the trip by the House Speaker seemed to be back on, shares of Taiwan Semiconductor Manufacturing have dropped 5% or more. It is expected that a military conflict over Taiwan would halt production and shipments. This would disrupt the completion of production of everything from cars, aircraft, and most anything else with onboard computing capabilities.
U.S.-Taiwan Trade Stats
• In 2020, Taiwan GDP was an estimated $635.5 billion (current market exchange rates); real GDP was up by an estimated 0.0 percent; and the population was 24 million. (Source: IMF)
• U.S. goods and services trade with Taiwan totaled an estimated $105.9 billion in 2020. Exports were $39.1 billion; imports were $66.7 billion. The U.S. goods and services trade deficit with Taiwan was $27.6 billion in 2020.
• Taiwan is currently our 9th largest goods trading partner with $90.6 billion in total (two-way) goods trade during 2020. Goods exports totaled $30.2 billion; goods imports totaled $60.4 billion. The U.S. goods trade deficit with Taiwan was $30.2 billion in 2020.
• Trade in services with Taiwan (exports and imports) totaled an estimated $15.2 billion in 2020. Services exports were $8.9 billion; services imports were $6.3 billion. The U.S. services trade surplus with Taiwan was $2.6 billion in 2020.
• According to the Department of Commerce, U.S. exports of goods and services to Taiwan supported an estimated 188,000 jobs in 2019 (latest data available) (133,000 supported by goods exports and 55,000 supported by services exports).
Take Away
The situation where the U.S. relations with Taiwan are separate from Beijing isn't new. The expected trip has just highlighted and stirred up undefined boundaries. Washington recognizes one Chinese government based in Beijing and doesn't officially support Taiwanese independence. Yet the U.S. also is opposed to China's claim over Taiwan. These murky lines have been the unchallenged status quo for decades.
This trip may help to define the lines that China have drawn as Speaker Pelosi is being told that she is crossing them. At the same time, in her position (third in line from the President) she is defining where the U.S. believes those lines are.
From a pure investors' point of view, we have our own lines, some of them are on the charts of the companies that are affected as this plays out. As with any disruption, there will be unusual price movement; this movement could allow for opportunity.
Managing Editor, Channelchek
Suggested Content
Sources
https://ustr.gov/countries-regions/china/taiwan#:~:text=U.S.%20imports%20from%20Taiwan%20account,and%20plastics%20(%242.2%20billion).
https://apnews.com/article/china-beijing-international-law-south-china-sea-4370828e295d2eec9a4804bba9940273
https://www.ft.com/content/09669099-1565-4723-86c9-84e0ca465825
https://www.cbsnews.com/news/biden-us-military-not-a-good-idea-pelosi-visit-taiwan-now/
https://www.cbsnews.com/news/biden-us-military-not-a-good-idea-pelosi-visit-taiwan-now/
https://www.semiconductors.org/news-events/latest-news/
Stay up to date. Follow us: