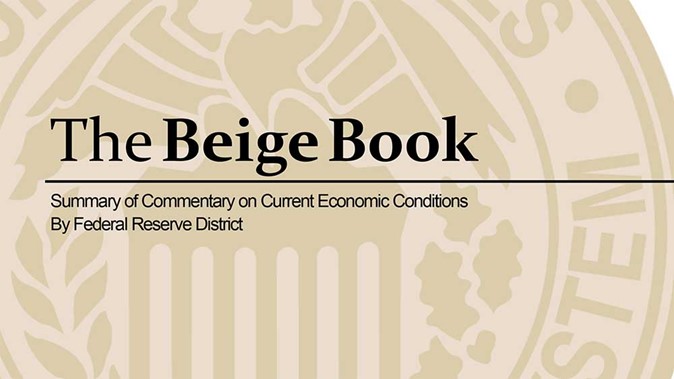 Attention is Now Being Paid to the Beige Book
The so-called Beige Book is receiving much more attention from market participants than it has in years as they seek insight into the near- and long-term economic direction. The report is published eight times yearly and released about two weeks before the FOMC scheduled meetings. It contains anecdotal trends and moods from each of the 12 Federal Reserve districts. The information is collected and summarized and is relied on as part of the discussion topics at the Fed policy meetings.
The report released on January 18th was collected on or before January 9th. While each Federal Reserve district may have different economic experiences, for example, manufacturing regions may have a very different perspective than agricultural areas or districts where service jobs are more prevalent.
30,000 Foot View
The first Beige Book of 2023 shows the US economy is holding steady. However, there are only small amounts of growth experienced in some regions, while others expect small pockets of expansion. This overall summary would be difficult to use as an argument for the Fed to alter course from its stated intention of additional tightening, including Fed Funds rate hikes. The next meeting will be held on January 31st and February 1st.
"On balance, contacts across districts said they expected future price growth to moderate further in the year ahead," the survey said.
The report doesn't contain many surprises and confirms current expectations that residential real estate activity is sluggish, the labor market is strong, and that inflation is running at a slower pace of growth.
There is very little in January's Beige Book that would alter analysts' expectations of what the next monetary policy adjustment might be. Those that are expecting a 0.50% increase are not likely to shift their thinking from the summaries, and those expecting a 0.25% hike are similarly not inclined to shift their thinking. Most analysts fall into one of these two categories.
A Sign the Markets Wanted
In a recent interview, Cleveland Fed President Loretta Mester said the slowdown in inflation shows the Fed's work raising rates is having the desired effect; she also suggested that further increases are still needed. "We're beginning to see the kind of actions that we need to see," Mester stated; these are "good signs that things are moving in the right direction. That's important input into how we're thinking about where policy needs to go." This is heartening for those hoping for fewer rate hikes as Mester is considered one of the US central bank's more hawkish members.
Take Away
The markets got a mixed bag with no clear change of direction from the summary of Federal reserve districts, otherwise known as the Beige Book. This could mean there will be few surprises at the close of the FOMC meeting on February 1st.
At least one Fed hawk is softening her rhetoric going into the meeting. If the trend continues, the prospect of fewer rate hikes should be viewed as positive for stocks and positive for bonds.
Managing Editor, Channelchek
Sources
https://www.federalreserve.gov/monetarypolicy/beigebook202301.htm
https://www.federalreserve.gov/monetarypolicy/publications/beige-book-default.htm
https://www.usnews.com/news/economy/articles/2023-01-18/feds-beige-book-finds-economy-holding-steady-with-little-growth-expected-in-the-coming-months