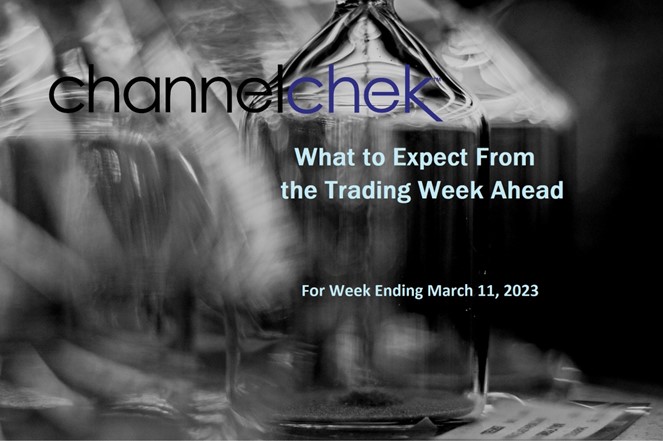 Powell's Testimony, then Beige Book Ought to Give More Information
While this will be a quiet week for economic data, and earnings season is now past its peak, the probabilities are high that it will be a week of dramatic volatility. The reason is that Federal Reserve Chairman Jerome Powell will spend two days answering questions from elected officials that are members of Congress. There are typically a lot of pointed questions from members of the House and Senate as well as grandstanding politicians that want their constituents to see them fighting. In 2023's case, the Fed intentionally weakens the US economy. Links to watch the live broadcasts of both the Senate and the House Semiannual Monetary Policy Report to Congress are provided below.
Monday 3/6
10:00 AM ET, Factory orders are expected to have fallen 1.8 percent in January versus December's 1.8 percent rise. Evidence of this turnaround can be seen in Durable Goods Orders for January, which had already been released and is one of two major components of this report. Durable Goods fell 4.5 percent in the month.
Tuesday 3/7
10:00 AM ET, Day one of Fed Chair Jerome Poll's Semiannual Monetary Policy Report to Congress will be with the US Senate Committee on Banking, Housing, and Urban Affairs. A link to stream the intense exchange that usually occurs can be found here.
3:00 PM ET, Consumer Credit is expected to increase $26.4 billion in January versus a smaller-than-expected increase of $11.6 billion in December. This report has a long lag from the measuring period, this makes it paid attention to less than other reports. However it is of increasing importance now that investors are wondering how long consumers can continue at a high rate despite tighter money.
Wednesday 3/8
8:30 PM ET, International Trade is expected to show a deficit of $69.0 billion during January for total goods and services trade. This would compare with a $67.4 billion deficit in December. A stronger dollar makes US goods less attractive overseas, and goods and services billed in a currency that is weakening in relationship to the US dollar become more attractive domestically when paid for in stronger dollars.
10:00 AM ET, the Jolts or job openings report is expected to decline. It has been strong and rose to 11.0 million in December, however January's expectation move down to 10.6 million.
2:00 PM ET, The Beige Book is a discussion of what is going on economically in each of the Federal Reserve districts. It is made available roughly two weeks before the FOMC meetings. This report on economic conditions is used for discussion at FOMC meetings which is back to beingthe single most influential events during the year impacting markets.
10:00 AM ET, Day two of Fed Chair Jerome Powell's Semiannual Monetary Policy Report to Congress will be with the U.S. House Financial Services Committee. A link to stream the intense exchange that usually occurs can be found here.
Thursday 3/9
8:30 AM ET, Jobless claims are a weekly release, but they always have the ability to impact investor thinking. For the week that ended March 4 week they are expected to come in at 196,000 versus 190,000 during the prior week.
4:30 PM ET, The Fed's balance sheet is a weekly report presenting a balance sheet for all Reserve Bank districts that lists factors supplying reserves into the banking system and factors absorbing reserves from the system. The report is officially named Factors Affecting Reserve Balances. The Fed has been reducing its balance sheet by letting a specific amount of securities owned mature without being reinvested. Investong by the Fed adds money to the marketplace which is stimulative.
Friday 3/10
8:30 AM ET, the consensus for the Employment Sitation is a 215,000 rise for nonfarm payroll growth in February. This compares to 517,000 in January which. January was the ninth straight month and eleventh of the last twelve that payroll growth exceeded consensus of economists.
What Else
As far as what is scheduled, nothing can impact the market greater than the Federal Reserve Chair testifying before Congress both Tuesday and Wednesday. It would be surprising if they all like what he has to say. Stocks continue to be very sensitive; the US 10-year Treasury Note has been a key to the stock markets tone recently.
Managing Editor, Channelchek
Sources: