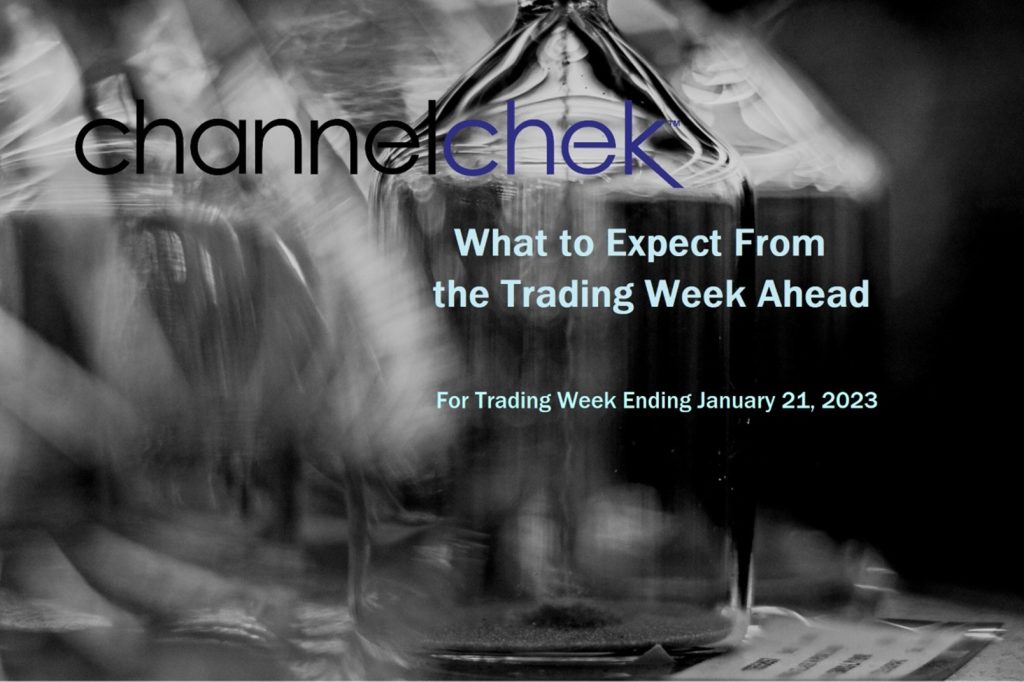 Can the S&P Hold Above 4,000? Will Fed Presidents Change Market Expectations?
The S&P 500 closed on the cusp of 4,000 last week; while this is still nearly 800 points from an all-time-high if it should break through and hold, it could have positive psychological value for equity markets.
Two reports this week that have the potential to drive direction are both released on Wednesday. They are the December numbers on retail sales and the Fed's Beige Book. Earnings season is also in full swing beginning this week. The reporting results of companies such as Netflix on Thursday may have an impact and set the stage for specific sectors and markets.
The Beige Book will provide a sense of economic conditions across the 12 Federal Reserve Districts, measuring the period between late November and early January. The tone of the last three releases points toward the US economy sitting on the brink of recession. There will be information on how interest rates are impacting housing markets and the strength of the labor market in different districts. The evidence in the report could mean the difference between a 0.25% increase or a 0.50% increase after the FOMC meeting held on January 31 through February 1.
Monday 1/16
US Markets and Government Offices closed (MLK Jr. Day).
Tuesday 1/17
8:30 AM ET, The Empire State Manufacturing Index disappointed in December with a reading of minus 11.2. The estimate for January is less negative minus 7.5. It tallies, each first of the month, the same pool of roughly 200 manufacturing executives (usually the CEO or the president) responses to a questionnaire on an assortment of indicators from the previous month.
3:00 PM ET, John Williams, the President of the Federal Reserve Bank of New York will be speaking. The New York Fed President is a particularly influential voting member of the FOMC. There is the possibility of insight into how that member may have changed their leaning on policy, which could impact markets.
Wednesday 1/18
8:30 AM ET, PPI- Final Demand Numbers will be released for December; they are expected to have fallen 0.1 percent on the month for a year-over-year increase of 6.8%. This would compare with a 7.4% year-over-year level in November.
8:30 AM ET, Retail Sales are expected to fall 0.9% in December on top of November's weaker-than-expected 0.6% decline. Ex-vehicle sales slipped 0.2% in November, with this measure expected to fall 0.5% in December. When excluding both vehicles and gasoline, sales are expected to read 0.1% higher.
9:00 AM ET, the President of the Atlanta Fed, Raphael Bostic, will be speaking. Any time a voting member of the FOMC is speaking publicly, there is the potential for insight into how that member may have adjusted their leaning on policy. Atlanta Fed events are often broadcast live on this YouTube channel.
9:15 AM ET, Industrial Production has been contracting, and further the contraction is expected to continue with a consensus loss estimate of 0.1% for December. Manufacturing output is expected to fall 0.2%.
9:30 AM ET, the Chief Executive Officer of the St. Louis Fed, James Bullard, will be speaking.
10:00 AM ET, Business inventories in November are expected to rise 0.4% following a 0.3% build in October.
2:00 PM ET, Beige Book Release.
Thursday 1/19
8:30 AM ET, December's annualized rates are expected at 1.358 million for starts and 1.380 million for permits which would compare with 1.427 and 1.342 million in November.
8:30 AM ET, Jobless claims for the January 14 week are expected to rise slightly to 215,000 versus 205,000 and 206,000 in the two prior weeks.
8:30 AM ET, The Philadelphia Fed manufacturing index is expected to come in at minus 10.0 in January. This report has been contracting for six of the last seven reports.
9:00 AM ET, Federal Reserve Bank of Boston Fed President Susan Collins is scheduled to speak.
The debt ceiling may be reached as per US Treasury Secretary Janet Yellen.
Friday 1/20
• 10:00 AM ET, Existing home sales in December are expected to have declined further to a 3.955 million annualized rate versus November's lower-than-expected 4.090 million.
1:00 PM ET, Better World Acquisition (BWAC) will be interviewed in a C-Suite style interview. A video will be made available here on Channelchek.
What Else
The Federal Reserve members can impact longer-term interest rates by impacting expectations they set through their speeches. Some say their voices have been drowned out by analysts and media reporting. For this reason, Fed rhetoric may become elevated as we approach the next FOMC meeting that begins late month.
Earnings season begins to ramp up just as a major index at psychologically important levels. This could be what sets the tone for the stock market and various sectors for the first quarter.
Managing Editor, Channelchek
Sources
https://us.econoday.com/byweek.asp?cust=us
https://home.treasury.gov/system/files/136/Debt-Limit-Letter-to-Congress-McCarthy-20230113.pdf