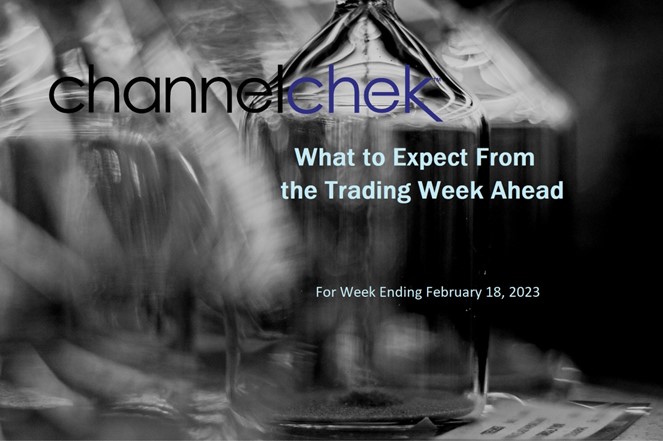 Will the Inflation Numbers on Valentine's Cause the Market to See Red?
As earnings season fades investors that like to get a glimpse into the portfolios of successful money managers will look for the 13-f filings of some of the most followed investors as they are made available. Tuesday and Wednesday should bring Michael Burry's and Warren Buffet's filing. The CPI report on Tuesday is expected to show a continuation of inflation tapering. The Jobs report on Thursdays has been missing consensus, it has the potential to either calm or rattle the markets.
Monday 2/13
With no consequential economic releases, market direction may take its tone from traders positioning ahead of Tuesday's CPI report.
Tuesday 2/14
8:30 AM ET, January's headline CPI rate is expected to increase month to month by 0.5% after a .1% decline experienced in December, and year-over-year at 6.2% versus 6.5% the prior 12 months. Ex-food and energy (core rate) is expected to show unchanged at a 5.5% annual rate versus 5.7% the prior 12 months.
In previous years Michael Burry has made a public filing of Scion Asset Managements 13-f holdings on Valentine's Day. Warren Buffet of Berkshire Hathaway will make available his changed positions. This filing is also likely on Tuesday or perhaps Wednesday.
Wednesday 2/15
9:15 AM ET, Industrial Production, which includes data for Manufacturing and Capacity Utilization has been contracting. January's consensus estimates are for monthly gains of 0.5% for production and 0.4% for manufacturing and would be a welcome sign for those fearing a recession. The positive direction would be welcome after December's monthly decline of 0.7% overall and 1.3% for manufacturing. Capacity utilization is expected to remain at a non-inflationary 78.8%.
10:00 AM ET, Business Inventories data for December are expected to rise 0.3% following a 0.4% expansion in November. Intentional inventory growth can be a sign of business optimism surrounding future sales. If unintended inventory accumulation occurs, then production will probably be throttled back as inventories are worked down. This is why Business Inventories a leading economic indicator.
10:00 AM ET, The Housing Market Index fell each month in 2022. The weak streak ended in January, as it rose 4 points to 35. February's consensus is a further but smaller 1-point improvement to 36. The Housing Index is a monthly composite that tracks home builder assessments of present and future sales along with buyer traffic
10:00 AM ET, Atlanta Fed Business Inflation Expectations survey provides a monthly measure of year-ahead inflation expectations and inflation uncertainty from the perspective of firms. The survey also provides a monthly gauge of firms' current sales, profit margins, and unit cost changes. The year over year estimate is for 3%.
Thursday 2/16
8:30 AM ET, Jobless Claims, including Initial Claims and Continuing Claims, have been a big focus of the market as unemployment is running at a historically low pace. The consensus is for growth in Jobless levels to 199,000 versus 196,000 the prior week. Overall low claims would seem to be good news for the economy. The problem now is that it is worrisome for a Fed that views current inflationary pressures, including wage pressures unacceptably high.
Friday 2/17
8:30 AM ET, The Index of Leading Indicators has been in steep decline; it is expected to fall further, but less steeply, by 0.3 percent in January versus a fall of 0.8% in December.
What Else
Investors with interest in telecommunications company Comtech (CMTL) and located in South Florida, may be able to attend one of four special presentations by management on Monday or Tuesday. Get information here to see if this is suited for you.
Monday, February 20th, is a holiday, and the US markets will be closed.
Managing Editor, Channelchek
Sources
https://www.thearmchairtrader.com/macroeconomic-news-6feb23/