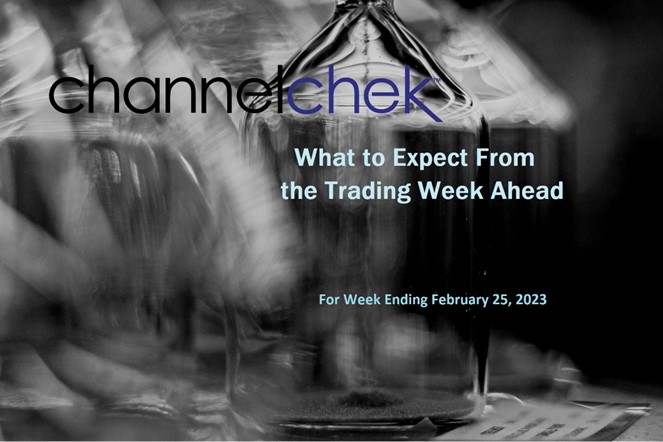 Will the Regional Fed President Speeches Change the Market's Thinking This Week?
The markets will have to wait until late week to view the Fed's preferred inflation indicator, the PCE price index, and PCE core index. Leading up to that report we will be treated to FOMC minutes on Wednesday, which could change the market's view of what the Fed was thinking at the time of the last meeting, and a number of regional Fed President's speeches which could give insight into any change to hawkish versus dovish bias. There has been a lot of new data since the FOMC meeting that ended three weeks ago.
Monday 2/20
US markets are closed for President's Day.
Tuesday 2/21
9:45 AM ET, the Purchasing Managers Composite flash report (PMI) has been receding for the past three months. This contraction is expected to reverse itself minimally with expectations at 47.3 with services at 47.2. The flash PMI is an early estimate of current private sector output using information from surveys of nearly 1,000 manufacturing and service sector companies. The flash data are released around 10 days ahead of the final report and based upon around 85% of the full survey sample.
10:00 AM ET, Existing Home Sales have been shrinking but are expected to have held steady in January, at a 4.10 million annualized rate versus December's 4.02 million.
Wednesday 2/22
2:00 PM ET, FOMC Minutes from the meeting held January 31 and February 1 where the Fed Funds level was lifted by 25 bp will be released. The Fed's minutes could be a market mover as investors and analysts parse each word looking for clues to policy changes.
5:00 PM ET, John Williams the President of the New York Fed will be speaking.
Thursday 2/23
8:30 AM ET, Gross Domestoc Product (GDP) second estimate of fourth-quarter is 2.9% growth according to the consensus of economists surveyed by Econoday. Personal consumption expenditures (PCE), which was 2.1% in the first estimate, is expected to come in at 2.0% in the second estimate.
10:50 AM ET, Atlanta Federal Reserve President Raphael Bostic is scheduled to speak.
4:30 PM ET, The Federal Reserve Balance sheet data are released each Thursday. This information is becoming more of a focus as headway on quantitative tightening is revealed in these numbers.
Friday 2/24
8:30 AM ET, Personal Income and Outlays expected to rise 1.0% in January with consumption expenditures expected to increase 1.2%. The previous experience was a December rise of 0.2% for income and a December fall of 0.2% in for consumption. Inflation readings for January are expected at monthly gains of 0.4% overall and also 0.4% for the core (versus respective increases of 0.1 and 0.3%) for annual rates of 4.9 and 4.3% (versus December's 5.0 and 4.4%).
10:00 AM ET, New Home Sales, which have been falling, are expected to hold steady in January, at a 617,000 annualized rate in versus 616,000 in December.
10:00 AM ET, Consumer Sentiment is expected to end February at 66.4, 1.5 points above January and unchanged from February's mid-month flash.
10:45 AM ET, Loretta Mester the President of the Cleveland Federal Reserve Bank is schedulked to speak.
What Else
The four day trading week in the US will feature earnings reports from major retailers Walmart and Home Depot. Other companies reporting with enough of a following to adjust investor thinking are Nvidia, Coinbase, Alibaba, and Moderna.
Managing Editor, Channelchek
Sources: