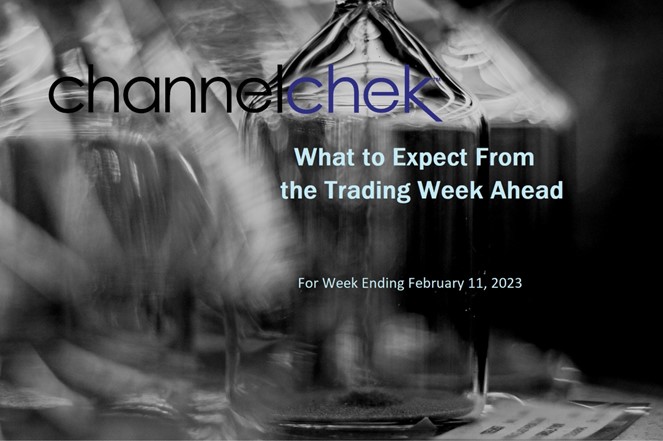 The Fed Chair's Comments May be the Most Critical Market Event of the Week
It's a quiet week for economic data. If the market takes a direction this week, it may have to take its lead from something other than statistics that indicate economic strength or weakness. This could be a Fed governor speaking, or a central bank outside of the US altering its hawkish stance.
Monday 2/6
With no consequential economic releases, market direction may take its tone from earnings reports from a wide swath of industries.
Tuesday 2/7
11:00 AM ET, New York Federal Reserve inflation expectations.
3:00 PM ET, Consumer Credit, or more definitively, the installment credit outstanding by consumers is expected to have increased by $25 billion in December versus November's $27.9 billion increase. There is such a long delay reporting this number that it seldom has a market impact.
Fed Chair Jerome Powell will be speaking at the Economic Club of Washington.
Wednesday 2/8
10:00 AM ET, Wholesale Inventories revision for December is in line with the first estimate of 1%. Wholesale sales and inventory data can provide investors a chance to look below the surface of the consumer economy. Activity at the wholesale level can then be a precursor of consumer trends.
Thursday 2/9
8:30 AM ET, Jobless Claims, including Initial Claims and Continuing Claims, have been a big focus of the market as unemployment is running at a historically low pace. The consensus is for growth in Jobless levels to 190,000 versus 183,000 the prior week. Overall low claims would seem to be good news for the economy. The problem now is that it is except that it is worrisome for a Fed that views current inflationary pressures, including wage pressures unacceptably high.
Friday 2/10
• 10:00 AM ET, The University of Michigan's Consumer Survey Center questions households each month on their assessment of current conditions and expectations of future conditions. Consumer sentiment is not expected to show much improvement, at a consensus 65.0 in the first reading for February versus 64.9 in January.
What Else
The FOMC meeting that ended on February 1 was the last before Chair Powell delivers the semiannual monetary policy testimony in late February or early March (not yet set). Any remarks by Fed officials in the February 6 week should be viewed in that context. Powell and associates will not want to confuse any upcoming message given at the semiannual Monetary Policy Report to Congress. Whatever is said is likely to foreshadow what will be in the report when he speaks before the Senate Banking Committee and the House Financial Services Committee.
Managing Editor, Channelchek
https://www.thearmchairtrader.com/macroeconomic-news-6feb23/