Image Credit: Cottonbro (Pexels)

Psilocybin-Assisted Psychotherapy vs. Placebo in the Treatment of Adult Patients With Alcohol Use Disorder

"Psilocybin administered in combination with psychotherapy produced robust decreases in the percentage of heavy drinking days compared with those produced by active placebo and psychotherapy." This is the result of a study designed to see if the ingredient in "magic mushrooms," coupled with therapy, curbs drinking in adults with alcohol use disorder. The study, published in JAMA Psychiatry, said drinking was curbed for at least eight months, and nearly half the participants receiving psilocybin stopped drinking entirely.
Introduction
Psilocybin and other classic psychedelics to treat neuropsychiatric conditions have been experiencing a resurgence in study not seen since the 1960s. Alcohol use disorder (AUD) is considered a particularly promising target for treatment with psychedelics. Six clinical trials published between 1966 and 1971 demonstrated that participants with alcohol dependence treated with lysergic acid diethylamide (LSD) showed signs of remission during follow-up nearly twice as often as those not treated. Picking up on this line of research, after more than 40 years, a study published in 2015 demonstrated that moderately high doses of psilocybin (21 to 28 mg/70 kg) were well tolerated by participants with alcohol dependence, and large reductions in drinking were observed over a 32-week follow-up period.
Offering additional proof-of-concept, a multisite randomized clinical trial evaluated the efficacy of psilocybin-assisted psychotherapy for the treatment of AUD. The outcomes of the double-blind trial were reported on August 24 in a peer-reviewed journal for clinicians; highlights of the study appear to confirm earlier studies.
Method of Study
Men and women, 93 in all, between the ages of 25 and 65, that were being treated for AUD participated in the multiyear study. Roughly half of the participants took one psilocybin pill, followed by another a month later. The remaining participants served as a control group and were unknowingly administered a placebo (Benadryl).
Prior to the first medication/placebo dose, participants had up to a dozen counseling sessions given by a pair of psychotherapists. The therapists worked to help the participants set objectives to minimize their alcoholic drinks and to help them navigate what could be very emotional psilocybin experiences.
The study was originally designed to randomize up to 180 participants. However, following an indefinite mandatory suspension of recruitment beginning on March 19, 2020, due to the outbreak of COVID-19, enrollment for this trial was halted at 95 randomized participants.
Participants
Participants were recruited from March 12, 2014, to May 13, 2015, at the University of New Mexico and from July 9, 2015, to March 19, 2020, at New York University, using advertisements in local media. The 25 to 65-year-olds had a diagnosis of alcohol dependence determined by the Structured Clinical Interview and had at least four heavy drinking days during the 30 days prior to screening (defined as five or more drinks in a day for a man and four or more drinks in a day for a woman). Excluded were those with major psychiatric and drug use disorders, any hallucinogen use in the past year or more than 25 lifetime uses, medical conditions that contraindicated either of the study medications, use of exclusionary medications, and current treatment for AUD.
Trial Design
Qualifying participants were assessed at screening, baseline (week 0), and weeks 4, 5, 8, 9, 12, 24, and 36. They were randomly assigned to receive either psilocybin or Benadryl (diphenhydramine), administered in two 8-hour sessions at weeks 4 and 8. All participants who completed the double-blind observation period (weeks 5 to 36) and still met safety criteria were offered an open-label psilocybin session at week 38, including four additional psychotherapy sessions and assessment for an additional 18 weeks.
Participants received up to a total of $560 for completing assessments in the course of the trial but were not reimbursed for attending the therapy and medication sessions.
Randomization and Blinding
Randomization was stratified by site. A study pharmacist at each site generated the randomization sequence and assigned treatment in order of randomization. All other study staff and investigators, as well as participants, were blind to treatment assignment.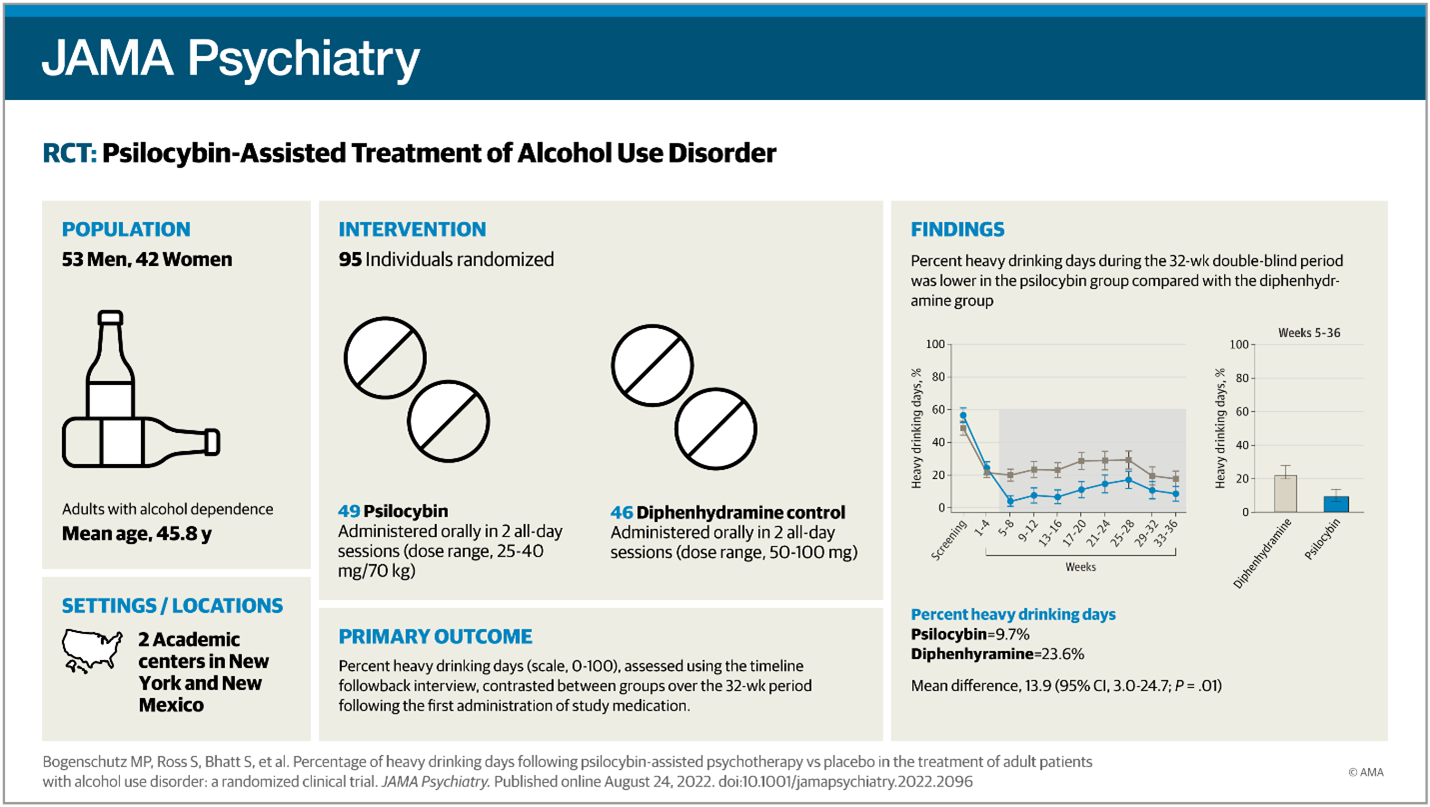 Image: Percentage of Heavy Drinking Days Following Psilocybin-Assisted Psychotherapy vs Placebo in the Treatment of Adult Patients With Alcohol Use Disorder (JAMA Network
Dosage
Study medication was taken orally in a single capsule of unvarying appearance and weight. Psilocybin doses were weight-based to control for participant body weight. Doses for the first session were psilocybin, 25 mg/70 kg, or diphenhydramine, 50 mg. Participants received an increased dose in the second session if there were no dose-limiting adverse events and if they agreed to the increase. The increased dose of psilocybin was 30 mg/70 kg if the participant's total score on the Pahnke-Richards Mystical Experience Questionnaire (MEQ)42 was 0.6 or greater in the first session (indicating a robust subjective response to the 25 mg/70 kg dose) or 40 mg/70 kg if the MEQ total score in the first session was less than 0.6. The increased dose of diphenhydramine was 100 mg regardless of subjective response.
Administration of Study Medication
Psilocybin was administered in the morning; participants were required to stay in the session room with the therapists for at least 8 hours after. During the session, participants were encouraged to lie on a couch wearing eyeshades and headphones, providing a standardized playlist of music. Other medications were available in the session room to treat hypertension, severe anxiety, or psychotic symptoms as specified in the protocol.
Blood pressure and heart rate were measured at 30- to 60-minute intervals during the first 6 hours of each session. After each, participants and therapists were asked to guess which medication had been administered and rate their degree of certainty on a 100-point visual analog scale (0?=?not at all confident; 100?=?extremely confident). This uncovered a flaw in the study as Benadryl was ineffective in maintaining the blind intention after drug administration, so biased expectancies could have influenced results.
Outcome
The primary alcohol consumption outcome was measured as the percentage of heavy drinking days during weeks 5 to 32. Drinking was assessed at weeks 8, 12, 24, and 36 using the timeline follow-back method. One standard drink was defined as 14 g of ethanol. Secondary outcomes included the percentage of drinking days, mean drinks per day, and dichotomous outcomes. Hair or fingernail samples were collected at week 24 and assayed for ethyl glucuronide (EtG) concentration to confirm self-reported abstinence.
There were 204 reported adverse events (119 in the psilocybin group and 85 in the Benadryl group) during the 32 weeks following the first administration of the study medications. Three serious adverse events were reported, all in the Benadryl group. One participant had two psychiatric admissions due to suicidal ideation during binge drinking episodes. Another participant was hospitalized for a Mallory-Weiss tear due to severe vomiting during a binge drinking episode.
Psilocybin in the US
There is a growing cry to take psychedelics medically mainstream. The federal government appears to be moving forward to unwind some strict prohibitions on psychedelic research. In May, the Substance Abuse and Mental Health Services Administration released a letter saying that the agency now agrees that psychedelics hold promise in psychiatric care. It is exploring the creation of a task force to assess how the medicines could be used safely in clinical settings.
In the U.S. nearly 15 million people age 12 or older have AUD, according to the 2019 National Survey on Drug Use and Health.
Take Away
Participants suffering from problem drinking were given psilocybin along with psychotherapy. The result of the study medication was a robust and sustained decrease in drinking. These results support further study of psilocybin-assisted treatment for adults with AUD.
A recent NobleCon investor event featured a panel presentation with representatives of related fields discussing both regulatory reform and the results of their treatments and studies. There were also panel presentations from the management of companies providing promising treatments from once taboo sources. Click on links below (Suggested Content) to watch these presentations.
Managing Editor, Channelchek
Suggested Content
Sources
https://jamanetwork.com/journals/jamapsychiatry/fullarticle/2795625
https://www.wsj.com/articles/psychedelic-compound-in-magic-mushrooms-shows-new-promise-as-alcohol-addiction-treatment-11661354909?mod=Searchresults_pos1&page=1
https://cde.drugabuse.gov/instrument/d89c8e23-16e5-625a-e040-bb89ad43465d
Stay up to date. Follow us: