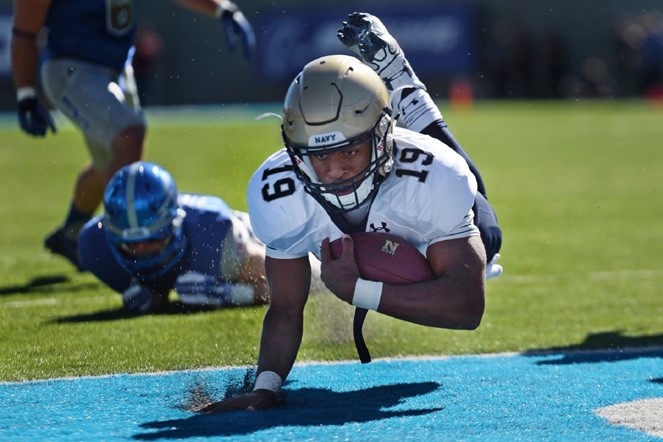 Why the Fed Needs to Gain Trust, Gain Momentum, and Gain More Yards
Monetary policy and its implementation is as much sport as science. Economics is actually a social science, so it relies on human behavior to mimic past behaviors as its prediction guide. But as in sports, victory is difficult if there is distrust in the coach that's calling the shots (in this case Powell), or if there are people on your side that have reason to work against you, (an example would be Yellen). Consistency in blocking and tackling (doing the right thing) and not giving up, over time, wins games. Knowing what to expect from the opposing team (consumers) wins a healthy economy.
One repeated trait in monetary policy is that there is a lag between implementation (easing or tightening) and a change in economic conditions. It isn't a short lag, and the impact varies. Since it could take more than a year for a policy change to begin to impact the economy, the Fed usually moves at a slow and measured pace in order to not overdo it.
The slow pace allows policymakers to observe the impact of their moves and change tactics (positions on the playing field) mid-game.
Federal-Funds Rate During Tightening Cycles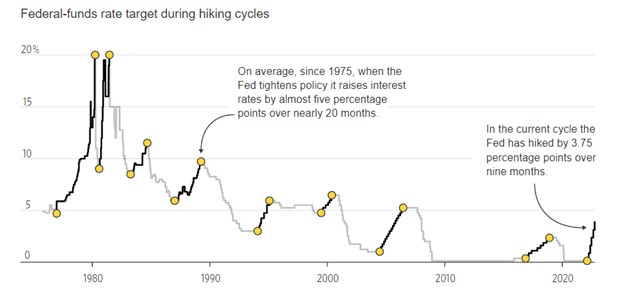 Over the past nine months, we have been in a tightening cycle. During this period, the Fed has raised rates by 3.75%. On average (since 1975), when the Fed has tightened rates, they are notched up by 5.00% over 20 months.
The Fed's current pace is faster than average. This is because inflation took them by surprise, and rose rapidly. Putting up a strong defense against inflation that has been rampant is necessary to not be shut out and allow the Fed to gain control over the outcome.
Because one has to be able to reflect back more than 40 years to have experienced the Fed raising rates this fast. Many have lost confidence in its ability, and are in their own way working against a winning outcome.
Pace of Fed Hiking Cycles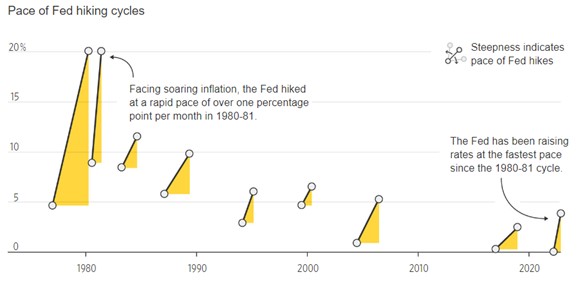 The stock and bond markets move in group anticipation of expected policy moves by the Fed. This has been more pronounced in recent years as the Fed has basically shared its expectations after each meeting, setting up for the next. Higher rates make bonds and bank deposits more attractive. Higher rates also weaken the economy and corporate profits, and that induces investors to move away from stocks and even real estate.
Bonds now offer the highest yields since 2007. The stock market may have anticipated what was to come as it peaked in early January of this year, more than two months before the Fed began hiking in March.
Fed Hikes and S&P 500 Bear Markets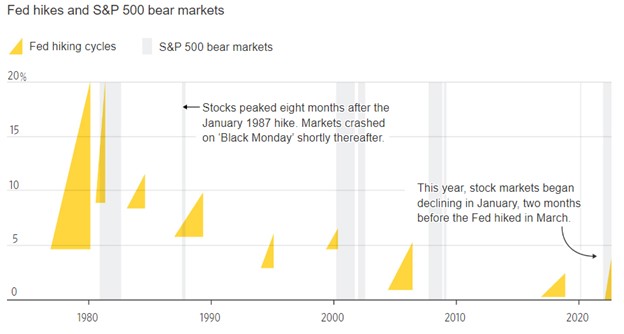 Sources: Federal Reserve; Dow Jones Market Data
Employment
The Fed is concerned with a wage-price spiral feeding on itself. It likely won't be satisfied that its tightening has been sufficient until it can be confident that it has avoided a wage-price storm on the economy.
Ideally, this would happen without unemployment rising. Soft landings took place in 1983-84 and 1994-95. But when inflation starts out too high, as it is now, unemployment usually rises notably, and a recession occurs.
Historically, this doesn't happen until several years after the first increase. This time it is hoped it will be different, since the Fed is playing more aggressively.
Periods of Fed Hiking and Rising Unemployment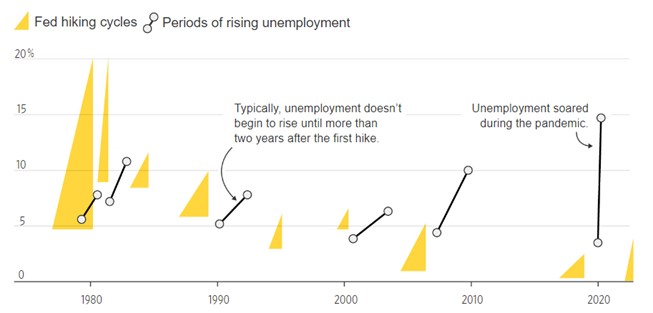 Inflation
Historically, inflation has only fallen to acceptable levels after unemployment has increased, and long after the first rate increase – the exact timing has varied. If the fall in core inflation (which excludes the volatile food and energy components) between September and October continues, and September proves to be the peak, the time between the first Fed increase and the high point of inflation will be one of the shortest of any Fed hiking cycle.
Often, the break in inflation has been accompanied by a recession. The economy receded in each of the first two quarters and then grew in the third. The changes in the inflation component in Gross Domestic Product may have borrowed from one quarter and have been additive to the next. The fourth quarter reading should help level the growth averages out to see if we were indeed in a shallow recession.
Proximity of Peak Inflation and Recessions to Initial Rate Hikes, from Year Hiking Cycle Began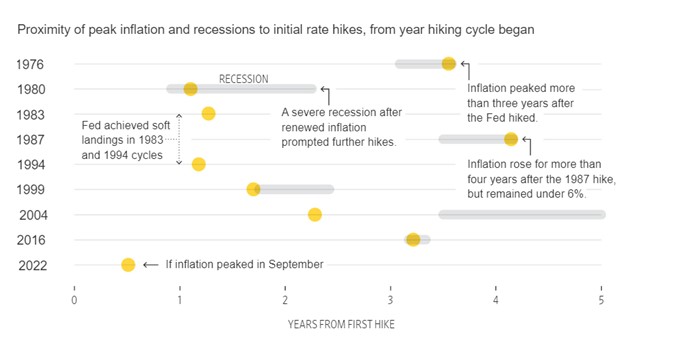 Take Away
As in many team sports, once one side gets momentum, they are difficult to stop . The Fed needs to gain the trust of the individual players in the economy in order to be successful. Saying one thing, then doing another, would undermine this trust. So far, despite the Fed originally being wrong about inflation, the Fed has done what it has said it would do. Stock and bond markets, which are a considerable part of the economy, have been slow to understand the Fed's resolve.
It has been implementing the balance sheet run-off plan and raising rates toward a level it believes would equate to a future 2% inflation rate. Like so many other things in the social sciences, widely held expectations of the future become self-fulfilling.
Managing Editor, Channelchek
Sources
https://www.wsj.com/articles/move-over-inflation-here-comes-the-earnings-crunch-11668300124?mod=article_inline
https://www.wsj.com/articles/fed-raises-interest-rates-for-first-time-since-2018-11647453603?mod=article_inline
https://www.wsj.com/articles/feds-aggressive-rate-hikes-are-a-game-changer-11669006579?mod=economy_lead_pos5