Image Credit: Kees Torn (Flickr)

Natural Gas Prices May Continue to Explode Through Winter

Natural-gas futures jumped to nearly $10 per million BTU today (August 23), the highest since July 2008. This is an increase of 20% over the past month, up 146% from a year ago, and up 350% from three years ago. The drop-off in commodity prices that helped bring natural gas prices down has now been more than erased by what has been extreme volatility even by natural gas price standards.
The 14-year highs reached this week in U.S. natural-gas futures point to unrelenting demand pressures, especially in Europe. There are reasons to believe the increases will continue.
The latest price spike is largely fueled by Russia's plans to shut down one of Europe's main fuel arteries for a few days at the end of August. It's unclear if that shutdown, announced Friday, is actual unplanned maintenance along the Nord Stream gas pipeline or related to economic warfare by Russia as retaliation for Western Europe's support for Ukraine.
Short supply in Europe, above-average hot weather impacting utilities' needs in the U.S, and concerns related to hurricane season, when storms often halt production on platforms in the Gulf of Mexico, may serve to increase prices higher.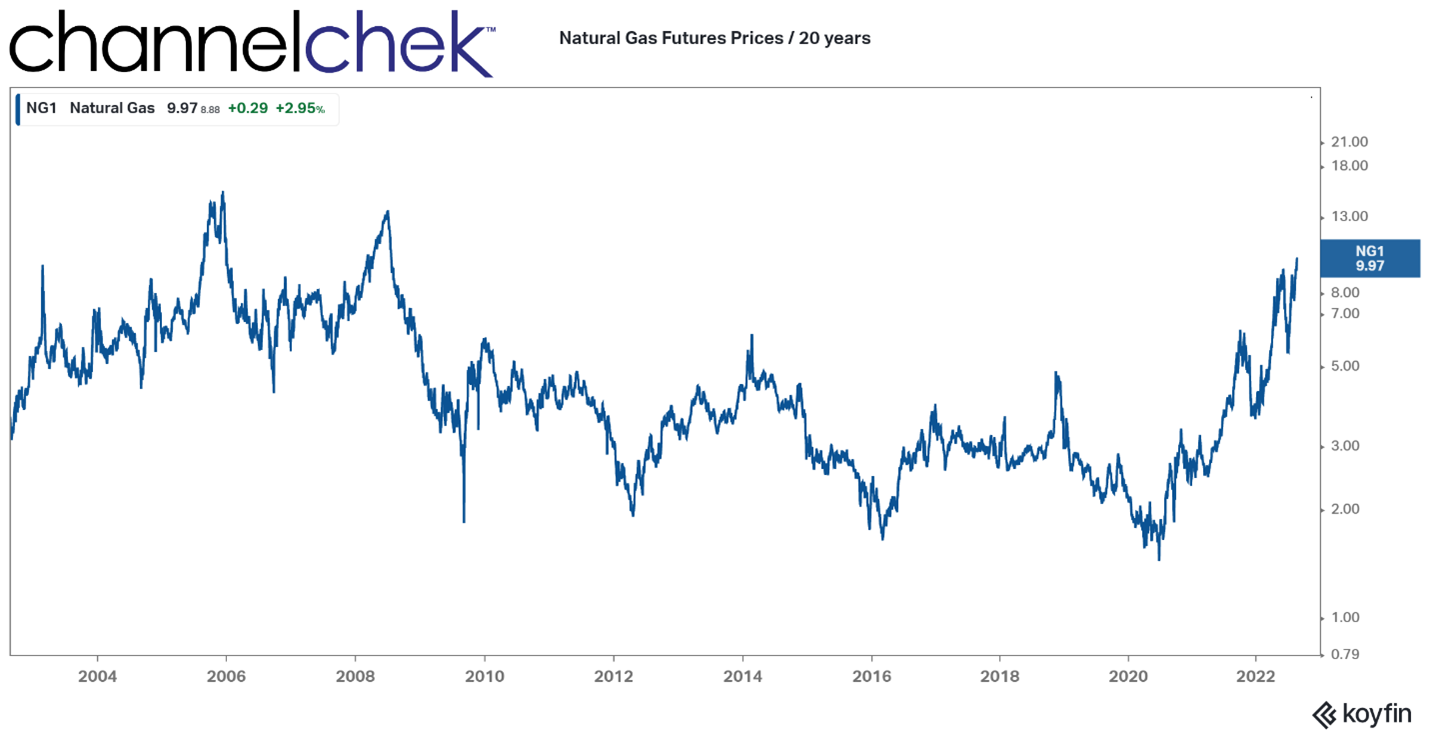 Source: Koyfin
Normally in late Summer, prices ease in anticipation of low demand fall weather. Producers and traders usually squirrel away supplies in underground caverns until winter, when demand and prices typically are at their high for the year.
This year, though, export demand, electric demand related to some of the hottest weather on record, and low production growth have kept U.S. natural-gas supplies from growing ahead of the heating season.
The U.S. Energy Information Administration (EIA) reported an unseasonably paltry offload into storage facilities. Storage grew but left a projected deficit of 12.7% to the average for this point on the calendar.
The lag in storage could be leading to a global situation if winter is colder than normal – a situation where natural gas prices may spike upward.
Production vs. Usage
EIA data show that monthly domestic production reached its highest level since the pandemic in May, though it remained short of the output record set in December 2019. And output has decreased.
U.S. demand is rising. Coal prices that have risen more sharply than gas and scarce supplies of coal have limited electric producers' options, which have been in high demand to run air conditioners this summer. Government energy forecasters expect average daily U.S. gas consumption this year to be 3% higher. They expect year-over-year production gains at roughly the same rate.
Meanwhile, exports are set to rise this fall when one of the country's biggest liquefied-natural-gas, or LNG, terminals resume operations. Freeport LNG's facility on a Texas barrier island has been shut down since a fire in early June. This reduced U.S. export capacity by about one-sixth, or near 2 billion cubic feet a day. It produces roughly enough energy units to power 50,000 homes for a year it went back online and became available for U.S. consumption this summer, which helped to hold prices lower in the US. The facility said it expects to resume exports in October.
Spikes in futures prices don't immediately translate into higher natural gas prices at home, but eventually, they do increase the average paid.
Inflation and Natural Gas
In addition to electricity prices increasing via power plants, other increases, including food prices via fertilizers, and other unexpected impacts such as glass bottle production, that add to overall inflation.
The June-July plunge in natural-gas futures prices had been one of the reasons cited why inflation in the U.S. was seen as having peaked and moving lower. Utility natural gas piped to homes accounts for about 1% of total CPI. As part of the July CPI reading, utility gas piped to homes fell by 3.6% in price from June, the first month-to-month decline since January after repeated spikes., including +8.2% in June from May and +8.0% in May from April.
Spikes in futures prices don't immediately translate into higher natural gas prices at home, but eventually, they do. Eventually, prices average up, and we will all be sharing the cost as consumers or perhaps benefitting as investors in either natural gas companies, or more directly in funds or futures.
Managing Editor, Channelchek
Suggested Content
Sources
https://globallnghub.com/front-month-rallies-to-5.html
https://www.eia.gov/todayinenergy/detail.php?id=53559
https://www.eia.gov/petroleum/supply/weekly/
A Gas Shortage Could Crunch Beer Bottles Too – WSJ
https://www.cmegroup.com/trading/energy/natural-gas/lng-futures.html
https://www.energy.gov/sites/prod/files/2017/09/f36/Understanding%20Natural%20Gas%20and%20Lng%20Options_general%20no%20appendix.pdf
Stay up to date. Follow us: