Companies by Sector
More than 6000 listed
Communication Services
Telecommunication Services
Consumer Cyclical
Advertising & Marketing Services
Furnishings, Fixtures & Appliances
Homebuilding & Construction
Manufacturing - Apparel & Accessories
Manufacturing - Apparel & Furniture
Retail - Apparel & Specialty
Consumer Defensive
Beverages - Non-Alcoholic
Financial Services
Diversified Financial Services
Healthcare
Healthcare Providers & Services
Medical Devices & Instruments
Medical Diagnostics & Research
Medical Instruments & Equipment
Industrials
Farm & Heavy Construction Machinery
Transportation & Logistics
Utilities
Utilities - Independent Power Producers

Image Credit: Portal Focka (Flickr)
Are Investors Getting Even More than They Bargained for with the Pershing Square SPAC?
The pace of SPAC creation runs in cycles, as do other areas of finance. When money is flowing, and merger targets seem plentiful, SPAC IPOs begin to bloom. When targets are fewer or investors see more attractive alternative opportunities, SPAC creation wanes. Last year when hedge fund manager Bill Ackman's SPAC raised a record $4bn, he helped kick off a wave of new SPAC IPOs, all hunting for great candidates to fulfill the company objective.
Ackman's massive SPAC, Pershing Square Tontine Holdings (PSTH), did not find its one "unicorn," which was its stated intent. Instead, it became creative and looks to add to shareholder value in an altered and even more diversified way. Back in February of this year, Vivendi the owner of Universal Music Group (UMG) announced that it would spin off its music business and list it in the Netherlands in late 2021. Once the spinoff is completed, Vivendi would still hold a one-fifth stake, the Chinese tech company Tencent would own another fifth, the remainder would have been distributed to investors. This would unlock value for Vivendi holders in the growing streaming services by delinking them from the larger company.
Where PSTH Fits In
Ackman saw the UMG portfolio of artists and streaming music profits as a means to fulfill and uphold the objective for PSTH shareholders. Pershing Square Tontine is now moving forward to own 10% of UMG. This transaction to own a fractional share of a company, is not what was expected by investors, onlookers, and probably not even Ackman a year ago.
Instead of purchasing a large well established private company and owning and controlling it, the 10% stake that is to be purchased by PSTH is based on a $40b valuation. It will distribute shares to PSTH investors after the Netherlands listing later this year. This partial, noncontrolling deal is new ground for SPACs, but that isn't where it ends. After the 10% stake of UMG is owned by the SPAC investors, PSTH will have "change" left over. With the remaining cash PSTH will continue as a blank check company and continue to look for another target. Ackman will also create a new vehicle intended to provide the PSTH investors with other options without tying up cash up-front.
This trilogy arrangement is new to the industry and was initially met with PSTH shares weakening. They have since recovered somewhat.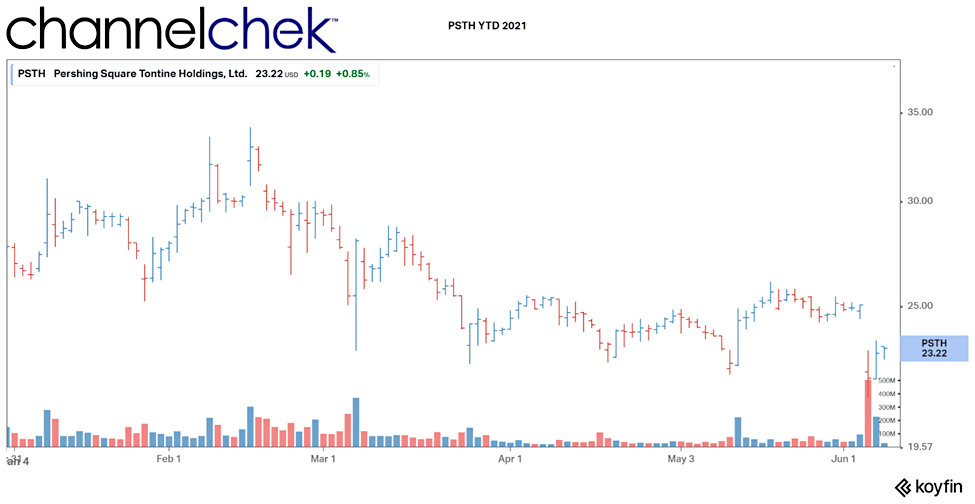 The Other Two Shots at a Unicorn
The initial SPAC (PSTH) will remain a cash shell company with substantially less dry powder with which to spend on a target. However, it will have access to up to $2.9b through an agreement with Ackman's hedge fund. Pershing Square Funds owns about 29% of the company (PSTH) and is not placing a two-year deadline on finding the right second target.
The third vehicle does not take the form of a SPAC at all. In a world where private company valuations rise and fall, this additional option for PSTH investors makes timing and time limit, less of an issue. Ackman is calling this new structure a Special Purpose Acquisition Rights Company (SPARC). The holders will have the option but not the obligation to participate in the next deal. The SPARC does not list on any exchange, it doesn't raise money until a target is identified, and there is no obligation to exercise the option to be in the deal once struck.
Take-Away
Although the partial Universal Music stake may be a little "off-beat" for a SPAC, the overall results over time may turn out more beneficial than the conventional SPAC acquisition expected. The arrangement may also set in motion more creativity in the SPAC acquisition space in that it provides investors more possibilities, albeit more complex deals to understand.
SPAC investors do have the opportunity to opt-out and receive the remaining pro-rata share of their investment, so the risk to the holders of PSTH was always that an appropriate deal would not be found. They now at least have the option to weigh the appropriateness of this trilogy arrangement and forecast its future value for them.
Suggested Content:
Sources:
https://www.bloombergquint.com/gadfly/bill-ackman-spac-umg-deal-make-room-for-the-sparc
https://apnews.com/article/entertainment-music-arts-and-entertainment-business-3ec22cadc0cc5292fb69baa1b96bf98d
https://amp.ft.com/content/d77d9883-6b01-4458-9180-8579aa4d346f
Stay up to date. Follow us:
Company
Ticker
Price
Previous
Mkt Cap
Volume
52wk Range
FAT Brands Inc.
FAT (Nasdaq)
$7.20
$117.99M
0
$6.86 - $15.99
Fundamental Analysis
Pershing Square Tontine Holdings Ltd. Class A
PSTH (NYSE)
$19.89
$3.98B
0
$19.54 - $26.07
Advanced Market Data
()
Detailed Quote
Charts
Statistics
Financials
Historical Quotes
Insider Activity
Key Ratios