Companies by Sector
More than 6000 listed
Communication Services
Telecommunication Services
Consumer Cyclical
Advertising & Marketing Services
Furnishings, Fixtures & Appliances
Homebuilding & Construction
Manufacturing - Apparel & Accessories
Manufacturing - Apparel & Furniture
Retail - Apparel & Specialty
Consumer Defensive
Beverages - Non-Alcoholic
Financial Services
Diversified Financial Services
Healthcare
Healthcare Providers & Services
Medical Devices & Instruments
Medical Diagnostics & Research
Medical Instruments & Equipment
Industrials
Farm & Heavy Construction Machinery
Transportation & Logistics
Utilities
Utilities - Independent Power Producers


	Image: B-Word Conference
Elon Musk, Jack Dorsey, and Cathie Wood Drop Bombshells at Bitcoin Conference
Prices surged on crypto assets as the B-Word Conference which included Elon Musk, Jack Dorsey, and Cathie Wood together discussing the future, revealed forward-thinker insights on the future of finance. Prices of cryptos surged, even before the conference got underway. They followed through as Musk, Dorsey and Wood from Ark Invest revealed their understanding of crypto's strengths and the current monetary systems weaknesses.
The B-Word Conference was not all about the live interaction between the three "A-Team" presenters, but it was their's that caused the Etherium spike, added interest in Dogecoins future, and other market shaping buzz. With Elon Musk, a co-founder of Paypal (also founder of SpaceX and Tesla), Jack Dorsey the CEO of Square (also Twitter), and Cathie Wood the founder, and CEO of Ark Invest, attendees may have come away with investment ideas on finance, energy, and the internet. Here are highlights thoughts that could shape the world's financial future: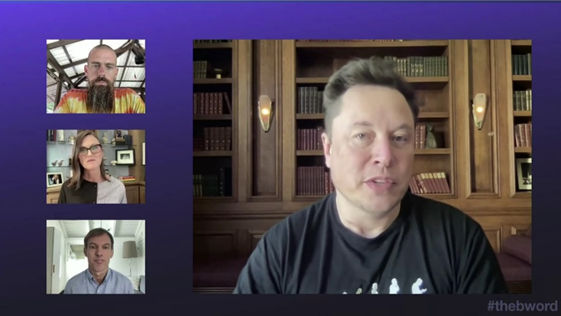 Elon Musk
-Views Bitcoin as an information system for labor allocation, he says it (information) exists in different bank mainframes around the world, but not in a centralized place. In his mind Bitcoin resolves this scattered system.
-Sees positive trend in crypto-mining energy use.
-With diligence will resume Bitcoin payment for Tesla purchases.
-He owns Etherium, Doge, as well as Bitcoin.
-Baseload for 24-hour mining can not be met with wind and solar. Musk believes modern nuclear power plants are safe and endorses them as the measure to resolve gap energy issues.
-Dogecoin community draws him because it is irreverent and has great memes.
-Musk says when it comes to survival, sometimes the simplest answer is the most likely. He said a friend told him the most ironic answer is the most likely. But thought, perhaps the most entertaining is the most likely. If true (according to Elon) the most ironic and entertaining "winner" would the crypto that started as a joke to make fun of crypto currency.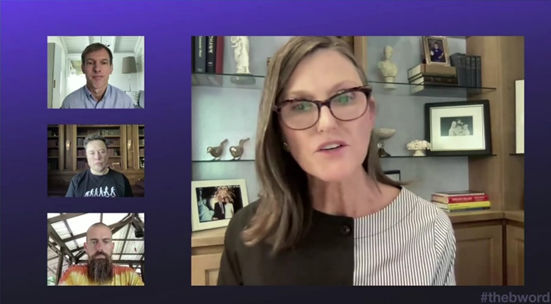 Cathie Wood
-Mentored under Art Laffer and collaborated on a paper with him in 2014 on a rules-based monetary system. Laffer at first was unsure of Bitcoin, then understood the disruptive economics implied, and identified the misunderstanding of cryptos in general.
-Bitcoin is a better means of exchange. Store of account value is primary use, especially stablecoins.
-Apps built to support Bitcoin have value.
-Leading crypto could be as large as U.S. Monetary base, or $8 trillion. Purchasing power will grow over time with acceptance.
-Good hedge against confiscation of wealth which can take place in a myriad of ways.
-Hedge against purchasing power destructivity of inflation.
-Broadbased utility for economic system that will increase proliferation of renewables.
-Economically empowers 4.3 billion people living under hostile regimes. Bitcoin's "noble and social good" extends beyond the typical ESG mindset.
-Finds Bitcoin developers understand their place in history. They are inspired by a noble mission and sense of purpose to be impactful in monetary history.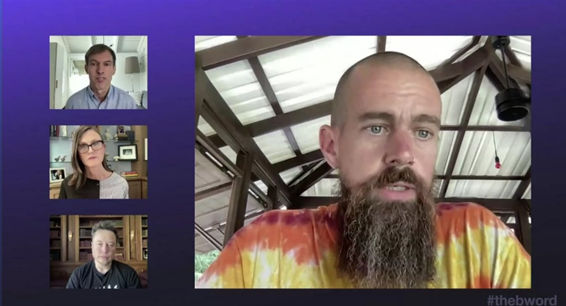 Jack Dorsey
-Worldwide remittance system solved because you don't have to go through intermediaries.
-Powerful, secure, and strong because you don't have to rely on the state.
-Bitcoin is resilient enough to overcome obstacles, governmental, acceptance, technical challenges.
-Bank ACH system is archaic.
-Attracted to Bitcoin because of irreverence, believes it will become more accessible and endure.
-Called Bitcoin the "native currency" for the internet.
Take-Away
The B-Word Conference which was detailed yesterday morning on Channelchek had many more than these three Bitcoin experts sharing their thoughts. The topics ranged from the most basic to some very intense or technical subjects. The three "thought leaders" Musk, Dorsey, and Wood, are important as two of the three are helping to shape the future, while Wood represents investor buy-in and funding.
Suggested Reading:
Source:
https://www.thebword.org/c/track-2-Bitcoin-As-A-Tool-For-Economic-Empowerment
Stay up to date. Follow us: